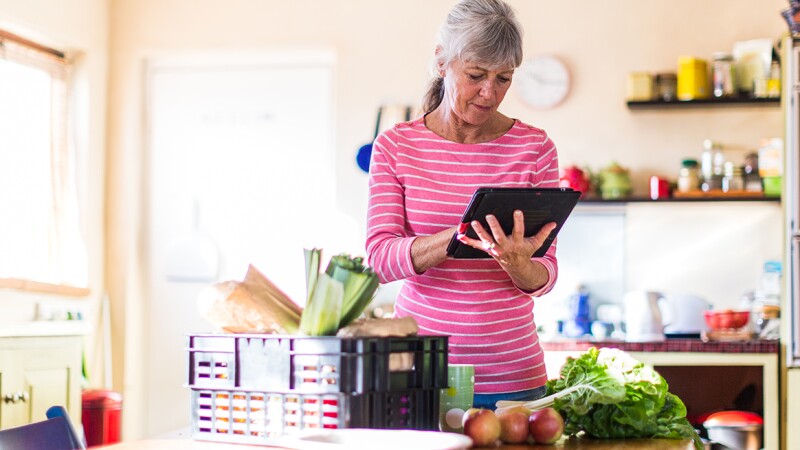 In the face of the coronavirus pandemic, Ohio is providing information and resources to help older Ohioans and those caring for them protect themselves from the virus and help prevent it from spreading to others. We also have provided convenient information on ways to stay active, engaged and entertained while you practice social distancing.

Ohio's Stay At Home Order
On Sunday, March 22, under the direction of Ohio Governor Mike DeWine, Ohio Department of Health Director Amy Acton, M.D., MPH issued a director's order to require all Ohioans to stay in their homes to prevent the further spread of COVID-19 beginning at 11:59 p.m. on Monday, March 23, 2020 until 11:59 p.m. on April 6, 2020. This order prohibits holding gatherings of any size and closes all nonessential businesses. It does NOT prohibit essential activities like going to the grocery store, receiving medical care, or taking your pet for a walk. Residents can return home from out of state and can leave the state.

Stay At Home Order Frequently Asked Questions


Up-to-date state and local health information:
If you have coronavirus symptoms, call your health care provider or local public health department to figure out if you could — and should — get tested. Signs of the virus are a dry cough, fever and shortness of breath. (Read more about coronavirus and how to stay safe.)


Food assistance resources:

Unemployment benefits:

Grocery stores to know about:

Giant Eagle: Giant Eagle are open for senior shoppers from 6 to 7 a.m. Monday through Wednesdays.
Kroger: Kroger will be open for seniors age 60 and up from 7 to 8 a.m. Monday through Thursdays
Meijer stores and pharmacies will provide dedicated shopping times for senior citizens and customers with chronic health conditions on Tuesdays and Thursdays from 7-8 a.m. local time.
Walmart stores will host a senior shopping hour every Tuesday for customers age 60 and older who may be more vulnerable. This will start one hour before the store opens.
Whole Foods: Shoppers age 60 and up can shop at stores for one hour before they open to the general public. Store hours vary by location. If a store is scheduled to open at 9 a.m., older shoppers can go from 8 to 9 a.m.
More coming soon
Health assistance resources:

Alzheimer's Association - Find Your Chapter
More coming soon
For stress relief and entertainment at home:

AARP Podcasts including a Movies for Grownups podcast by a movie critic, financial tips by Suze Orman, learn about the latest scams, and AARP's informative weekly Teletown Halls on COVID-19.
There are great exercise videos online – everything from belly dancing to boxing. If you're looking for a place to get started, AARP has a series of videos to help you "Get Moving." Under the healthy living section on our website.
We also have an online learning platform called "AARP Learn@50+" where you can participate in FREE online learnings, listen to podcasts, play trivia games and more? You can explore this online resource at learn.aarp.org.
AARP Community Connections, a new online platform launched by AARP Innovation Labs, allows users to organize and find local volunteer groups to help pick up groceries, provide financial assistance or lend emotional support to neighbors, friends and loved ones. Across the country, these informal online groups—also called "mutual aid" groups—help communities stay connected at a time when people must practice social distancing to stay safe. AARP Community Connections includes multiple resources to help those who are feeling isolated, depressed, overwhelmed or anxious. Users are able to:

Request a call from an AARP volunteer, or a trained counselor;
Easily create an account with Savo to make connecting with their families easier;
Join "The Mighty," a safe, supportive online community for people facing health challenges and their caregivers.

Also many museums have online tours and your local library has ways you can access online resources for books, movies and more with your library card.
Cincinnati Art Museum: Join CAM Connect, a new Facebook public group with virtual and interactive content by the Cincinnati Art Museum. They hosted a virtual tour using a pirates theme and offer a daily activity or update.
Contemporary Arts Center in Cincinnati offers videos and a virtual tour of Vhils exhibit on their Facebook page.
Cincinnati Museum Center streaming free movies and other virtual content on their Facebook page.
Cincinnati Symphony Orchestra is offering multiple ways to enjoy the music at home.
The Cleveland Museum of Art has their entire collection online.
Ohio Statehouse Virtual Tours cover everything from The Rotunda to the The Crypt, and all the history, artwork and galleries in between.
More on Coronavirus