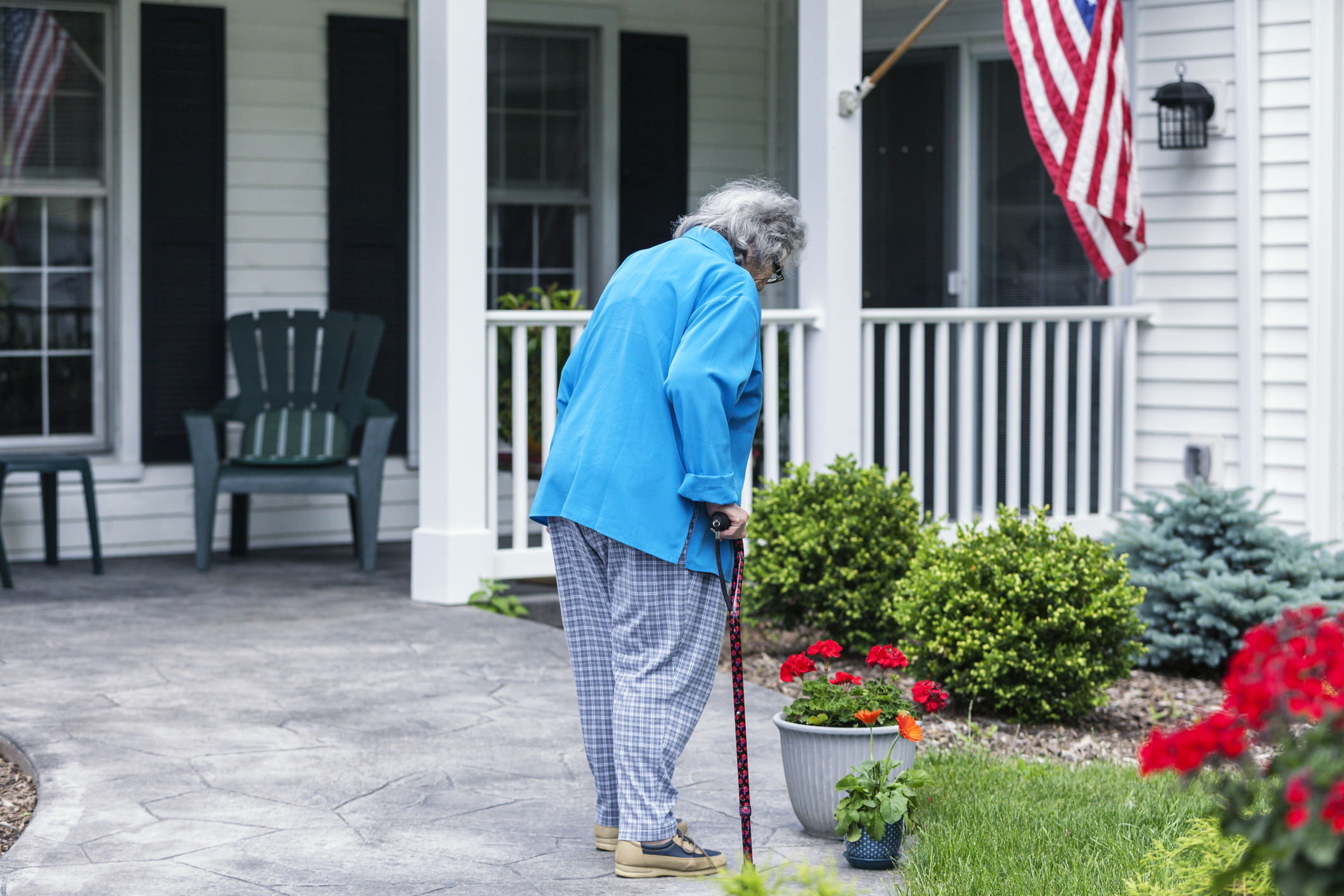 As the U.S. population continues aging, older adults and their family caregivers are more often seeking ways to stay in their own homes and communities for as long as possible. However, AARP research shows that while more than three-quarters of adults ages 50 and older want to age in place, one-third also say their houses need modifications to be able to do so safely and independently.

As a family caregiver, making sure your loved one's home ages gracefully with them is important so that they are safe and comfortable. The best way to continue living independently in a home you love is to plan ahead and make changes that will benefit you today and in the future, as needs and abilities will change over time.

This can feel overwhelming, but having a plan and making even small modifications can make a big difference and benefit multigenerational households. A wider doorway and step-free entrance, for example, is good for strollers and walkers, and multiple-level counters are good for kids as well as those in wheelchairs.

Here are some home improvement tips to get you started.


Have an Initial Conversation

Before you begin any remodeling, it's first important to start talking with your older family members sooner than later. Don't wait for a crisis to happen, like a fall. Do a walk-through and look around now to anticipate future needs. Changes can happen gradually through multiple conversations – just be open and honest with your loved one and ensure they feel comfortable with the plan.

Give them space to discuss their own thoughts. Address any of their concerns and what their home remodeling priorities are, and be clear about the budget.


Prioritize Projects That Help Maintain Independence
Start with the rooms you use the most or that currently pose a challenge, like making items easier to reach in the kitchen. Then, if you're able to, move on to bigger projects like installing a no-threshold shower or widening the doorways.

Focus on one project at a time to make the home more age-friendly.
Ramps, stairlifts, kitchen drawers, lower shelves, higher toilets and walk-in showers are all features that can help older loved ones live at home safely.


Start Small

Renovations can be costly, but even small, low-cost updates can be very impactful. Make modifications that prioritize safety, but are easily adaptable for future needs.

Lighting: Ensure indoor and outdoor areas have ample lighting to allow for easy and safe navigation of the home. Night-lights in bedrooms and bathrooms can also help prevent falls and keep spaces more accessible.
Grab Bars and Handles: Install grab bars on shower walls or near the toilet to aid with stabilization. Swap doorknobs and faucets for lever-style handles, which are easier to use for those with stiff hands or limited mobility.
Seating: Select chairs with armrests to help with sitting and standing. Place seating in the shower for bathing and swap a showerhead for a handheld nozzle to allow rinsing while seated.
Non-Slip Strips: Add textured, non-slip trips to the bathtub and shower. Secure area rugs with slip-resistant backings.
No-Step Entry. Make the home entrance more accessible for those who use wheelchairs and walkers by installing a threshold or full ramp, or a lift.
Technology: Consider new caregiving home devices that can help loved ones live more independently, particularly when emergencies occur. Voice-activated lighting with smart plugs can help make lighting more accessible, and smart smoke detectors can issue text alerts and voice instructions. Medical alert systems have advanced far beyond basic, wearable devices and now include GPS, cell service, fall detection, home security monitoring and even activity trackers.
Research Your Financial Assistance Options
Some local agencies can provide financial assistance for retrofits, such as grab bars, in-home safety assessments or lend equipment, such a wheelchairs and ramps. For local services and supports for older adults and caregivers, contact the Ohio's Area Agencies on Aging at 1-866-243-5678 or visit its website to be connected to the area agency on aging serving your community.

If you are ready for more comprehensive modifications, AARP's HomeFit Guides can help. These guides provide room-by-room check lists on ways to make a home comfortable and safe. There are recommendations for every home type and ownership status, whether you own or rent, to craft an "aging-friendly" space for years to come.