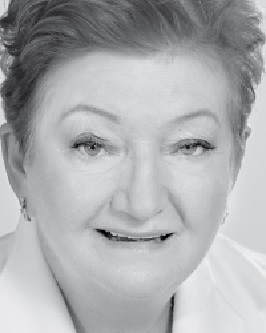 AARP Connecticut is pleased to announce that Pauline N. Olsen, M.D. of Farmington, CT has been selected to receive the 2014 AARP Connecticut Andrus Award for Community Service, the Association's most prestigious and visible state volunteer award for community service.

Dr. Olsen is one of the founders of Malta House of Care, which utilizes a mobile medical van and volunteer health providers to deliver free primary health care to vulnerable communities in the Greater Hartford region. Dr. Olsen helped found the organization in 2006 after retiring from private practice in Hartford. In 2011, she helped found the Malta Food Pantry located in St. Justin Church in the North End of Hartford. Early in her career, Dr. Olsen served as a humanitarian volunteer, donating medical services in South Korea. Today, she continues to volunteer more than 40 hours per week ministering to the patients of the mobile clinic and serving clients of the food pantry.

Dr. Olsen is being honored for her extensive volunteer work and its lasting and positive impact on financially-insecure and older adults. According to AARP State Director Nora Duncan, "Her dedication to serving others has not only saved countless lives, but serves to inspire volunteerism among her colleagues and future medical professionals."

Dr. Olsen also is a board member of the Haitian Humanitarian Network and participates in medical missions to Haiti. She has been recognized by L'Oreal Paris as a Woman of Worth (2010) and has received numerous awards in Connecticut, including the Saint Francis Hospital Distinguished Physician Award (2001), The St. Francis Spirit Award (2008), and was named a Purpose Prize Fellow by Encore.org in 2012. This year she was recognized as "Person of the Year" by the Greater Hartford St. Patrick's Day Parade. Dr. Olsen is a member of the Hartford County Medical Association, Connecticut State Medical Society, Saint Francis Hospital Retired Physicians, American College of Obstetricians and Gynecologists and New York OB-GYN Society.

The Andrus Award is named for AARP founder, Dr. Ethel Percy Andrus and honors an outstanding Connecticut volunteer age 50 or older who is sharing their experience, talent, and skills to enrich the lives of their community members.

The Andrus Award will be formally presented to Dr. Olsen at a local ceremony later this year (stay tuned for details!). During the award ceremony, AARP Connecticut will donate a check for $3,000 on behalf of Dr. Olsen to the Malta House of Care.