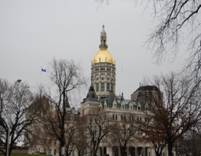 The Connecticut Mirror will host a special Google Hangout with House leaders on Thursday, December 4, 2014 in advance of the 2015 legislative session. The event is sponsored by AARP Connecticut and will begin at 11 a.m. on ctmirror.org. The video also will be posted at this link to view later.

Joining host and Mirror Capitol Bureau Chief Mark Pazniokas will be House Speaker J. Brendan Sharkey, D-Hamden, and Rep. Themis Klarides, R-Derby, who was elected House minority leader, becoming the first woman to lead the GOP in the House.

The event will cover topics such as retirement savings, caregiving and telecommunications changes.

Have a question? Send it early to @CTMirrorPaz.