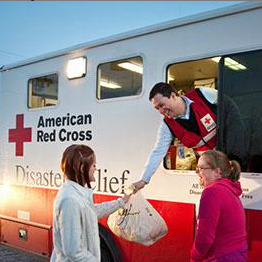 The American Red Cross is currently recruiting for a variety of volunteer positions in Connecticut and Rhode Island. The volunteer opportunities are an excellent way to make a difference in the lives of others, and become more engaged in your community. The time commitment and skill levels vary depending on the position. Check out the descriptions below to see if anything sparks your interest, To find more volunteer opportunities in your community that fit your schedule, visit AARP's Create the Good.

Administrative Specialist
The Red Cross is seeking a few Administrative Specialists to offer quality administrative support to the local regional team. If you enjoy interacting with others in an office environment and being part of a team, this is a great opportunity to put your organizational and communication skills to work in support of your local Red Cross! Familiarity with MS Office required. 10 - 15 hours per week.

Blood Drive Volunteer
Become the key to a successful blood donation experience. Greet blood donors and provide them with the information they need as they present to give the precious life-saving gift of blood. Thank them after donating, and offer a snack...Maybe even get them to join you as a volunteer!

Disaster Responders
The Red Cross is seeking Disaster Responders to gather damage assessment immediately after a storm or other natural disaster. In addition, we need people to report on upcoming weather alerts in order to help us prepare for disaster relief. This is a great opportunity to help those in need immediately following a disaster. Help support the Red Cross and help give back to your local community. A valid driver's license is required.

Donor Ambassador
Are you interested in donating your time for a great cause and helping improve the health and welfare of those in your community? Donor Ambassadors help at Blood Drives and help make the donor experience a pleasant and smooth one. This is a great opportunity to give back to your local community and support the Red Cross.

Facilities Specialist
The Red Cross is seeking a few Facilities Specialists to help maintain our office buildings and grounds in locations throughout CT. If you enjoy hands-on activities, including light building maintenance, gardening and landscaping, this is a great opportunity to give back to your local community and help support your local Red Cross! We are in need of a few handy volunteers who can oversee the maintenance of our offices, inside and out, either at one location or multiple locations. Your valuable skills are urgently needed and will help ensure that our regional facilities are well-maintained and presentable!

To learn more or start the application process for any of the above positions, click here or send an email to Shalawn Davis at shalawn.davis@redcross.org.