AARP Oregon is set to kick off the second year of NeighborWalks in Lane County at 10 a.m. on June 9, at the Home2 Suites, 102 W. 11th in Eugene.

NeighborWalks is a collaborative community walking program by AARP Oregon, SmartTrips Eugene and the Lane Transportation District's Point-to-Point. The goal is to get more people walking every day for health, transportation, environment, and community.

Walks will take place in neighborhoods around Eugene and Springfield. Each walk is developed and guided by AARP volunteer leaders with support from community partners such as Safe Routes to School, Eugene Sunday Streets and the City of Springfield and City of Eugene, who are all working together to make these great experiences. The intergenerational walks celebrate a community for all ages and abilities!

NeighborWalks Passport Experience

Participants who attend all or most of the 10 NeighborWalks will receive a surprise giveaway from AARP Oregon. Collect your stamps at each walk AND get bonus stamps at any of the 2018 Sunday Streets events this year!

Be Active. Stay Active. Let's put some miles on those walking shoes.

"NeighborWalks is a great way to get to know the different neighborhoods in your city," said Sandy Coffin, the volunteer NeighborWalks lead in Lane County. "You learn something new each time, get to meet other people in your community, hear from local speakers and learn about the issues that matter to you. It's just fun."

For updates on NeighborWalks, including special guests, new walks, and other AARP events, visit www.aarp.org/or.

2018 NeighborWalks

Saturday, June 9, 2018, 10 a.m.
Eugene 20x21 Mural Project – NeighborWalks Kick-off
Meet at Home2Suites, 102 W. 11th, Eugene
Kick off for NeighborWalks with a look at Eugene's 20x21 Mural Project that will bring 20 international murals in time for the IAAF World Championships in 2021. Please use metered street parking, if possible.

Tuesday, June 19, 2018, 10 a.m.
Outside the City Center — Bailey Hill /Churchill
Meet at Churchill Skate Park, Bailey Hill Road & 18th Ave
Pedestrians, bicyclists and motorists share this busy road outside the city center in West Eugene. What makes a road safe for all vehicles? What is Vision Zero. Join us for a short Walk Audit of Bailey Hill.

Tuesday, July 10, 2018, 10 a.m.
Safe Routes: Infrastructure and Access Around Schools
Meet at the Hamlin Middle School Parking Lot, 5th and L Streets
Examine resources and barriers to active transportation surrounding an elementary, middle, and high school in Springfield. Learn about the value of walk audits to improve the walkability of neighborhoods - for people of all ages and abilities - as well as Walking School Buses that can on keep students safe.

Saturday, July 21, 2018, 10 a.m.
Skinner Butte Neighborhood
Meet at Skinner Butte Park, 248 Cheshire Ave, Eugene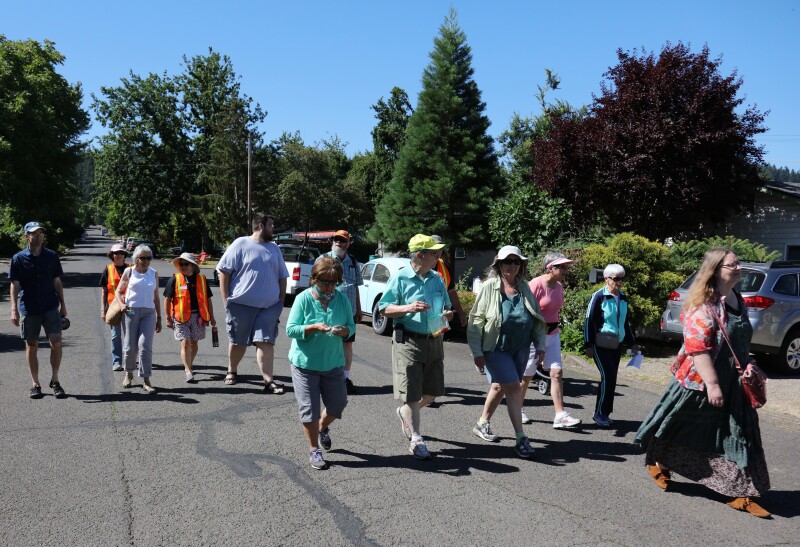 is one of Eugene's oldest parks. Dedicated in 1914, the Park includes 100 acres of property along the Willamette River just north of downtown Eugene.

Tuesday, July 31, 2018 , 10 a.m.
Safe Routes to Eugene Schools
Meet at Cesar E. Chavez Elementary School, W. 14th Street
Observe and discuss some of the supports for and barriers to active transportation – walking and bicycling - to and from an elementary and a middle school in Eugene. We'll learn about Safe Routes to School and programs such as Walking School Buses.

Tuesday, Aug. 14, 2018, 4:30 p.m.
Long Living Trees and Lifelong Learning at U of Oregon
Meet at UO Bookstore, corner of 13th and Kincaid Streets.
Explore the University of Oregon campus, which is a living arboretum with more than 500 species of trees. Learn about the 10 principles of the Age-Friendly University Movement that began in Ireland and is taking root on Eugene.

Saturday, Aug. 25, 2018, 10 a.m.
Murals and More: Community Art in Springfield
Meet in front of Simpson mural at 5th & Main
Connect with Springfield's art scene through an exploration of its many murals. Downtown Springfield is thriving, with new restaurants and businesses along our way.

Tuesday, August 28, 2018 6 p.m.
Bridging the Amazon: Neighborhood Connections and What Lies Beneath
Meet at Buck Street Bridge, one block south of 11th on Buck St
Join SmartTrips for a walk featuring three new bike and pedestrian bridges .We'll explore what's under the bridges, too! Learn about the ecology of Amazon Creek and the West Eugene Wetlands. Walk 1.5 miles and return by free 10 minute EmX ride (or return by foot for a total of 3 miles).

Saturday, Sept. 1, 2018, 10 a.m.
Jefferson Westside
Meet at Monroe Streets and West 10th Avenue
We will be exploring the western portion of the Jefferson Westside Neighborhood, it's historic homes and architectural styles. We will also hear about the development over time of Eugene Land Use and Zoning regulations and their impact.

Tuesday, Sept. 4, 2018 10 a.m.
Babe Ruth to the Farm
Meet at 5700 Babe Ruth Drive, Eugene (Bethel)
Walk with us from Babe Ruth/Bethel Community Park to Kalapuya High School. We will view the community farm and student-built greenhouse.

Saturday, Sept. 15, 2018, 10 a.m.
NeighborWalks 2018 Celebration
Weir Garden, Peace Health/Sacred Heart Hospital at Riverbend
Let's celebrate a season of great walks and new friendships. Walkers with passports will receive prizes; we'll recognize supporters, have fun, walk a little and talk about NeighborWalks 2019!