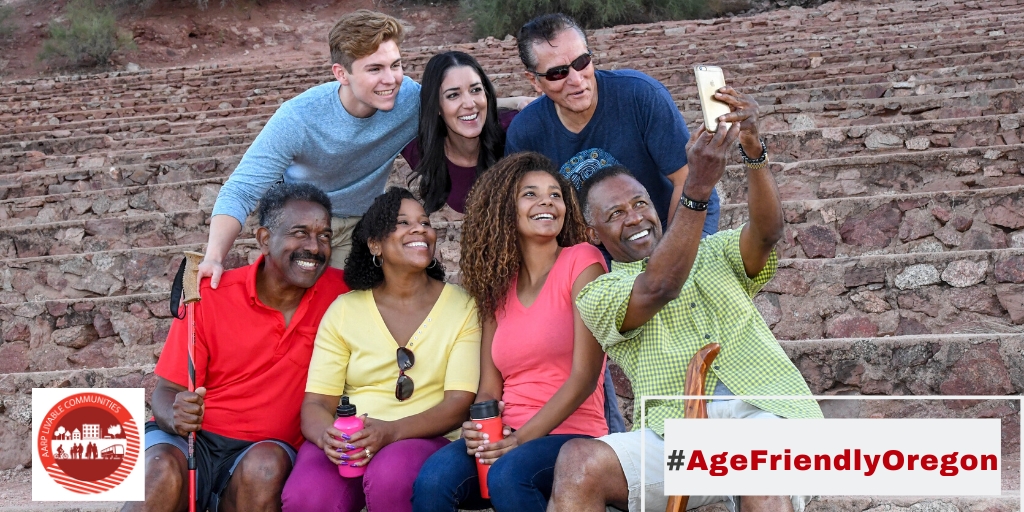 From Eastern Oregon to the Southern Oregon Coast, AARP Challenge Grants have helped Oregon communities with small projects to make communities big and small more livable. AARP has donated funds to 11 Oregon communities since the grant project began in 2017.

"AARP has made a commitment to help communities become more livable for all ages, races and abilities," said Edward Brewington, AARP Volunteer State President. I'm proud of the way AARP invests directly in communities through these grants, but also through the efforts of our staff and volunteers who work alongside their friends in neighbors across the state every day.

The program is intended to help communities make immediate improvements and jump-start long-term progress in support of residents of all ages.

"AARP developed the Community Challenge grant program to help communities get quick wins to create long-term change," Brewington said.

As part of this effort, AARP staff and volunteers engage and mobilize residents, delivering technical assistance and expertise to local leaders and organizations, and supporting the work of the communities and states that have enrolled in the AARP Network of Age-Friendly States and Communities.

Oregon challenge grants have been as small as putting in seating and flower boxes along Main Streets or building capacity for nonprofits

The application period for the 2021 AARP Community Challenge is now open!

The AARP Community Challenge provides small grants to fund quick-action projects that can help communities become more livable for people of all ages. Applications are accepted for projects to improve public spaces, housing, transportation, civic engagement, coronavirus recovery, diversity and inclusion, and more. After reading the information below, click the yellow button to apply.

CLICK HERE TO APPLY

Eligibility
The program is open to the following types of programs:

501(C)(3), 501(C)(4) and 501(c)(6) nonprofits
Government entities
Other types of organizations will be considered on a case-by-case basis
Acceptable Projects

AARP will prioritize projects that deliver inclusive solutions that meet the needs of diverse populations, as well as those that directly engage volunteers through permanent or temporary solutions that aim to achieve one or more of the following outcome areas:


Create vibrant Public Places that improve open spaces, parks and access to other amenities.

Deliver a range of Transportation and mobility options that increase connectivity, walkability, bikeability, wayfinding, access to transportation options and roadway improvements.
Support a range of Housing options that increases the availability of accessible and affordable choices
Increase Civic Engagement and demonstrate the tangible value of "Smart Cities" with innovative and tangible projects that bring residents and local leaders together to address challenges and facilitate a greater sense of inclusion
Support local recovery from the Coronavirus pandemic with an emphasis on economic development, improvements to public spaces and transportation services
Ensure a focus on Diversity and Inclusion while improving the built and social environment of a community
Other community improvements. In addition to these areas of focus, AARP wants to hear about local needs and innovative ideas for addressing them
Oregon Grantees:

2017


Eugene: SquareOne Villages Grant funds were used for construction materials to complete an ADA-compliant tiny home in Emerald Village, an affordable housing community of 22 tiny houses. [WWL]
Port Orford: Port Orford Street Revitalization Association Grant monies enabled the purchase and placement of benches with attached planters to provide pedestrians with places to sit. [WWL]
2018


Hood River: City of Hood River Grant funds will enable Streets Alive! Hood River to pilot an open streets program, in which streets are closed off to cars and opened to pedestrians, enabling a host of public space exercise activities such as yoga and dance classes.
Portland: Verde The grant supports Verde's Mobile Home Repair Extravaganza by funding up to eight home repairs for older adults, families with children, and residents with disabilities. The home repairs completed with this grant will address critical health, safety and livability issues impacting low-income residents.
Prineville: Crook County on the Move The grant will provide for the installation of four age-friendly benches along a bicycle and pedestrian pathway.
2019


Portland: APANO Communities United Fund This new pilot program will engage elders in the Jade District and teach them to use technology to increase mobility and connect to community resources.
Salem: Center 50+/City of Salem This project will activate a vacant downtown storefront to create a pop-up summer program that is free and available to people of all ages and abilities. It will also provide hands-on educational opportunities to help assist citizens, especially seniors, with navigating the public transit system and downtown wayfinding.
Talent: Talent Maker City This project will improve older adults' engagement with the downtown community by using innovative intergenerational programming focused on empowering older adults to use STEAM skills such as carpentry, screenprinting and more in the city's downtown "maker space."
2020

Milton-Freewater: Milton-Freewater Downtown Alliance The grant will be used to install a gathering place and activity plaza where people of all ages can be active and socialize while keeping a safe distance.
Portland: Asian Health and Service Center Funding will be used to expand the work of a successful response team that provides culturally specific, urgently needed support for older adults who face language and cultural barriers that increase isolation and loneliness.
Portland: Ecumenical Ministries of Oregon, Metro HomeShare Program To ensure that Oregonians can continue to be reached and assisted during the global coronavirus pandemic, new digital and remote ou