Ashland volunteer Anne Bellegia has been selected by AARP Oregon to receive the 2023 Andrus Award for Community Service, the Association's most prestigious and visible state volunteer award. Recipients across the nation were chosen for the award, named for AARP founder Ethel Percy Andrus, for enhancing the lives of AARP members and prospective members, improving the community, and inspiring others to volunteer.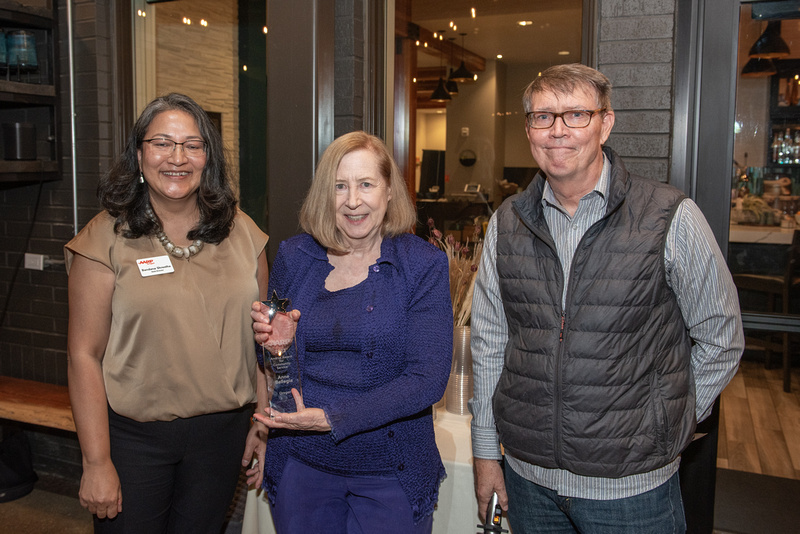 Bellegia was recognized for her remarkable service on behalf of older adults throughout the Rogue Valley. The award was formally presented by Oregon State Director Bandana Shrestha and State Volunteer President Michael Schultz at the AARP Oregon Volunteer Leadership Summit on October 9. "AARP has long valued the spirit of volunteerism and the important contributions volunteers make to their communities, neighbors, and the programs they serve," said Shrestha. "Anne stood out amongst an impressive slate of nominations received from across the state. She shares AARP's vision of aging with dignity and purpose and enacts this vision daily in her volunteer efforts."

Anne's many volunteer roles include being a founding member of the Ashland Senior Advisory Committee, which advises the Ashland Parks and Recreation Commission and the City Council on the needs of older residents. Her leadership in Livable Ashland Alliance furthers AARP goals of age-friendly and livable communities. She is also a long-term volunteer with Osher Lifelong Learning Institute (OLLI) at SOU and has worked on caregiving issues, including more caregiving resources to meet our aging demographics, better earnings and training for hired caregivers, and more support for family caregivers.