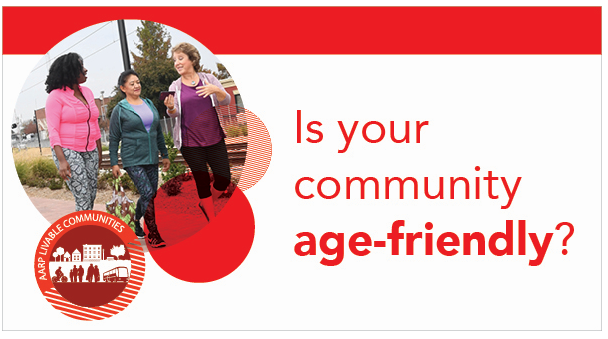 AARP Oregon is kicking off a statewide listening tour this spring to hear from Oregonians 50+ about their communities. The Age-Friendly Oregon: Building Communities for All Ages Listening Tour will include stops in twelve Oregon communities between March and June 2018. In each community, AARP staff and volunteer leaders will be host a public community conversation designed to hear from 50+ Oregonian about their communities, their priorities and aspirations for a livable and age-friendly Oregon.
Message from AARP OR Volunteer State President Elaine Friesen-Strang
Join the Age-Friendly Oregon Movement !
AARP is helping Oregon communities become great, livable places for people of all ages. Register today for an "Age-Friendly Oregon" community conversation near you. Click on the links below or call toll-free 1-877-926-8300.
Astoria - March 28, 12:30pm http://aarp.cvent.com/AstoriaAgeFriendly2018
Medford - April 7, 12:00pm http://aarp.cvent.com/MedfordAgeFriendly2018
Milwaukie - April 13, 9:00am http://aarp.cvent.com/MilwaukieAgeFriendly2018
Portland - April 19, 9:00am http://aarp.cvent.com/NEPortlandAgeFriendly2018
Newport - May 7, 2:00pm http://aarp.cvent.com/NewportAgeFriendly2018
Coos Bay - May 8, 3:00pm http://aarp.cvent.com/CoosBayAgeFriendly2018
Eugene - May 9, 1:30pm http://aarp.cvent.com/EugeneAgeFriendly2018
Pendleton - May 21, 3:00pm http://aarp.cvent.com/PendletonAgeFriendly2018
Enterprise - May 22, 2:00pm http://aarp.cvent.com/EnterpriseAgeFriendly2018
The Dalles- May 23, 3:30pm http://aarp.cvent.com/TheDallesAgeFriendly2018
Woodburn - June 6, 4:00pm http://aarp.cvent.com/WoodburnAgeFriendly2018
Bend - June 12, 2:00pm http://aarp.cvent.com/BendAgeFriendly2018
Salem - June 13, 1:30pm http://aarp.cvent.com/SalemAgeFriendly2018
Read an AARP Bulletin Article about the tour: https://states.aarp.org/or_exploring-residents-want/