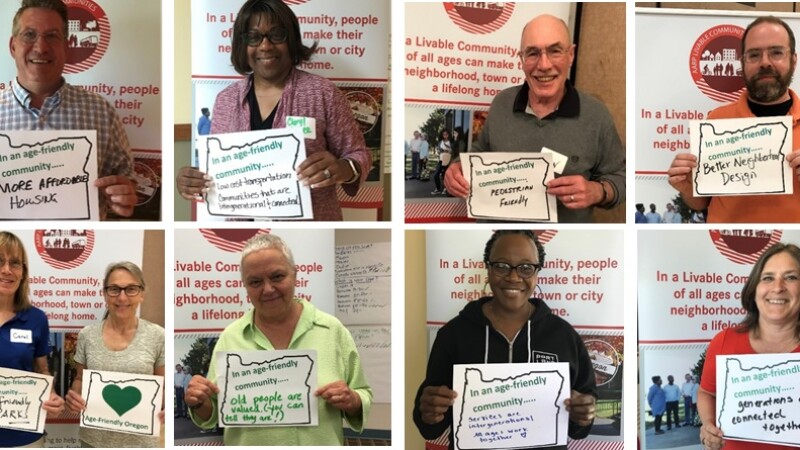 According to the U.S. Census Bureau, the number of Americans age 65 or older is projected to grow by almost 50 percent from 2016 to 2030. An average American child who is 10 years old today has a 50% chance of living to 100 or beyond. Many Oregon communities are at the front edge of this demographic shift. How can our communities prepare for the future?

AARP Oregon is working with Age-Friendly Champions across Oregon to make our state a great place where people of all ages and abilities. Building on the 2019 Age-Friendly Oregon Summit, we launched the Age-Friendly Oregon Webinar series in May 2020. The series seeks to equip participants with tools and information to learn more about and become better advocates for age-friendly communities. Each features an age-friendly topic and highlights current research, best practices, and policy solutions. These events bring together national and Oregon subject matter experts and thought leaders to inspire innovation and collaboration in our communities.

All attendees are welcome – older adults, local, regional and state policymakers, planners, aging network, service providers, advocates and all those with an interest in building age-friendly communities.


AGE-FRIENDLY OREGON WEBINAR SCHEDULE
The Future We Want: Building Communities for All Ages
Thursday, May 28, 2020 @ 10am
View On Demand: https://bit.ly/thefuturewewant5282020
Join us to hear from local and national leaders who are involved in age-friendly efforts. Learn about strategies for making communities more livable for people of all ages, abilities, races and incomes.
Panelists:
- William Armbruster, Senior Advisor, AARP Livable Communities
- Marilyn Daily, Director, Center 50+
- Marcus Mundy, Executive Director, Coalition of Communities of Colo
- Margaret Neal, PhD, Professor Emerita of Urban Studies, Portland State University
Moderator: Liz James, Livable Communities Volunteer Leader, AARP Oregon
Download the event flyer, speaker bios, and powerpoints.

Achieving Age-Friendly Health & Community Supports in Oregon
Thursday, June 18, 2020 @ 10am
View On Demand:: https://bit.ly/agefriendlyhealth61820
Oregonians are living and maintaining good health longer. However, as we age, our health needs may change. Age-friendly communities of all sizes foster positive health, wellness, and health equity and provide access to quality health care. Join us for our second webinar in the Age-Friendly Oregon series. Hear about health policy and system issues that impact health, wellness, and disease management among Oregon's aging population. Learn about innovations and best practices as well as resources to help older adults and family caregivers.
Panelists:
- Dr. Laura Byerly, Geriatrician, OHSU
- Holden Leung, Executive Director, Asian Health & Service Center
- Rose Locklear, Field Services Program Manager, Office of Rural Health
- Laura O'Bryon, Senior and Disability Services Director, Rogue Valley Council of Governments.
Moderator: Bandana Shrestha, Engagement Director, AARP Oregon
Download the event flyer, speaker bios, powerpoints , additional resources and answers to questions during chat.

Towards More Age-Friendly Housing
Thursday, July 30, 2020 @ 10am
View On Demand:: https://bit.ly/agefriendlyhousing73020
Stable, secure, affordable, and accessible housing is fundamental to our well-being regardless of age. Our homes should support us today and into the future. Nearly 80% of Americans age forty-five and older want to live in their own home and community as they age. With Americans age 65 plus projected to grow by almost 50 percent from 2016 to 2030, without the right policy interventions, investments, and innovations, the housing crisis is only going to worsen. Hear from thought leaders, policy makers, and practioners working on housing issue nationally and here in Oregon. We will learn about current trends and housing demand, policy solutions, promising practices, and opportunities to create opportunity for more age-friendly housing in our communities.
Panelists:
- Bill Cunningham, City Planner, City of Portland
- Shannon Guzman, MCP, Senior Strategic Policy Advisor, AARP Public Policy Institute
- Shannon Singleton, MSW, Housing Policy Advisor to Governor Kate Brown at State of Oregon
Moderator: J. Daniel (Dan) Steffey, Principal, JDSCO LLC
Download the flyer and speaker bios. Check back for session powerpoints.

What's the Future of Oregon's Economy in a Covid-19 World?
Tuesday, Aug 11, 2020 @ 10:30 am
View On Demand:: https://bit.ly/agefriendlyeconomy81120

Oregon and the nation are in the deepest economic downturn since the Great Depression. Forecasters anticipate a long, uneven recovery that will begin in earnest only after the virus is eliminated. The downturn illuminated longstanding societal and economic inequities.
Infection and death rates have been borne disproportionately by communities of color and the elderly, and stock markets are thriving despite record unemployment and accelerating business closures. The year has brought unprecedented change and so many questions.
Panelists:
- Rukaiyah Adams, Chief Investment Officer, Meyer Memorial Trust
- John Tapogna, President EcoNorthwest
Moderator: Ruby Haughton-Pitts, State Director, AARP Oregon
Download the event flyer with speaker bios here. Download the presentation here.

Getting There: Age-Friendly Transportation
Thursday, September 17, 2020 @ 10 a.m.
View On Demand: http://bit.ly/agefriendlytransportation91720

Access to transportation is essential to daily life whether it's getting to the store, doctor's appointments, visiting friends, or simply aging in place. Age-Friendly communities have affordable, safe and a variety of transportation options. Learn about trends, barriers to access, policy opportunities, and innovations from transportation thought leaders.

Panelists:
• Duncan Hwang, Associate Director, Asian Pacific Islander Network of Oregon
• Paige West, Planning & Strategic Programs Manager, Rogue Valley Transportation District
• Julie Wilcke Pilmer, CEO, Ride Connection
• Rob Zako, Executive Director, Better Eugene-Springfield

Moderator: Bandana Shrestha, AARP Oregon

Download the event flyer with speaker bios.
Download the presentation here and here.

Toward an Age-Friendly Oregon
Monday, December 7, 2020 @ NOON
Now more than ever we need our communities to help us thrive regardless of our age or ability. Well-designed, age-friendly communities foster economic growth and make for happier, healthier residents of all ages. Join AARP Oregon and Age-Friendly Champions for a conversation on Monday, December at Noon. Learn what other states and communities are doing to become more livable for all. Come share your thoughts and help us shape the future.
Download the event flyer.
Download the slide deck from the event here.

Toward an Age-Friendly OR.mp4