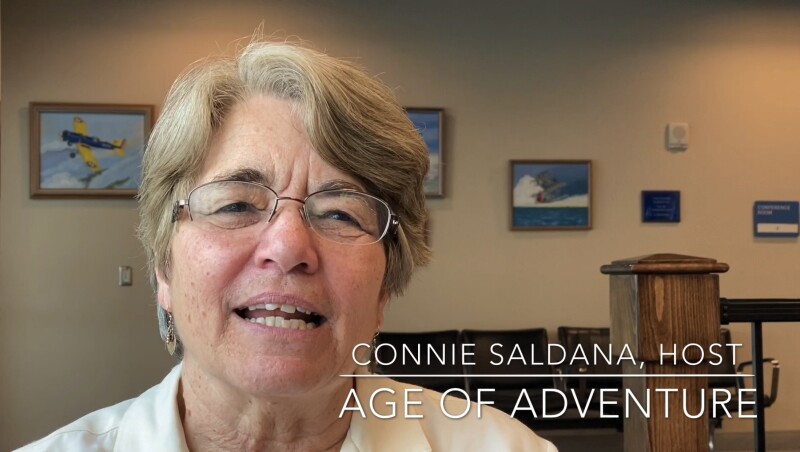 Age of Adventure is a monthly radio program from KSKQ Community Radio. AARP has been a supporter and collaborator of this program from its inception. Check out our interview with Connie Saldana, developer of the show and one of the show's hosts. For your convenience we have listed the descriptions and links to each show on this page for your listening pleasure.


January 3, 2020

Gil Penalosa, international consultant on the creation of humane cities and urban parks that work specifically for people 8 and 80 years old and everyone else, spoke in Medford Oregon on December 11, 2019. Next, Dami Roelse is an expert in walking. She has hiked in many countries on many continents since her first intercontinental trip as a teenager. She says, "Walking allows you to take in nature with your senses, to meet people. The activity makes you want to care for the environment." Dami coaches women over 50 in walking and hiking and is authoring her third book.

December 6, 2019



Blake Rogers is CEO and partner in OM Extracts, a family-owned business in Southern Oregon that refines and sells CBD oil extract made from the hemp plant. The CBD industry is in its infancy, but expanding fast. Next, Dennis Caraher is a musician and teacher of song writing. He writes music for children, as well as adults and we'll hear a song from each genre today. From Dennis we will learn about the process of musical creativity.

November 1, 2019


Three interviews: 1)We'll short interview with Elizabeth Hallett, Executive Director of Peace House in Ashland, Oregon, talking about their 2019 Peacemakers Awards Dinner. They honored Native American educator, David West; anti-gun-violence advocates with a project called "Vison Quilt;" and non-violent social change advocates, Dr. Larry Ward and Dr. Peggy Rowe Ward. 2) Lily Myers Kaplan of Spirit of Resh Foundation—with the mission "Enhancing Life by Embracing Death"—has just published a new work book, LOSS TO LEGACY: A stepping stone path to healing & transformation. 3) Joanne Berdeen addresses the delightful topic of laughter. She facilitated a roundtable, "Growing Older, Laughing all the Way" for The Jefferson Center, an organization dedicated to intelligent conversation.

October 4, 2019



Three interviews: 1) Bret and Amy Moore of W.L. Moore Construction in Central Point, Oregon are a builder and a realtor who tell us why their company's homes are certified as "Lifelong Housing". All their homes are constructed with Universal Design features that anyone can enjoy comfortably and safely at any point in their lives and at any level of ability. 2) Mended Hearts is support group for survivors of heart attacks and their families. Learn from Jeff Roberts and Marlon Taylor. 3) Learn about saving lives from Heather Timmons, a nurse-instructor with a project called "Stop the Bleed." Without educated intervention, a person who is severely bleeding can bleed to death in as few as 5 minutes.

September 6, 2019 (First Friday)

Explore Senior Villages with Katharine Danner, Executive Director of Ashland At Home. A Village is made up of seniors who need help with a wide range of activities with other seniors—volunteers—who are willing to provide that help. There are many village models across the country linked in a Village-to-Village Network

Next we move into a more enigmatic realm, with an interview with Elena Cooper, family owner and tour guide extraordinaire, about the Oregon Vortex—a location where the laws of physics are unexpectedly suspended without a scientific explanation. The Oregon Vortex is the original House of Mystery imitated at Knott's Berry Farm in LA and other attractions around the world.

July 28 & August 2, 2019


Focus on AARP's Driver Safety program. Learn about it from Jim Botwins, Cleon Cox, Craig Bussey and Layton Rosencrance. Driver safety for people 55 and older is essential. In addition to keeping the roads safer for everyone, drivers who take the basic AARP training are eligible for savings on their insurance.

Talent (Oregon) as a Maker City. Explore the process with Ryan Wilcoxson, Executive Director, and City Counselor, Stephanie Dolan. Maker Cities promote craft manufacturing in order to elevate and revitalize downtown districts. The City features a community "Maker Space" fully-equipped with tools for imaginative projects, where local residents can be creative in a collaborative environment and make money in the process.

June 23, 2019


Professional story teller, Thomas Doty. We've spoken about the example that traditional cultures set for individuals and peoples in terms of respect given to elders and the value of the wisdom that they, in turn, pass to their communities. We will learn how stories work to preserve and strengthen Native American communities.

Marla Estes and Rob Schläpfer dig deep into the healing of schisms through enhanced communication between humans, starting with effective listening skills through their project, "Bridging the Divide."

May 26, 2019
Today's interviews will take you to the worlds of two individuals who are passionate about their work—one as a volunteer in far-off lands, one as an employee of a museum of anthropology. In the world of a Rohingya refugee camp in Bangladesh, Molly Mckissick taught small children games to help them heal from the trauma in their lives. This interview is guaranteed to move your heart. In a world of another sort, Marc Lonn shares about his life after retirement, fulfilled by providing "customer service supreme" as Concierge at San Diego's Museum of Man. (This interview is replay of May, 2017.)

April 28, 2019

Pam Norr, Executive Director of ACCESS, the Community Action Agency in Medford, Oregon, shares about the key service role of CAAs in communities around the United States. She describes the many programs offered by ACCESS to its "neighbors" (clients). In a repeat interview, NeuroScientist, Dr. Rob Winningham, shares information about the aging brain and tips for warding off dementia. Plus a short "Why I don't have as many friends as I used to" from AARP Magazine Feb/Mar 2019.

March 24, 2019

Ellen Waldman, certified Aging Life Care Specialist, talks about the role of practitioners in her profession to help individuals and families prepare for changes that often come with aging. "Aging Happens, Planning Helps." Get some solid tips on the process of successful retirement from Ean Roby. Ean, a retired Community College teacher now gets joy from volunteering as an instructor OLLI (Osher Lifelong Learning Institute) at Southern Oregon University.

February 24, 2019

Two vastly different but passionate examples of dedicated community service: learn about the history, mission and work of Free Masonry with the Masters of three Southern Oregon Masonic Lodges. Next listen again to a 2018 interview with Portland resident, Margaret Carter, a Black mother, grandmother, attentive neighbor, school board member, engaged citizen and former Oregon State Senator about her life of service.

January 27, 2019

John Curits, retired attorney, discusses issues of coverage of mental health by Medicare and explains his committee's advocacy work on a campaign to expand the types of mental health counselors that are covered. Then, Sarah Seybold, retired hospice nurse, former Peace Corps volunteer, world traveler, shares about the process of having to downsize her home many times before moving.