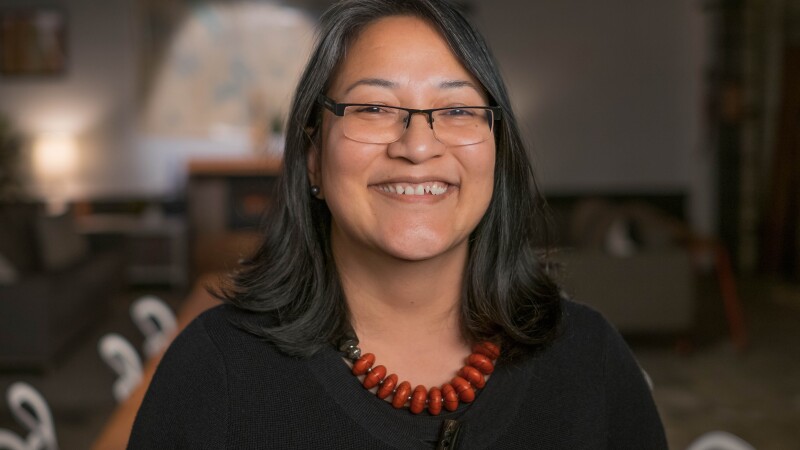 AARP regional vice president Rawle Andrews Jr. announced that Bandana Shrestha is the new state director for AARP in Oregon, effective July 11, 2021. Shrestha will represent the interests of over 500,000 members, and oversee the work of seven professional staff and over 150 volunteers to advance AARP's social impact agenda for all persons 50 and older statewide.

"Bandana has a deep understanding of our organization, she understands the challenges facing older adults and their families in Oregon and nationwide, and she works tirelessly to ensure AARP is as good as its promise in serving as a champion for defending the rights and interests of all Oregonians as they age. I look forward to working with her and our strong Oregon team of volunteers and staff," said Andrews.

Shrestha has been an Associate State Director for AARP Oregon where she serves as the staff lead for AARP's livability work growing and supporting the Network of Age-friendly Communities, advocating for policies and programs that enhance affordable and accessible housing options, and expanding transportation and mobility options for all. During her tenure, she also served as an interim manager of operations for AARP Florida. Before joining AARP in 2005, Shrestha served as Director of Model Programs and Partnerships for the Points of Light Foundation where she developed and led volunteer programs for community innovation and leadership development across general and multicultural audiences. She holds a BA from Linfield College, an MFA from the University of Oregon, and a certificate in Gerontology from the University of Southern California.

"The pandemic has sharpened AARP's focus around health security, financial stability, as well as safe and meaningful ways for older Americans to give back to their respective communities. I am humbled and excited to work with the AARP Oregon team, our colleagues across the country, and our community partners in this new role to ensure we meet the moment as America and Oregon look to reopen, restart and recover," said Bandana Shrestha.

"The state of Oregon and AARP are both incredibly fortunate to have a trusted leader in Bandana Shrestha, who brings an unwavering commitment and leadership to improving the lives of all Oregonians in her new role as state director. I have been part of the conversations Bandana has convened between the public sector, communities of color, and AARP to address the unmet needs and to work towards solutions. She will be an invaluable voice at the national level now as well," said Daphne Kwok, Vice President, AARP Office of Diversity, Equity & Inclusion.

Shrestha's appointment as the new state director also is being praised across the state of Oregon:

"I am very excited to learn that Bandana Shrestha will become the state director for AARP in Oregon. Bandana served on my board of directors for six years and she has proven to be an effective leader who is strategic, thoughtful, and humble. Bandana will be a great advocate for AARP constituents and bring a high level of engagement with community partners." Dan Herman, CEO, 211info.

"Bandana Shrestha has been with me every step of the way in my volunteer service with AARP Oregon over the past ten (10) years. She is a true leader, respectful, guiding, supportive, inclusive, approachable, a listener, encourager, trustworthy and genuine. I know that the relationship Bandana has cultivated with me and my fellow-volunteers has been a stimulus for my continued involvement with AARP Oregon." Geneva Craig, PhD, RN, Executive Councilmember, Diversity Advisory Councilmember (DAC) and Southern Oregon Community Action Team member (CAT), AARP Oregon.

"I am so delighted to see Bandana Shrestha represent AARP Oregon as its new state director. She is an amazing advocate and she has a wealth of knowledge that will surely serve our communities well. Bandana has dedicated countless hours to bettering our community, especially for our vulnerable populations and communities of color. As an organizer she has worked closely with volunteers and community leaders to advocate for safe streets and also develop NeighborWalks, an age-friendly walking program for our neighbors to enjoy. Her leadership has been wonderful to witness and her dedication to the community is unparalleled. She is exactly the leader we need representing older Oregonians at this moment in time." Ashton Simpson, Executive Director, Oregon Walks

"The selection of Bandana to represent AARP for the State of Oregon as State Director is tremendously exciting. I have worked with her on local, regional and statewide priorities for seniors for many years and she brings such enthusiasm and creativity to solving issues that face our aging population. She understands that seniors thrive in our communities with age-friendly initiatives that address social determinants of health and contribute to active, rewarding engagement. I'm looking forward to furthering our partnerships in her new capacity." Phil Warnock, Executive Director, Oregon Association of Area Agencies on Aging and Disabilities (O4AD)


About AARP

AARP is the nation's largest nonprofit, nonpartisan organization dedicated to empowering Americans 50 and older to choose how they live as they age. With nearly 38 million members, AARP works to strengthen communities and advocate for what matters most to families with a focus on health security, financial stability and personal fulfillment. AARPOregon has more than 510,000 members and 150 state office volunteers as well as volunteers for the AARP Foundation Smart Driving Program and AARP Tax Aide. AARP also works for individuals in the marketplace by sparking new solutions and allowing carefully chosen, high-quality products and services to carry the AARP name. As a trusted source for news and information, AARP produces the world's largest circulation publications, AARP The Magazine and AARP Bulletin. To learn more, visit www.aarp.org/or Follow us on twitter @AARPOregon or find us on Facebook at www.Facebook.com/AARPOregon.