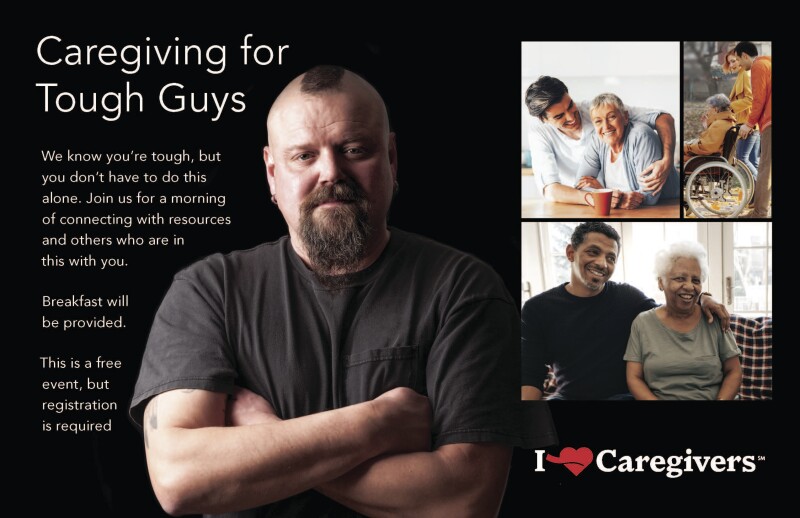 Eugene, OR – No one denies it. Family caregiving can be tough – but there are plenty of tips and tools available to make this labor of love easier. On Friday, Oct. 26, AARP Oregon and the Alzheimer's Association are offering a workshop with a twist: the ins and outs of "Family Caregiving for Tough Guys," at Venue 252, 252 Lawrence Street in Eugene.
"We are focusing on men who are caregivers because too often they try to be tough guys and do this on their own," said Abby Gershenzon, Regional Coordinator for the Alzheimer's Association. "Caregivers need support and resources and we're hoping this event will help connect them with resources they need."
While people tend think of family caregivers as women, that stereotype is changing. "Eight years ago, just 34 percent of caregivers surveyed were men," said Carmel Perez Snyder, director of advocacy and outreach for AARP Oregon. "Today, 40 percent of the 40 million Americans caring for a loved one are male." In Oregon, there are approximately 470,000 unpaid family caregivers.
According to "Breaking  Stereotypes: A Spotlight on Male Caregivers," from AARP, over half of male caregivers (63 percent) reported that they were the primary caregiver. Male family caregivers were mostly providing care to an aging parent or in-law (49 percent) or a spouse (13 percent) with a long-term physical condition that required assistance with activities of daily living (ADLs) such as eating, dressing, or bathing, or instrumental activities of daily living (IADLs) such as managing finances and meal preparation.

Family Caregiving for Tough Guys is open to all family caregivers. Speakers include attorney Chas. Horner, KEZI TV's Matt Templeman and Eugene Police Sgt. Dale Dawson who will be sharing advice, their stories and tips.
While the event is designed to help with caregiving, there is some fun included as well. Nuts Car Club will provide cars for the event, and Salon to Go will provide hair trims. And Breakfast is included. For more resources about family caregiving, go to aarp.org/caregiving

The free event is open to the public, but registration is required. To register call 1-877-926-8300.
For more information on family caregiving in Oregon, and the need for caregivers to get breaks, visit our Family Caregiving Respite Report.