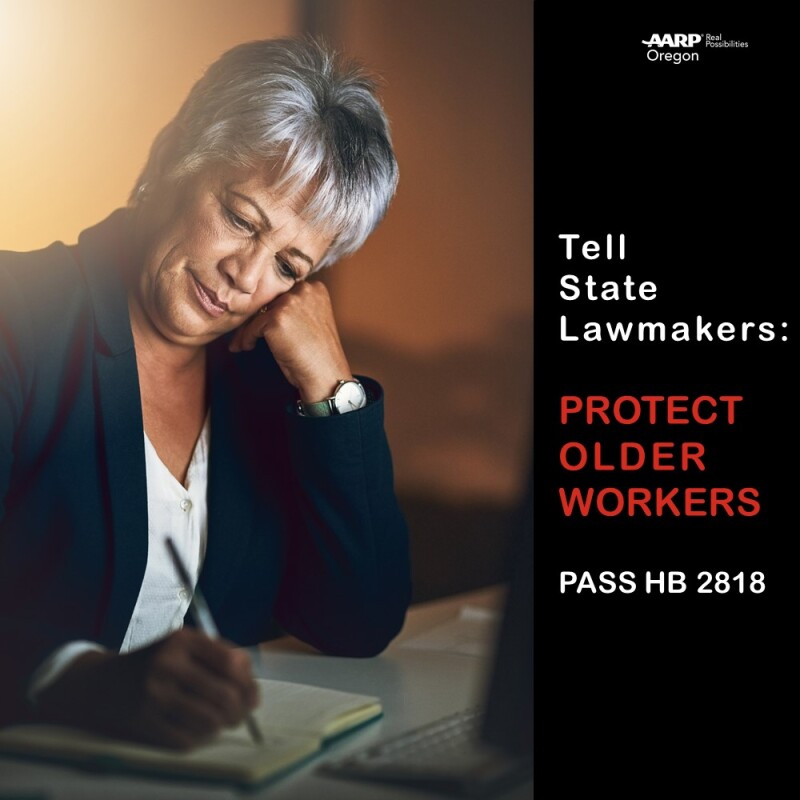 Older Oregonians often hear, "Your Help NOT wanted," when they are in the job market, according to a new survey commissioned by AARP Oregon.

To determine the breadth and scope of age discrimination in the workplace, AARP Oregon surveyed 1000 adults ages 40 plus and found that:

More than three in five Oregonians ages 40+ (62%) have seen or experienced age discrimination in the workplace. Of them, about 90% believe age discrimination is very or somewhat common.
Older workers in Oregon are being asked for age-related information in the job application and interview processes.
The majority say they would report age discrimination if they experienced it in the next year (62%), but the reality is that official reporting of age discrimination is low (8%), mainly because of concerns about retaliation or that it wouldn't do any good.
"One of the most common phone calls that comes in to the AARP Oregon office is from a member who feels they have been discriminated against either in their job, or in their effort to find a job," said Joyce DeMonnin, AARP Oregon Communications Director. The research released Tuesday confirms that older adults feel at an unfair advantage in the job market.

It is an unfortunate fact today that discrimination based on age is so routinely practiced that it has become acceptable, and indeed commonplace," said Patricia Garner, State Public Policy Chair for the AAUW of Oregon. "Older workers aren't trying to snatch jobs from younger workers — if a worker is qualified, she or he should be able to work the job. Younger or older. It's the qualifications that count."

AARP Oregon and other advocacy organizations have championed HB 2818 to level the playing field for older workers in Oregon, DeMonnin said. The legislation is sponsored by Representative Piluso, Representative Gomberg, Representative Alonso Leon, Representative Bynum, Representative Doherty, and Representative Holvey, Representative Lively, Representative Marsh, Representative Noble, Representative Nosse, Representative Schouten, Representative Williams, Representative Witt, Senator Dembrow, Senator Knopp, Senator Manning Jr, Senator Monnes Anderson, and Senator Taylor.



HB 2818 will help prevent age discrimination by doing the following:



Ban the Age Box. Prohibit employers from asking age-identifying information on job applications, so older workers aren't screened out in advance.

Improve the definition of age discrimination in 659A.028. Employment actions based on characteristics closely associated with age would now be considered age discrimination, unless the employer can show that age was not at all a factor in the decision. The legislation ensures that bona fide perks for longer term workers (e.g. seniority system and early retirement) are not disrupted.

Increase victim compensation for those who experience age discrimination in order to deter such behavior by employers. The state statute would now be more in line with federal age discrimination statutes (ADEA) in this regard.
Age discrimination in the workplace has significant consequences both for the individual and for more likely to become impoverished, and end up using government services, such as Medicaid, which is paid by taxpayers. "As we prepare for a society with longer lifespans, we need to make sure that people who can and want to work are not discriminated of because of their age," said DeMonnin.

AARP is the nation's largest nonprofit, nonpartisan organization dedicated to empowering Americans 50 and older to choose how they live as they age. With nearly 38 million members nationwide and 510,000 in Oregon, AARP works to strengthen communities and advocate for what matters most to families with a focus on health security, financial stability and personal fulfillment. To learn more go to www.facebook.com/AARP Oregon or aarp.org/or.