0000016b-01ad-dd13-abeb-61efe6dd0000



There is nothing like an aroma from childhood to make one feel at home, and so it's not surprising that Luul and Tekle, who were both born in Eritrea, love to make African coffee from scratch including roasting the beans themselves on the stovetop. Another nod to their roots is the picture of an African nomad and family in their living room who are also enjoying the delicious brew.

But beyond the tastes of Africa, Luul Ghebrednghil and Tekle Sebhatu "have totally assimilated to being USA citizens and living here." In fact, they feel blessed and lucky to be able to living bi-culturally. Although they come from the small African nation of Eritrea with less than 7 million people, they didn't meet there. Yet they found themselves on a common path toward higher education that would lead from Eritrea to the United States—and eventually to each other. (Luul was so determined to continue her education that, at one point, she shaved her head so that she would not be appealing to her prospective bride groom her mother had chosen for her. Instead of marrying, she attended middle school in Asmara.)

Tekle Sebhatu grew up in Asmara, the son of a businessman and elected official. He came to the U.S. in 1973 to attend Rutgers University. He then attended California State University in Hayward, California. He also worked for Parke-Davis Pharmaceuticals from 1981-1989. He purchased a pharmacy in 1985 and ran it until 1994. It was during this time, dealing with requests from foreign countries for drugs, that he became interested in and earned his Doctorate Degree in International Trade.

After attending Haile Selassie University in Ethiopia, Luul came to the U.S. in 1972 to attend the University of Wisconsin Oshkosh where she earned her Bachelor's Degree in microbiology. She earned her physician's degree from the Wisconsin College of Medicien. She did her internship and her residency at the VA Hospital in Reno, Nevada. From there she spent time in Fresno, California, and Dearborn, Michigan, eventually ending up at the VA Hospital in Roseburg, Oregon where she worked for 15 years.

In the meantime, Tekle began working a series of jobs including working for the World Bank in Washington, D.C., Citizens for Democracy in St. Petersburg, Russia, and jobs in South Africa and Singapore. He also taught part-time at City College in San Francisco, UC Berkley, Georgetown, and, later, Umpqua Community College in Roseburg where he was able to create an International Business course.

And finally, these two people from Eritrea who had been traveling on separate paths, crossed paths when Luul's brother, who was a friend of Tekle's cousin, arranged an introduction. Luul is grateful for the opportunity she found in the U.S. "I would not have accomplished what I have if I were at home," she says. She was blessed to be in the right places with the right people who supported her. "We are both beneficiaries - and contributors - of what the U.S. has to offer," says Tekle.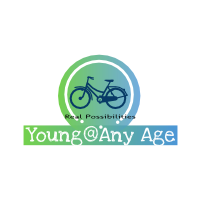 Young at Any Age is a collaborative project with the AARP Oregon Volunteer team of Carlos Romo, Steve Carter, Joyce DeMonnin, Sam Jones and Debbie Cahill. Send in suggestions to oraarp@aarp.org for outstanding Oregonians 50+ who prove that age is just a number. #DisruptAging #RealPossibilities





[Photo: Sam Jones]