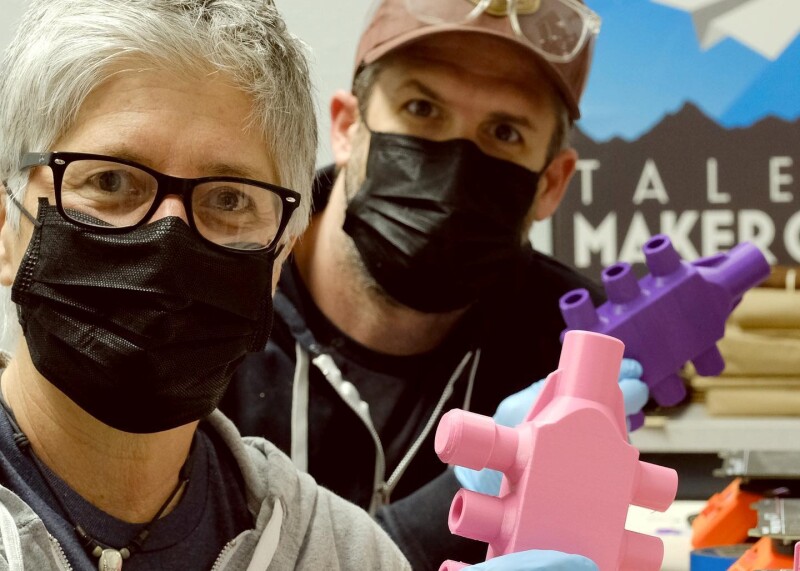 Scrappy, audacious and innovative. Talent Maker City (TMC), a local non-profit organization based in the City of Talent in Southern Oregon, is all that and more. Its well-used and well-loved makerspace is located in downtown Talent in a low-rise building that some may mistake for just another small town strip mall. But make no mistake. With a pizza joint to one side and a converted gas-station-turned-popular-pub across the way, Talent Maker City is a community hub for this wonderful tight-knit town and brings young and old together to build community and co-create a shared future.

Inspired by TMC's work and especially what they have been doing since the COVID-19 pandemic, we reached out to TMC Executive Director Ryan Wilcoxson and are excited to bring this interview to you.

Ryan, Tell us about TMC? Who is involved? When did it start? Why did it start? What does it do?
TMC began when four Talentonians applied to attend the Etsy Maker Cities Summit in 2016. We were chosen along with 13 other North American cities to spend an intensive two days in Brooklyn, NY learning how more can be done to support our local crafters, artisans, and makers to create a sustainable creative economy. By December 2016, we had formed board of directors and were granted our nonprofit status. Since then, we have taken what we learned in Brooklyn, applied those ideas to our rural realities, and have been focused on building a more connected, more prosperous community through hands-on creativity and STEAM-based learning.

TMC was a 2019 AARP Challenge Grant recipient. Tell us about the project and what made it unique from your ongoing work?
The City of Talent is an officially recognized Age-Friendly Community. Our intention in applying for the 2019 AARP Challenge Grant was to encourage cross-generational hands-on learning in our downtown Talent makerspace facility. We partnered with Talent's thriving Garden Club to develop a series of pollinator-themed workshops, as Talent is also an officially designated Bee City USA. We came up with three workshops in three creative disciplines that were repeated twice over the course of six weeks. In our ceramics workshops, students made hand-pinched pollinator watering dishes. In our screenprinting workshops, we printed reusable canvas totes and t-shirts that the Talent Garden Club will use to raise funds at their annual events. And in our woodworking workshops, we constructed mason bee houses and bat boxes. We encouraged students to make one pollinator house, bat box, and watering dish for themselves and one to be used in one of our beautiful pollinator gardens scattered around Talent, and maintained by the Garden Club.
This work isn't terribly different than our normal adult programming in terms of skill-building and social interaction. By virtue of partnering with AARP to offer the workshops, however, we successfully engaged a new audience that remains interested and involved at our makerspace. The kind of interaction that happens when creative minds of all ages are covered in clay, telling stories, and laughing is an invaluable part of maintaining Talent's age-friendliness and a generally more active, more engaged, more connected community.

TMC has been recognized for your recent work in response to COVID. How has COVID changed your work? And tell us about how you have mobilized to respond to the crisis?
When we were forced to cancel workshops and close the shop to members in mid-March, we took a few days off to process with our families what life in a COVID-restricted world might soon look like. We were also, of course, faced with the rattling reality that TMC had to quickly adapt if we were going to be around post-COVID. It didn't take long to find purpose and opportunity in directing all resources to confront the dire PPE and medical device shortages in Southern Oregon. Within days, we helped form a group of engineers, doctors, inventors, and makers called COVID Skunkworks to pool our collective skillsets and tools to begin prototyping and producing 3D-printed PPE and medical devices in collaboration with Asante Medical Group. Meeting every day via Zoom, the Skunkworks group developed solutions to medical problems, like designing an adapter that converts a single ventilator into one that could serve six patients and producing face shields designed to meet Asante's specific needs. With financial support from our community and several generous funders, TMC purchased six additional 3D printers to boost production capacity, two of which are highly specialized to print intricate objects. Those printers have been running 24/7 for the last six weeks and, along with a network of home-based makers with 3D printers, have produced thousands of pieces that are being used by front line workers in Southern Oregon.

What have been the biggest challenged to date? What are some lessons learned?
In the four years that Talent Maker City has been around, we've encountered myriad challenges and have overcome most of them with sheer determination and robust community support. Important lessons we've learned include how working full-time for 2+ years will always lead to burnout. On the other hand, we've also come to better understand the impact of serving as a community resource, the power of a connected community, and the resilient power of cultivating and maintaining a robust maker ecosystem in any community.

Talent is an Age-Friendly City and TMC is an important part of the non-profit and community life of the city. What role can local maker movement play in making communities age-friendly and a great place for people of all ages and abilities?
Resiliency, purpose, and connection. A makerspace is a place where people gathering to learn new skills, share ideas, socially engage with creative minds of all ages. A makerspace serves as a community hub that facilitates cross-cultural and cross-generational connections, which is a critical factor in sustaining and vibrant age-friendly community. Further, engaging different parts of the brain by learning a new skill or working with one's hands offers purpose and vitality to all who participate. Makerspaces are the foundation on which communities grow more connected, more capable, healthier, and happier.

Learn more about Talent Maker City here.