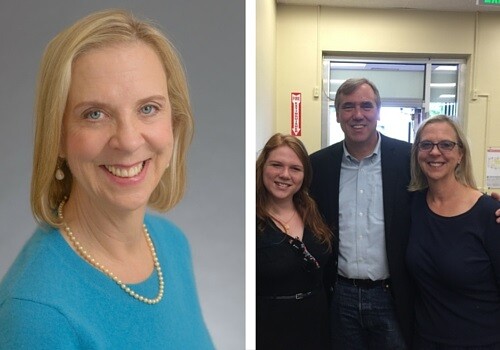 Joyce is show here with her niece and Sen. Jeff Merkley.
By Joyce DeMonnin
My brother had a massive stroke when my niece Katherine was just a freshman. She was scared about the future when it became clear that her dad was permanently disabled. The months following the stroke were full of financial turmoil – until she became 1 of the 45,421 children who receive Social Security in Oregon.

A few years later I was invited to an 80th birthday party for Social Security with both of our U.S. Senators and U.S. Rep. Blumenauer at a Portland Senior Center. I asked Katherine to join me so she could learn more about this great program that helps so many Oregon children, retirees and persons with disabilities. We were standing at the back door when Sen. Jeff Merkley walked by and said hello. When he learned Katherine had been a Social Security beneficiary, he asked if she wanted to tell her story and that he would give up some of his speaking time to her.

She readily agreed. I held my breath! At the podium surrounded by sea of older people and politicians, she spoke up about how Social Security had helped her and her family. She said Social Security gave her the foundation to know her dream of going to college would not be put on the back shelf. It gave her something to count on when she was in high school.

Our family story isn't unique. Nearly every week our members tell us about the challenges of people 50+ in the world today:

A caregiver fights back the tears when he/she needs a short break from it all – something we call Respite Care
The insurmountable challenges some older workers face when they try to find a job and get repeatedly passed over
Widows or widowers struggling to manage finances after the husbands (or wives) have passed away
Concern over the future solvency of Social Security and strengthening it for future generations which AARP is asking presidential candidates to address with our #TakeaStand efforts.


These stories, and more, fuel my passion to work even harder on behalf of people 50+. By speaking up we can #DisruptAging to get to the point where we're no longer defined by the old expectations of what we should or should not do at a certain age. As a small team, we work strategically with volunteers, community partners, higher education and the business community to advance the important work we do and leverage our resources on behalf of Oregonians throughout the state. As communications and media relations director in Oregon, it's my job to tell the stories of people 50+ and to share the many ways AARP is helping to make life better for our members and people of all ages. We want to showcase the challenges, dreams and opportunities of people 50+ through social media, traditional media, and other communication "channels." We celebrate the accomplishments of older adults and honor the intergenerational bonds that create strong Oregon communities.

As for Katherine, she is now a freshman studying engineering at #OregonStateUniversity.

If you have a story to share, we'd love to hear from you! You can connect with us in lots of ways:

Follow me on Twitter @OregonJoyce

Editor's Note: This month we're featuring blogs by our staff so you can get to know the AARP Oregon team better.

[photo: AARP Oregon]