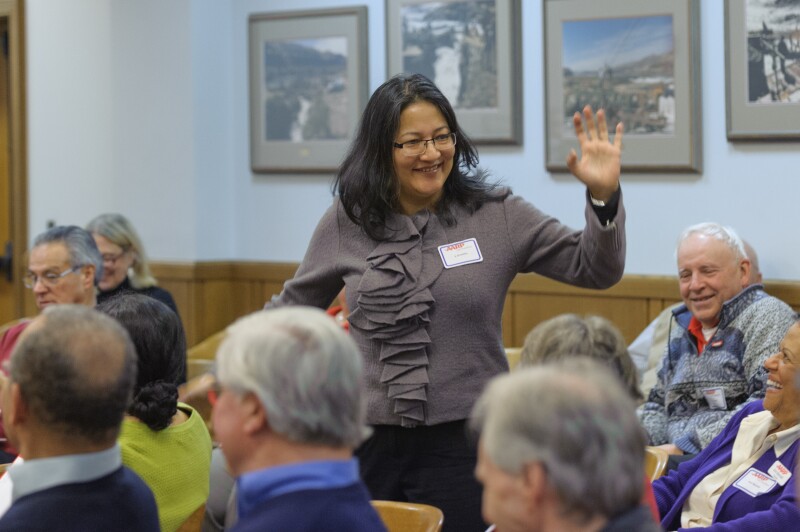 Bandana at an AARP Oregon Volunteer Training
By Bandana Shrestha

I am originally from Nepal and most of my immediate family still lives there, including my mom whom I try to visit every summer in Kathmandu. This year the family will celebrate my mother's "Junko," a special ceremony that celebrates elderhood, a happy time for all.
It wasn't so last year. Nepal suffered a massive earthquake in which 9,000 people perished. It was a terrible time and the country is still reeling from it. But my mom and family were spared. I was so honored to work for AARP because our Foundation and AARP members contributed $500,000 to help the vulnerable older adults impacted by the disaster. And that is just one reason I am so proud to work for AARP.
As Community Engagement director, one of my key responsibilities is volunteer engagement. AARP volunteers are in a class all of their own. From our volunteer-led NeighborWalks program in Portland to our statewide Diversity Advisory Council, volunteers are the backbone of our organization. They infuse our work with an enviable treasure trove of professional and lived experiences and wisdom. They are partners, collaborators and inspirations for the work we do! They are role models on how to lead passionate, purposeful and connected lives.
Another area of key of my work is leading our livable communities efforts. Well-designed, livable communities promote health and sustain economic growth, and they make for happier, healthier residents — of all ages. There are many features that contribute to making a community livable; chief among them is having affordable and accessible housing available. (Click here for more information including a bill we have at the legislature.) I am also excited about our partnership with Rogue Valley Council of Governments in the Lifelong Housing Project, which is emerging as a national model and growing a movement for accessible homes in our state.
And of course, a community is not livable or age-friendly unless and until we have safe and reliable mobility options, especially walking and transit. I am outraged that Oregonians 65 and older are four times more likely to be killed as a pedestrian in our streets than any other age group. That is why our partnership with Oregon Walks and other advocates for safe and walkable streets is exciting to me.
Through the Age-friendly Communities Initiative, cities and counties have an opportunity to become great places for all ages by adopting such features as safe, walkable streets; better housing and transportation options; access to key services; and opportunities for residents to participate in community activities Age-Friendly Communities. If you want to learn more, visit www.aarp.org/livable or email me and I'd be glad to tell you more about how your community can join and get involved.
During my first week at AARP, I learned that Jerry Cohen, our state director, had moved to Oregon some 10 years earlier to start our state office, and was still incredibly energized by the work. He said, "It is the mission…." I had nodded agreeably but doubted I would stay at AARP that long. At a time when the average American stays at a job for 4.5 years, this past December I celebrated my ten-year anniversary at AARP! I can hardly believe it. A decade!
As they say - time flies when you are having fun! Working in a mission-driven organization with passionate and talented people and getting to make a difference on some of the most pressing and relevant issues of our times is a privilege. It's been an amazing journey.
Editor's Note: Click here to learn how to pronounce Bandana's name This month we are featuring blogs by our staff so you can get to know us better!
Follow Bandana on Twitter: @Bandana1
[Photo: AARP Oregon]