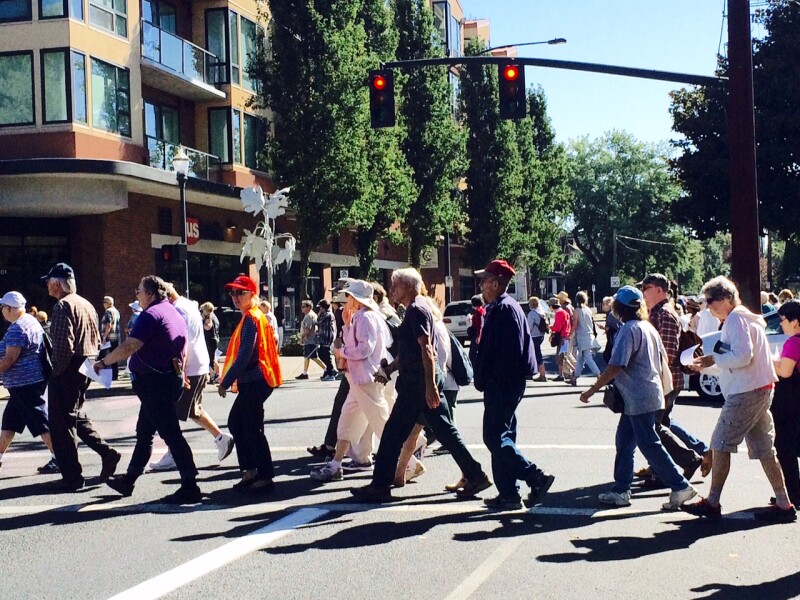 The third season of NeighborWalks begins in May! We are excited to invite you to join us this year at one or all of the dozen walks that we have designed for you!

NeighborWalks is a collaborative community walking program brought to you by AARP Oregon, City of Portland Bureau of Transportation and Oregon Walks. Our vision is to get more people walking every day for health, transportation, environment, and community. Walks take place in neighborhoods around Portland. Each walk is developed and led by AARP volunteer leaders with support from community partners. Join us for these intergenerational walks as we celebrate a community for all ages and abilities!

Did you know that over 750 Portlanders participated in our walks last year? In 2017, we hope to see that number grow! We have more trained volunteers, new partners, and new walks in great neighborhoods lined up.

Passport Experience
Participants who attend all or most of the dozen NeighborWalks will receive an Oregon Walks membership and a surprise giveaway from AARP Oregon. Collect your stamps at each walk AND get bonus stamps at any of the 2017 Portland Sunday Parkways and Oregon Walkways!

Be Active. Stay Active. Let's put some miles on those walking shoes.



2017 NeighborWalks Schedule


Walk with a Doc in Overlook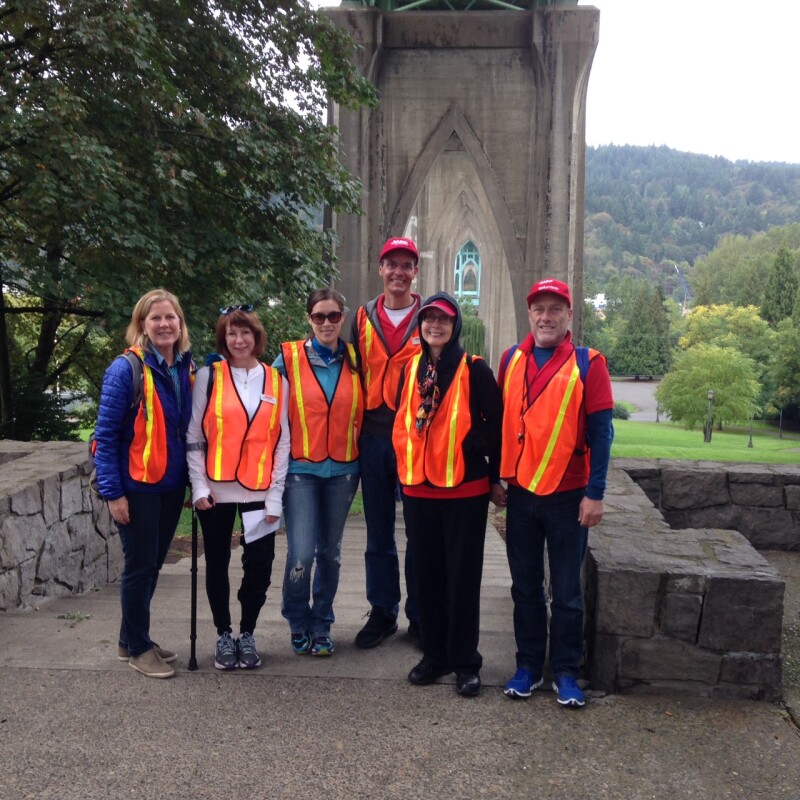 Saturday, May 13 • 10:00AM
Meet: Kaiser Town Hall, 3704 N Interstate Avenue
Kick off the season with a walk for health. Hear from a Kaiser Permanente physician how about walking can improve our health, then explore the Overlook neighborhood, learn its history, and get a great view of the city. Healthy snacks provided.
1.7 miles – 2 hours – 3,400 steps

Alameda Ridge & Beaumont Village
Tuesday May 23 • 10:00AM
Meet: In front of St. Rose of Lima Church, 2727 NE 54th Avenue
Walk the ridge and explore the Fremont district highlighting its eateries, shops and neighborly vibe. We'll end at the German American Society of Portland (formerly Masonic Lodge), with a tour and opportunity to learn its history and mission.
2 miles – 2 hours – 4,000 steps
Download map and handout

Eastmoreland Neighborhood & Reed College
Tuesday, June 6 • 10:00AM
Meet: In the Reed College parking lot, SE Woodstock Street & SE 28th Avenue
Enjoy a walk through beautiful Eastmoreland neighborhood and Reed College. Highlights include the new theater building, historical homes, iconic Reed College streets with their maple and elm trees, and speakers from the college and neighborhood.
2.4 miles – 2.25 hours – 4,800 steps

Montavilla Mainstreet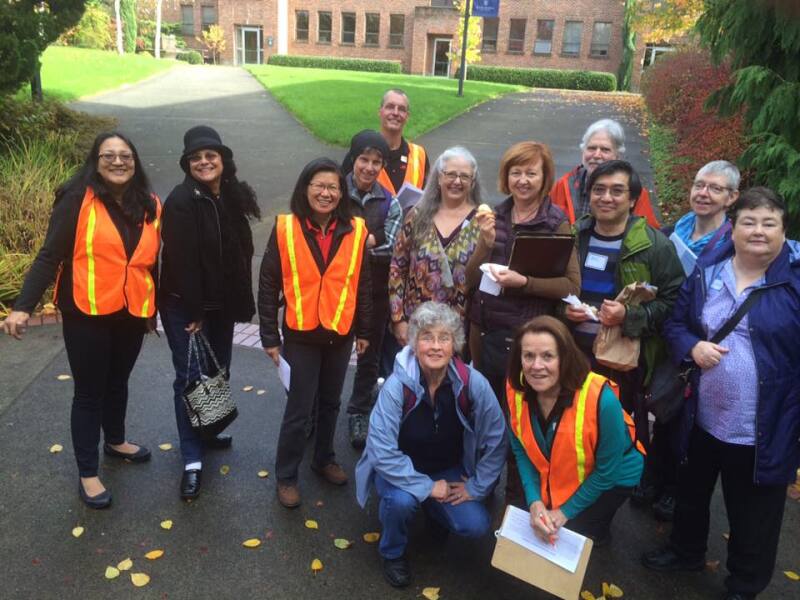 Tuesday, June 20 • 10:00AM
Meet: In front of Grace Baptist Church, 200 SE 76th Avenue
Come explore Montavilla and its wonderful surrounding neighborhood of older Portland homes with old growth trees lining many of the streets. Points of interest will include main street businesses, old mile marker, and Academy Theater.
2.2 miles – 2 hours – 4,400 steps

Exploring Cully
Tuesday, June 27 • 10:00AM
Meet: Living Cully Plaza, 6723 NE Killingsworth Street
Explore Cully neighborhood with our friends from Oregon Walks, Living Cully, and Hacienda CDC. We will walk around this growing neighborhood with its vibrant local businesses, local park, and a new community Plaza.
1.5 miles – 2 hours – 3,000 steps

Downtown, Park Blocks, & City Hall
Saturday, July 8 • 10:00AM
Meet: Terry Schrunk Plaza, 364 SW Madison Street
Enjoy a walk in downtown Portland. Learn the history of the famous Portlandia Statue. Check out City hall, the Park Blocks and other key historic and significant destinations in downtown.
2 miles – 2 hours – 4,000 steps

Upper Alphabet District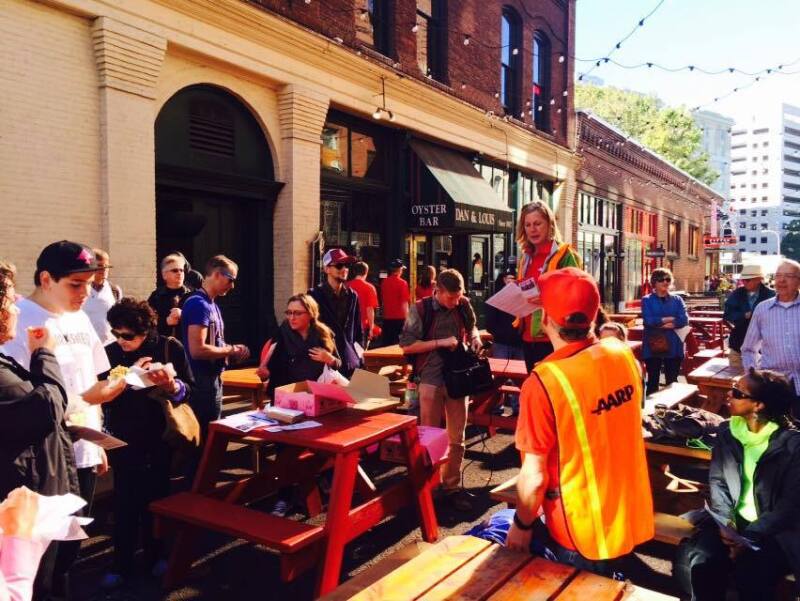 Tuesday, July 18 • 10:00AM
Meet: Friendly House, 1737 NW 26th Avenue
Let's meet at Friendly House! Get to know the ABCs of the historic Alphabet District and learn about Portland's founding fathers for which the streets are named. Check out old historic homes and new structures reflecting Portland's architectural diversity.
2 miles – 2 hours – 4,000 steps

Old & New Lents
Saturday, August 5 • 10:00AM
Meet: Lents Max Station (ADA Ramp), 9300 SE Ramona Street
Explore Lents' unique history and see the changes underway. Visit one of the city's largest parks and the famous Belmont goats! We'll connect with the Neighborhood Association, Asian Health & Services Center, and Ride Connection and see a new community center and an intergenerational housing project along the route.
2.97 miles – 2.5 hours – 5,940 steps

Ladds Addition
Saturday, August 19 • 10:00AM
Meet: In front of Epworth United Methodist Church, 1333 SE 28th Avenue
Discover Ladd's Addition. Learn about missing middle housing with Portland for Everyone and meander through this historic neighborhood, including the rose garden. We will end the walk in happenin' Hawthorne street.
2.4 miles – 2.25 hours – 4,800 steps

Peninsula Park & Historic Piedmont

Saturday, September 9 • 10:00AM
Meet: South end of Peninsula Park, N Albina & N Ainsworth Street
Come smell the roses with Friends of Peninsula Park Rose Garden! Explore historic Piedmont neighborhood, learn about the June Key Delta Community Center and the area's African American History. We'll end the walk with refreshments.
2 miles – 2 hours – 4,000 steps

Livable, Sustainable Lloyd
Tuesday, September 19 • 10:00AM
Meet: In front of Applebee's Restaurant, 1439 NE Halsey
Stroll through this vibrant, changing district with our friends from Lloyd EcoDistict and Go Lloyd. Learn why this area is a model of sustainability for energy, transit, waste and water. Walk through the Farmer's Market with year-round fresh produce. Eat your veggies!
2 miles – 2.5 hours – 4,000 steps

Laurelhurst Neighborhood & NE Glisan

Saturday, September 30 • 10:00AM
Meet: In front of Providence Cancer Center, 819 NE 47th Avenue
Get walking and fitness tips from a physical therapist. Explore Laurelhurst Neighborhood's vintage homes, undulating streets and beautiful park. Celebrate the end of the season with food, fun, and friends.
2.4 miles – 2.25 hours – 4,800 steps

Don't forget to check back here for more great walks, updates and opportunities to get out and about with our fabulous team!





https://youtu.be/Uq_P4wUuAT8