AARP volunteers will kick off the first NeighborWalks program in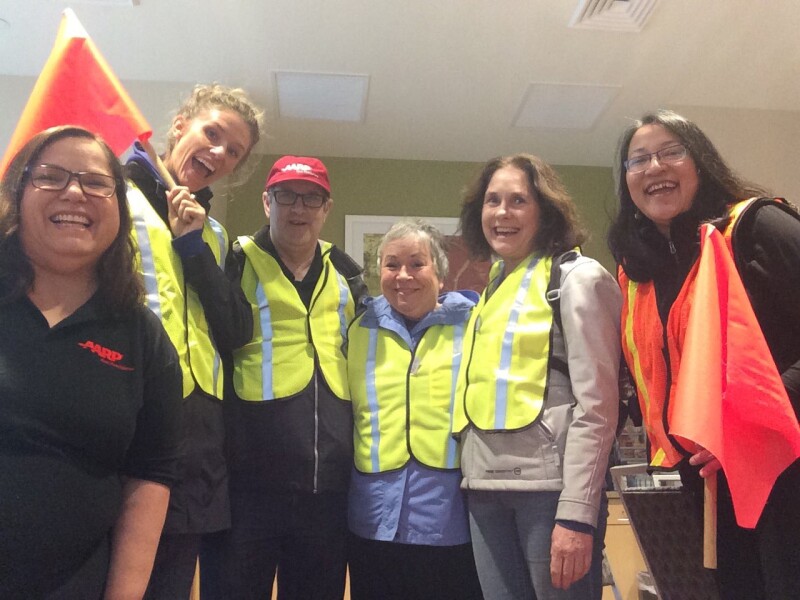 Lane County this month.
NeighborWalks is a collaborative community walking program created by AARP Oregon. SmartTrips Eugene, Safe Routes to School and the Lane Transportation District's Point-to-Point program are working together with AARP to bring the program to Lane County.
"Our vision is to get more people walking every day for health, environment and community," said Michele Scheib, a member of the AARP Oregon Executive Council and local volunteer.
Walks will take place in neighborhoods around Eugene and Springfield. Each walk is developed and guided by the AARP volunteer leaders with support from community partners. These intergenerational walks as celebrate a community for all ages and abilities.
"We have great volunteers, strong partners, such as Safe Routes to School, Eugene Sunday Streets and the City of Springfield and City of Eugene, who are all working together to make these great experiences," said Sandy Coffin, another member of the AARP Oregon Executive Council and a local volunteer.
Safe Routes to School will kick off the season with a walk and bike home event on Wednesday, June 7 at 2 p.m. Walkers are asked to meet at Roosevelt Middle School, 500 E. 24 th Ave in Eugene.
Each walk has a distinct theme and organizers hope to get as many people to participate as possible.
"There's no better way to get to know your city, than by getting out of your car and walking," Scheib said.
Participants who attend all or most of the nine NeighborWalks will receive a surprise giveaway from AARP Oregon. Walkers can collect the stamps at each walk and get bonus stamps at any of the 2017 Sunday Streets events this year, which will take place July 30 and Sept. 17.
For updates on NeighborWalks, including special guests, new walks, and other AARP events, visit www.aarp.org/or.
2017 AARP NeighborWalks Lane County
June 7, 2 – 4 p.m. – Safe Routes to School Walk
Meet at Roosevelt Middle School, 500 E. 24th Ave, Eugene
Learn about the Safe Routes to School Program, a community approach to encourage and enable more students to walk and bike to school safely. Explore the paths, sidewalks, and neighborhoods surrounding the school.
June 10, 10 a.m., 20x21EUG Mural Project – NeighborWalks Kick-off
Meet at Home2 Suites , 102 W 11th Ave, Eugene
Join us for a walk through Eugene's downtown and explore the murals, including the 20x21EUG Mural Project, that will bring 20 international murals to the city's center in time for the track and field World Championships in 2021.
June 24, 10 a.m., Come and See What's Around the Bend!
Meet in the lobby at PeaceHealth Sacred Heart Medical Center, 3333 RiverBend Drive
Start with a stroll through the sculpture garden and enjoy scenic meadow and river views in and around the hospital grounds.
July 22, 10 a.m., Community & Sustainability – Friendly Neighborhood
Meet at Friendly Market, corner of Friendly & 27 th, Eugene
Learn how the Friendly area neighbors have collaborated to create projects that support community and sustainability, from fruit tree gleaning to tool sharing and more!
Aug. 12, 10 a.m. Walk with the Mayor – Q Street Business District
Meet by Jack-in-the-Box at Q Street & Pioneer Parkway
Join Springfield Mayor Christine Lundberg as she highlights what makes her Springfield neighborhood a great place for people of all ages.
Aug. 29, 6 – 7:30 p.m., Green Resiliency in the River Road Community
Meet at Rosetta Place Park on Evergreen Drive, Eugene
Join Smarttrips for a walk highlighting permaculture and resiliency efforts in the community and explore what makes River Road a great place to live.
Sept. 12, 10 a.m., Downtown Springfield Murals and History
Meet in front of Simpson Mural at 5 th & Main
Explore the downtown murals and learn the history of the Washburne Historic District neighborhood, including the Wildish Theater and the city's center.
Sept. 24, 1 p.m., Jefferson Westside
Meet at Charnel Mulligan Park
Discover Jefferson Westside. Learn about "missing middle housing" and meander through this historic neighborhood.
Sept. 30, 10 a.m. The Whiteaker: Past, Present & Future
Meet at New Day Bakery, 449 Blair Blvd, Eugene
Come learn about this historic neighborhood in Eugene. What social movements created the unique place?