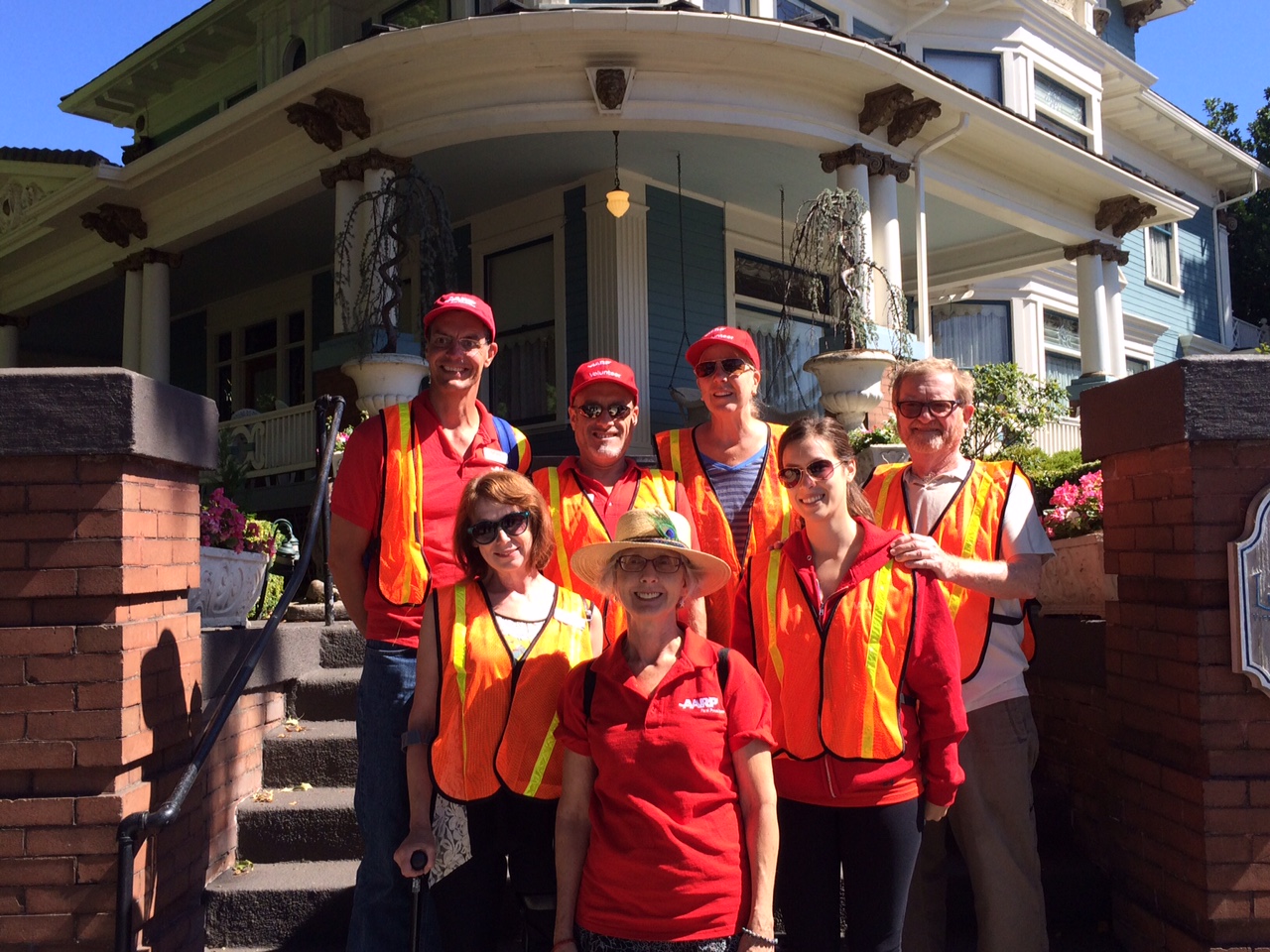 Summer is almost upon us and we are excited to invite you to our second season of NeighborWalks!

NeighborWalks is a collaborative community walking program brought to you by AARP Oregon, City of Portland Bureau of Transportation and Oregon Walks. Our vision is to get more people walking every day for health, transportation, environment, and community. Walks take place in neighborhoods around Portland, led by AARP volunteer leaders with support from community partners. Join us for these intergenerational walks as we celebrate a community for all ages and abilities!

Last year over 500 Portlanders participated in our walks. In 2016, we hope to see that number grow! The NeighborWalks team has been hard at work! We have more trained volunteers, new partners, and new walks in great neighborhoods lined up. We are excited to share the 2016 NeighborWalks schedule with you below. You can also download the brochure 21_Neighborwalk_brochure_2016_0407 (1) (1).

NeighborWalks Passport Experience You can participate in one walk or all of them. Participants who attend all ten NeighborWalks will receive an Oregon Walks membership and a surprise giveaway from AARP Oregon. Collect your stamps at each walk AND get bonus stamps at any of the 2016 Portland Sunday Parkways and Walkways!

Let's put some miles on those walking shoes!!

2016 NeighborWalks Schedule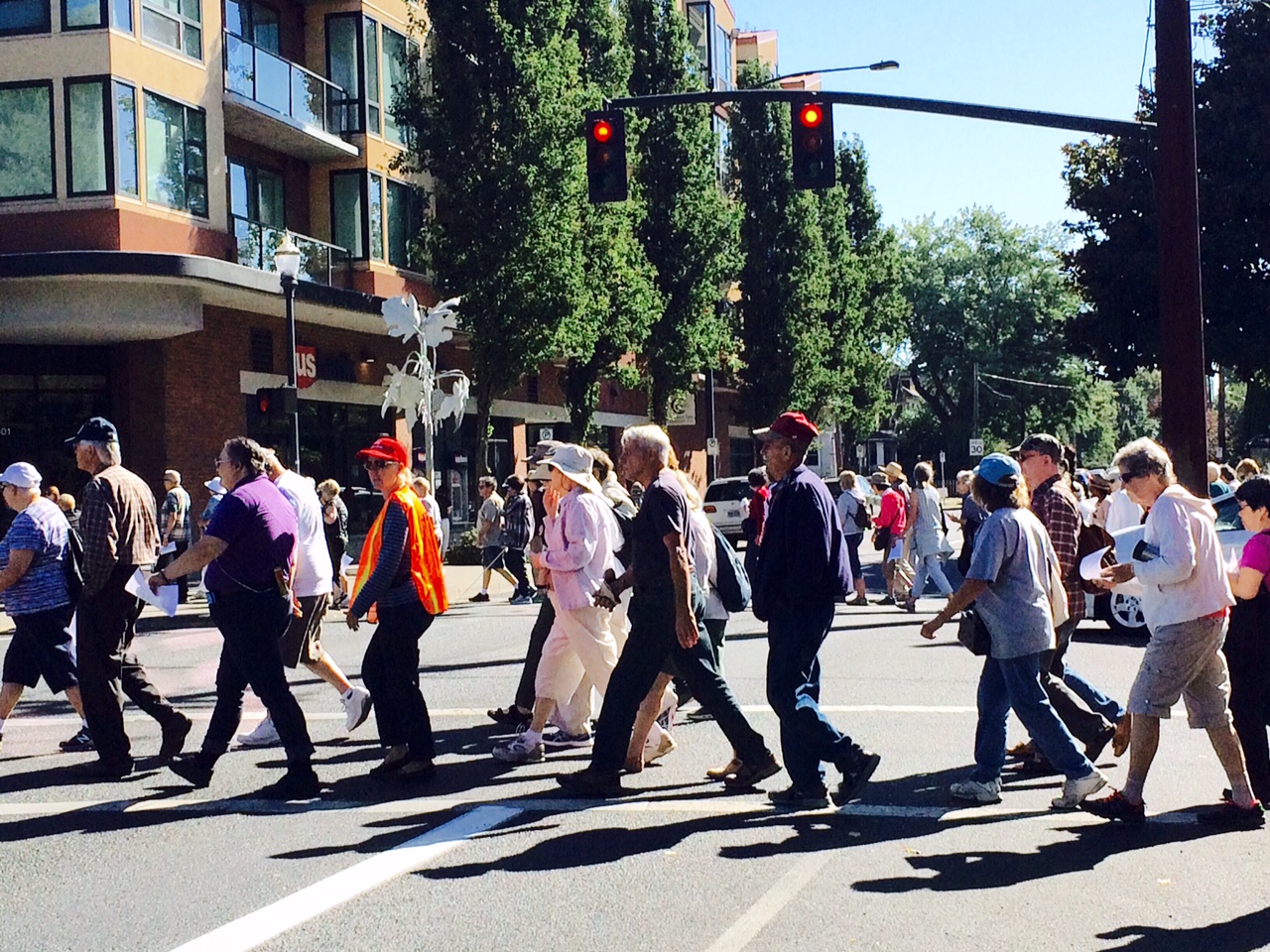 Come meet others in your community. Hear from experts, learn about the issues that matter to you and join the fun. Walks will be led by AARP volunteers with support from community partners. There is no registration – just show up and join us for these intergenerational walks as we celebrate a community for all ages and abilities!



University of Portland & The Bluff
Tuesday, June 21 • 10:00AM
Meet: In front of the University of Portland Chiles Center, 5000 N. Willamette Boulevard
Kick off the season with a Pilot's athletic trainer. Enjoy the University campus architecture and horticulture. Stroll the area neighborhood. Enjoy the Willamette Blvd. vista. Refreshments provided.
1.7 miles – 2 hours – 3,400 steps
Old town & Chinatown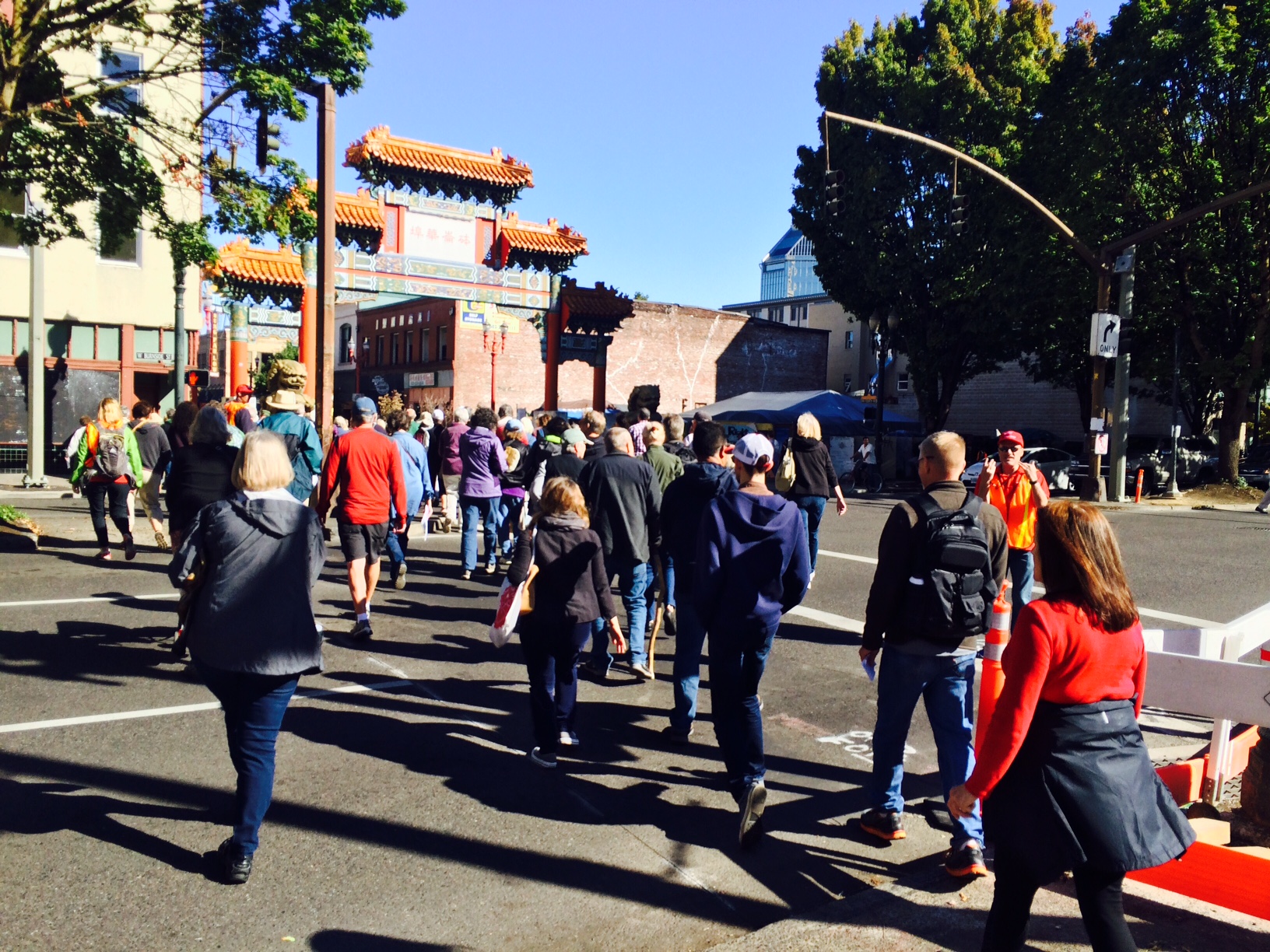 Saturday, July 09 • 10:00AM
Meet: Outside of Dan & Louis Oyster Bar, 208 SW Ankeny Street
Celebrate Portland's immigrant and working class heroes in this with Know Your City highlighting our city's social activists and movements.
1.5 miles – 2 hours – 3,000 steps
Alameda Ridge & Beaumont Village
Tuesday July 19 • 10:00AM
Meet: In front of St. Rose of Lima Church, 2727 NE 54th Avenue
Walk thru this classic district highlighting Fremont with its eateries, shops and neighborly vibe. We'll end at Our Lady of Lavang Church and learn about the history and mission of the SE Asian Vicariate.
2 miles – 2.25 hours – 4,000 steps
South Waterfront & Tilikum Crossing Bridge
Saturday, August 06 • 10:00AM
Meet: Center of Caruthers Park, 3508 SW Moody Avenue
Discover the South Waterfront and stroll across the Tilikum Crossing Bridge. Learn about our excellent multi-modal transportation system from a Portland Bureau of Transportation expert.
2.25 miles – 2 hours – 4,500 steps
Jade District Tour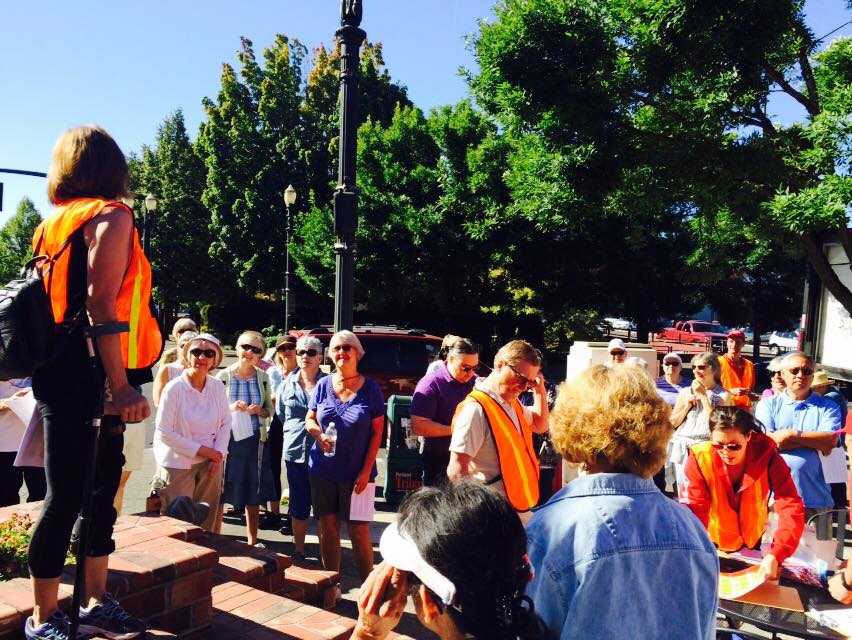 Tuesday, August 16 • 10:00AM
Meet: SE Division Street Max Station, 9402 SE Division Street
Join Oregon Walks and APANO as we explore this growing neighborhood with its vibrant local businesses, a multi-use path, a new campus as well as some of the challenges for pedestrians.
2.5 miles – 2 hours – 5,000 steps
Hot & Hip Sellwood
Tuesday, August 30 • 10:00AM
Meet: SE Spokane St. & Oaks Parkway, Sellwood Riverfront Park (lower parking lot next to restroom)
Check out the new Sellwood Bridge, tour the Oaks Pioneer Church, walk the bluff overlooking Willamette River, and pass by the historical neighborhood pool.
2.5 miles – 2 hours – 5,000 steps
St. Johns Business District
Saturday, September 10 • 10:00AM
Meet: N Richmond & N Ivanhoe (near Safeway)
Join us in North Portland as we walk through St. Johns, a diverse neighborhood with a small town feel. Scout out the official "Main Street" business district with many independent shops.
1.8 miles – 2 hours – 3,600 steps
Multnomah Village for All Ages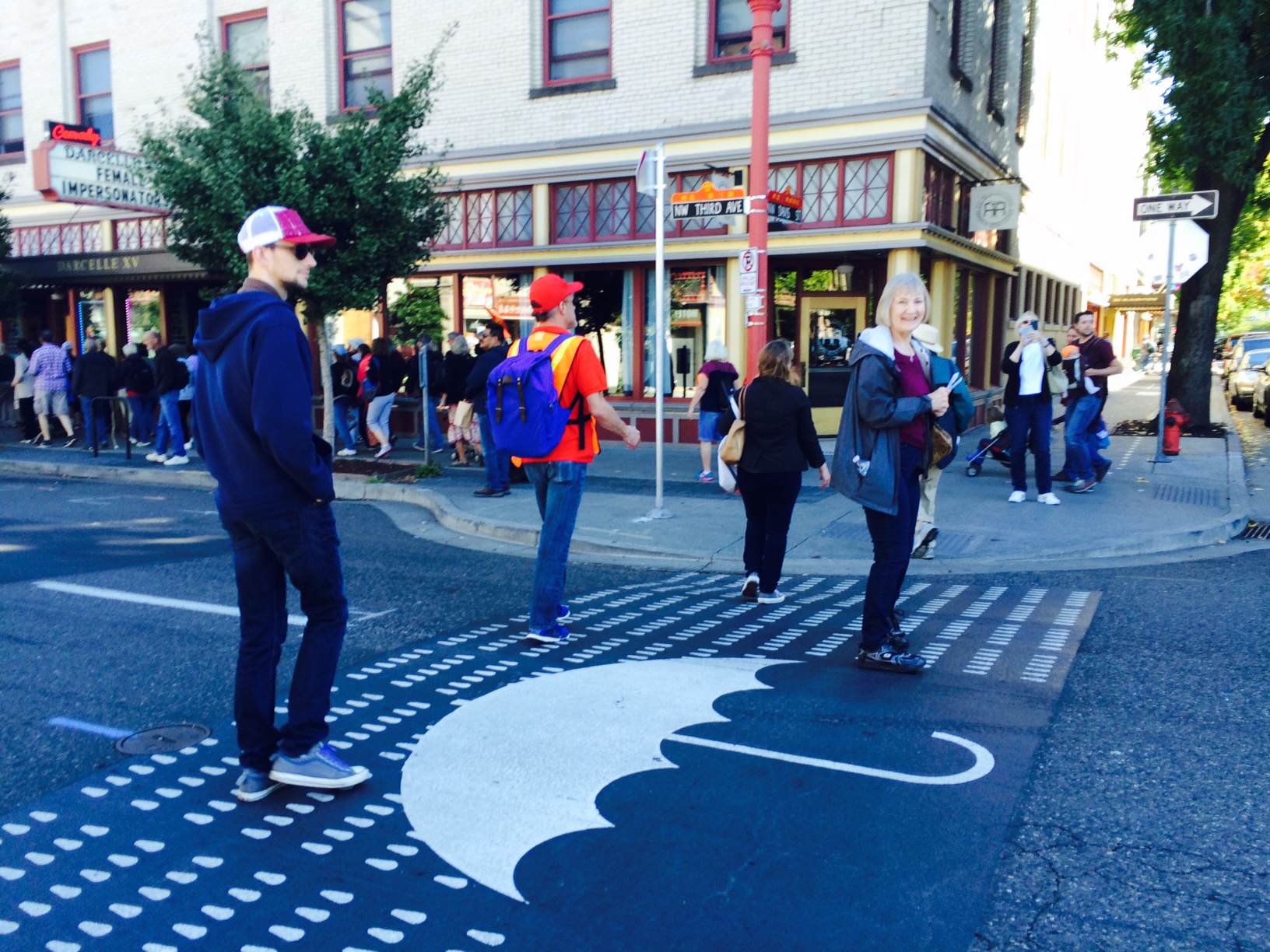 Tuesday, September 20 • 10:00AM
Meet: Westside of Multnomah Arts Center, 7688 SW Capitol Highway
Enjoy a walk through the Village and the surrounding charming neighborhoods. Learn about pedestrian safety and walkability for all ages from Safe Routes to School National Partnership expert.
2.3 miles – 2 hours – 4,600 steps

Albina Historic Tour
Saturday, October 01 • 10:00AM
Meet: Outside of Little Big Burger, 3747 North Mississippi Avenue
Join us for a special tour of the hidden history of Albina with Know Your City. Learn about the area's public art, historic buildings, green spaces and more.
1.7 miles – 2 hours – 3,400 steps
Laurelhurst Neighborhood & NE Glisan
Saturday, October 15 • 10:00AM
Meet: Providence Portland Medical Center (Cancer Center Auditorium) 4805 NE Glisan street
Get walking and fitness tips from a Providence physical therapist. Explore Laurelhurst Neighborhood's vintage homes and undulating streets. Celebrate the end of the season with food, fun, and friends.
2.4 miles – 2.5 hours – 4,800 steps
Don't forget to check back here for more great walks, updates and opportunities to get out and about with our fabulous team!
https://www.youtube.com/watch?v=TW4FmrgrSAk



--------------------------------------------------------------------------------------------------------