Welcome to the 2019 Portland Metro area NeighborWalks season! Did you know that we are celebrating our 5th anniversary this year? We are so excited for you to join us at one of our 16 walks this season. Our first 2019 walk is scheduled for May 28th and last one will be on October 12th. NeighborWalks volunteers have worked hard to design fun opening and closing celebrations as well as, of course, accessible routes and educational opportunities so we can learn about the history and current issues of the neighborhoods where we walk. We thank our volunteers and our wonderful partners for five years of great walking and invite YOU to join us this year. Scroll down for the full schedule!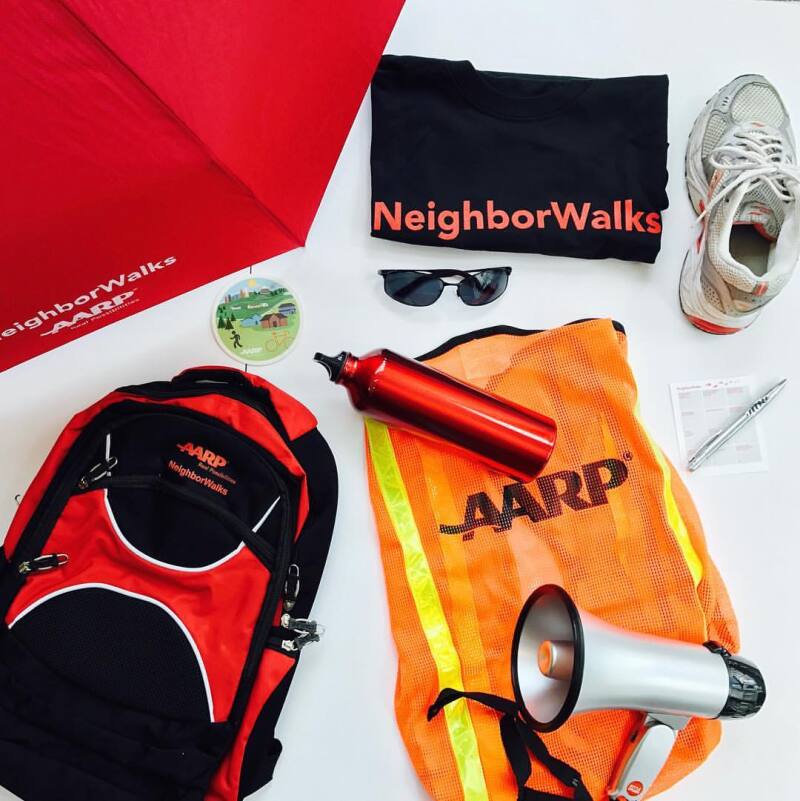 NeighborWalks is a collaborative community walking program brought to you by AARP Oregon, City of Portland Bureau of Transportation and Oregon Walks. Our vision is to get more people walking every day for health, transportation, environment, and community. Walks take place in neighborhoods around Portland. Each walk is developed and led by AARP volunteer leaders with support from community partners. Join us for these intergenerational walks as we celebrate a community for all ages and abilities!


Passport Experience Participants who attend a majority of the season's NeighborWalks will receive an Oregon Walks membership and a surprise giveaway from AARP Oregon. Collect your stamps at each walk AND get bonus stamps at any of the 2019 Portland Sunday Parkways and of course Oregon Walkways, where this year we will have a special celebratory walk!

Online Waiver: All NeighborWalks participants are required to complete a walk waiver. To make your check-in on the day of the walk super easy, you can complete the waiver for the WHOLE season online. Instead of filling out the paper liability waiver form before each walk, by completing the liability waiver online, you need only complete it one time for the entire season! Click here to complete the 2019 online waiver.

Be Active. Stay Active. Let's put some miles on those walking shoes.

--------------------------------------------------------------------

2019 Schedule
Download the NeighborWalks brochure. Attachment
Please plan to arrive 15 minutes before the walk begins. Only trained service dogs allowed.

Kickoff the Season in Sellwood
Tuesday, May 28 • 10:00AM
Meet: Moreland Presbyterian Church, 1814 SE Bybee, Portland
Kick off the NeighborWalks fifth season in a quintessentially Portland neighborhood. We'll walk through Sellwood's tree-lined streets and explore the newly renovated Westmoreland Park. Meet old and new friends. Enjoy healthy snacks.
1.8 miles – 2 hours – 3,802 steps
Download the MAP and Handout Attachment

Who Knew it was Luuwit
Tuesday, June 4 • 10:00AM
Meet: Luuwit View Park, NE 127th and NE Fremont St, Portland
Join us at one of Portland's newest parks in outer NE Portland. Learn about the three volcanoes you can see from the park. Walk the Argay neighborhood and learn of the history, challenges and future plans for this area.
1.8 miles – 2 hours – 3,802 steps
Download the MAP and Handout Attachment

Willamette Park to Sellwood Bridge
Tuesday, June 11 • 10:00AM
Meet: Willamette Park, 6500SW Macadam Ave, Portland
Grab your binoculars and join us as we walk south from Willamette Park to the north side of the Sellwood Bridge with Micah Meskel from the Audubon Society of Portland. Meet at the picnic area at the south end of the park in front of the Hannah Mason Pump Station.
2 miles – 2 hours – 4,224 steps
Download the MAP and Handout Attachment

Downtown Gresham Awaits You!
Saturday, June 22 • 10:00AM
Meet: NE 8th St & NE Kelly Ave, across from the Gresham Central MAX Station
Check out historic buildings, old and new housing units, the Gresham Arts Plaza with its Farmers' Market, the main city park, and the Tsuru Island Japanese Garden. We will have guests from the Gresham History Museum and guide-dog training organization to speak with us and add to the enjoyment of downtown Gresham.
2.2 miles – 2 hours – 4,646 steps
Download the MAP and Handout Attachment

Alberta Arts District
Tuesday, July 2 • 10:00AM
Meet: Alberta Park basketball court, Killingsworth St & 20th Ave, Portland
Discover Vernon neighborhood and explore the Alberta ArtsDistrict. Learn the storied history of the area and check out the many art studios, unique shops and eateries in this diverse community. Bring some extra change for a treat from Salt & Straw.
2.2 miles – 2 hours – 4,646 steps
Download the MAP and Handout Attachment

Let's Go Fo Po
Saturday, July 13 • 10:00AM
Meet: Essex Park, SE 79th & Center St, Portland
Home to thriving local businesses and diverse places to grab a bite, Foster-Powell neighborhood is coming into its own. Come join us to explore FoPo and check out the streets improvements being made to make the area pedestrian and bike friendly.
2.3 miles – 2 hours – 4,858 steps
Download the MAP and Handout

Old & New at Orenco Station
Saturday, July 27 • 10:00AM
Meet: New Seasons, 1453 NE 61st Ave, Hillsboro
Come explore Hillsboro's famous Orenco Station, a model transit oriented development community with great access to transportation, parks and other amenities. Also check out the historic Orenco townsite and surrounding neighborhoods.
2.3 miles – 2 hours – 4,858 steps
Download the MAP and Handout

Coming Up Roseway
Saturday, Aug 3 • 10:00AM
Meet: Glenhaven Park, NE 82nd & NE Siskiyou, Portland
Discover this "off the beaten track" neighborhood with its lovely gardens and a grocery store built around a homeowner who refused to move. We will walk past a 100 year-old barbershop and pharmacy and a unique roadside attraction built to attract auto business.
2.5 miles – 2 hours – 5,280 step
Download the MAP and Handout

Among the Giants & St Johns Prairie
Tuesday, Aug 13 • 10:00AM
Meet: Pier Park (parking lot on Lombard), 10325 N. Lombard St, Portland
Pier Park's beautiful douglas fir, red cedar, and sequoia forest is the perfect place for a walk on a hot August day. We will explore the many facets of this beautiful park with a member of the Friends of Pier Park. Bring your binoculars to look out over the St. Johns Prairie.
1.8 miles – 2 hours – 3,802 steps
Download the MAP and Handout

Happy Valley Park and Wetlands
Tuesday, Aug 20 • 10:00AM
Meet: Happy Valley Middle School, 13865 SE King Rd B, Happy Valley
Be happy with us in Happy Valley, a park for people of all ages and a variety of activities. Explore exercise stations along the route and enjoy the beautiful boardwalk thru the wetlands.
2.4 miles – 2 hours – 5,069 steps
Download the MAP and Handout

Gateway 4 Parks and a Push
Tuesday, Sept 3 • 10:00AM
Meet: Gateway Park (NE corner), 10630 NE Halsey, Portland
Visit Portland's newest park. Hear the history of Gateway and see recent improvements for biking and pedestrian safety. Walk to three other neighborhood parks including Hazelwood hydropark and visit the East Portland Community office. Shorter route available.
3 miles – 2 hours – 6,336 steps
Download the MAP and Handout

Nature Walk in Tualatin Hills
Tuesday, Sept 10 • 10:00AM
Meet: 15655 SW Millikan Way, Beaverton
Enjoy a guided walk through beautiful Tualatin Hills Nature Park, a 222 acre nature park and wildlife preserve in the heart of Beaverton and surrounding the confluences of Cedar Mill Creek and Beaverton Creek. Explore this regional treasure with its wetlands, forests and streams that serve as habitat to insects, amphibians, reptiles, birds and mammals.
2 miles – 2 hours – 4,224 steps
Download the MAP and Handout

Historical Oregon City
Saturday, Sept 14 • 10:00AM
Meet: Liberty Plaza, Main St & 8th St, Oregon City
Come explore the first city to be incorporated in the western United States. Check out Oregon City's many historical buildings, the famous vertical street, promenade and views of Willamette falls, power station with historical components.
2 miles – 2 hours – 4,224 steps
Download the MAP and Handout

Cully: Parks, Community and Walking
Saturday, Sept 28 • 10:00AM
Meet: Parking lot behind Hacienda CDC, 6700 NE Killingsworth St, Portland
Join Oregon Walks and Verde to explore the vibrant Cully neighborhood. Learn about the community-led action to transform a former landfill and strip club into a state-of-the-art community park and housing with community space. Learn about local walking groups and more.
1.5 miles – 2 hours – 3,168 steps
Download the MAP and Handout

MAX Green Line and Green Lents
Saturday, Oct 5 • 10:00AM
Meet: Holgate Boulevard Park & Ride, 9331 SE Holgate Blvd, Portland
Explore Lents on foot and by MAX. Check out Walker Stadium, Lent's Park, and NAYA Generations. We will end this one-way walk at the Lents International Farmers Market, close to Lents Town Center MAX Station. All participants receive a complimentary ticket to take the Green Line MAX back from Lents Town Center to Holgate Station.
2.5 miles – 2 hours – 5,280 step
Download the MAP and Handout

Concordia for all Generations
Saturday, Oct 12 • 10:00AM
Meet: 3039 NE Rosa Parks Way, Portland
Celebrate health and community. Learn how six providers came together to create a healthier community and enhance learning for all ages. Meet in front of Faubion Elementary. We'll see the 3 to PhD Center, explore Concordia Campus and the neighborhood. Year-end prizes and treats. Don't forget to bring you NeighborWalks passport!
2.2 miles – 2 hours – 4,646 steps
Download the MAP and Handout

Volutneering for NeighborWalks: Are you interested in volunteering with NeighborWalks? Email oraarp@aarp.org with "NeighborWalks Volunteer" in the subject line. All volunteers are participate in our general volunteer orientation and also a special NeighborWalks volunteer training. We look forward to hearing from you!



NeighborWalks is supported by Metro Regional Transportation Options program.