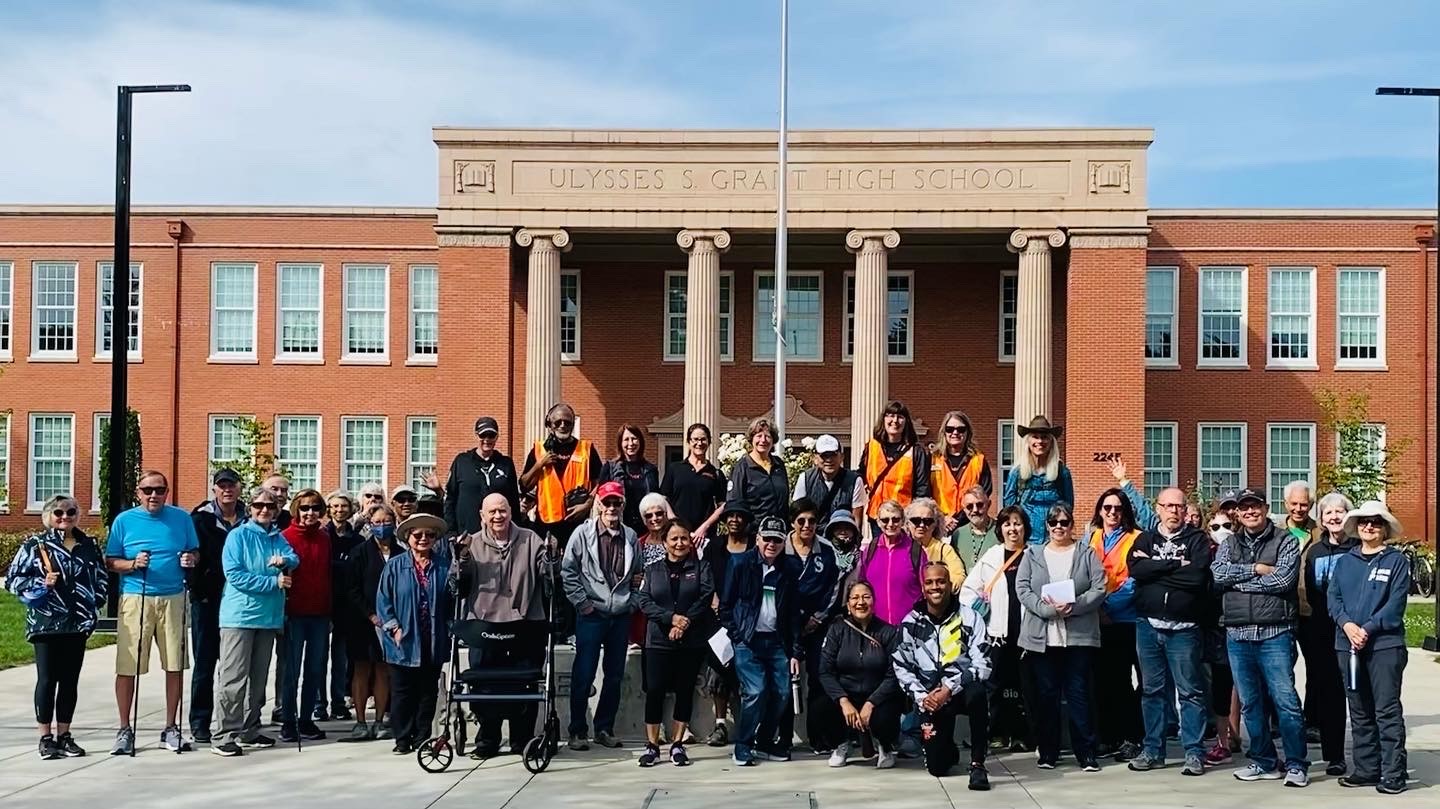 The 2023 NeighborWalks series has ended. Check back in Spring of 2024 for our new schedule!
Here's a video playlist of past walks!
NeighborWalks is a collaborative community walking program brought to you by AARP Oregon, City of Portland Bureau of Transportation and Oregon Walks. Our vision is to get more people walking every day for health, transportation, environment, and community. Walks take place in the Portland area. Each walk is approximately two hours long and developed and led by AARP volunteer leaders with support from community partners. Join us for these intergenerational walks as we celebrate a community for all ages and abilities! Note that only trained service animals allowed on walks.


2023 NeighborWalks Schedule
NEW IN 2023! You must register for each walk. After registering, you'll receive information regarding where we will meet and other details about the walk. Learn more about each walk below and here.

Join us at our kick off: School's Out at Kennedy!

TUESDAY, MAY 30 • 10:00 AM
2.2 MILES

Explore part of the Concordia Neighborhood, including Fernhill Park, one of the largest in NE Portland. We will also see Kennedy School and learn about its history. Join us for the kickoff of our 2023 NeighborWalks season!

Welcome Back to Downtown Portland

TUESDAY, JUNE 13 • 10:00AM
1.75 MILES

Come see what downtown Portland has to offer, including public street plazas, PSU and the South Park blocks, Oregon Historical Society, Portland Art Museum, old and modern buildings, and more.

Happy Valley Stroll

SATURDAY, JUNE 24 • 10:00AM
2.2 MILES

Join us as we explore Happy Valley Park. We will stroll through the beautiful wetlands, the multiuse city park, and the neighborhood.

Let's Walk Around an Entire City!

TUESDAY, JULY 11 • 10:00AM
2 MILES

Learn about the history of Maywood Park: demographics, and special features of this city within a city as we explore the quiet streets of this charming neighborhood and learn what makes it so unique.

North Williams District

SATURDAY, JULY 22 • 10:00AM
2 MILES

We'll learn about the history preservation and gentrified changes in this area as we discover historic churches, local businesses, housing, Urban League of Portland, Dawson Park, Legacy Health, and the Hill Block property.

Southeast Gardens Large and Small

TUESDAY, AUGUST 1 • 10:00AM
2.2 MILES

Take a walk through two scenic gardens in Southeast Portland: Eastmoreland Garden and Crystal Springs Rhododendron Garden. We'll discover a giant compass, enjoy a botanical garden and lake and the plants and birds that call it home.

Slow Down! School Zone!

SATURDAY, AUGUST 19 • 10:00AM
2.4 MILES

The South Tabor neighborhood is home to PPS Elementary, Middle and High Schools and a district K-12 Special Ed School. We will tour the grounds of the new Kellogg Middle School and look at a variety of positive residential infill solutions and pedestrian, bicycle and transit improvements.

The Merry Trails of Sherwood

TUESDAY, SEPTEMBER 5 • 10:00AM
2.4 MILES

Come experience the history of Sherwood, and the charms of old and new residential areas. We will meander along Cedar Creek into Stella Olsen Memorial Park and see a museum that was once a jail.

This Mountain View is a Butte!

TUESDAY, SEPTEMBER 19 • 10:00AM
1.75- AND 2.25-MILE OPTIONS

We'll ascend one of Portland's volcanic features and learn about a recently installed link in the city's water system that resides under our route. On a clear day, the view of surrounding mountains is beautiful!

End of Year Celebration: Historic Irvington

SATURDAY, OCTOBER 7 • 10:00AM
2.2 MILES

Join us as we stroll through Oregon's largest historic district, noting architecture of homes large and small, multi-family units, and churches. Then celebrate our NeighborWalks season with prizes, food, and friends. Don't forget your passports!


If you are interested in volunteering, please email oraarp@aarp.org with "NeighborWalks Volunteer Opportunity" in the subject line and we will follow up. Hope to see you soon!