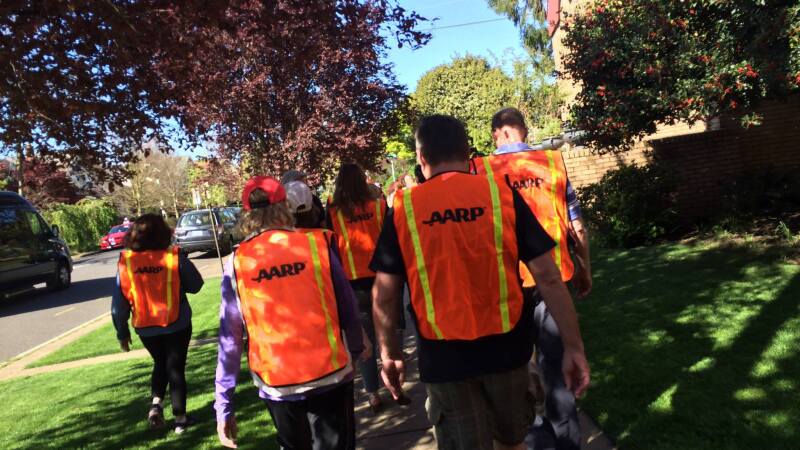 Thank you for a great 2022 season. We look forward to 2023! We are excited to provide you with an update on the AARP NeighborWalks program here in Portland Metro!
NeighborWalks is a collaborative community walking program brought to you by AARP Oregon, City of Portland Bureau of Transportation and Oregon Walks. Our vision is to get more people walking every day for health, transportation, environment, and community. Walks take place in neighborhoods around Portland. Each walk is developed and led by AARP volunteer leaders with support from community partners. Join us for these intergenerational walks as we celebrate a community for all ages and abilities!
As you may be aware, NeighborWalks, one of AARP's favorite programs in Oregon, went virtual for the past two years because of the pandemic. But now, after careful consideration, we believe the time is right to try and bring it back and we cannot wait to see you!

We are taking some precautions because we always have your safety in mind. Our intention is to monitor our region's health reports and get feedback from you as we progress with the season and see if we need to make any changes.

We are also limiting the number of attendees at each walk and asking you to register for each walk separately. We realize that some of us are still cautious and won't feel comfortable in any large group situation. On the other hand, others are eager to get out again now that more folks are vaccinated and boosted.

Below are the dates for the walks. All walks begin at 10am. Please bookmark this page and come back for updates and information on how you can register for each walk as they are released. Please also watch your inboxes as we update you about the walks.

If you are interested in volunteering, please email oraarp@aarp.org with "NeighborWalks Volunteer opportunity" in the subject line and we will follow up.

Hope to see you soon!