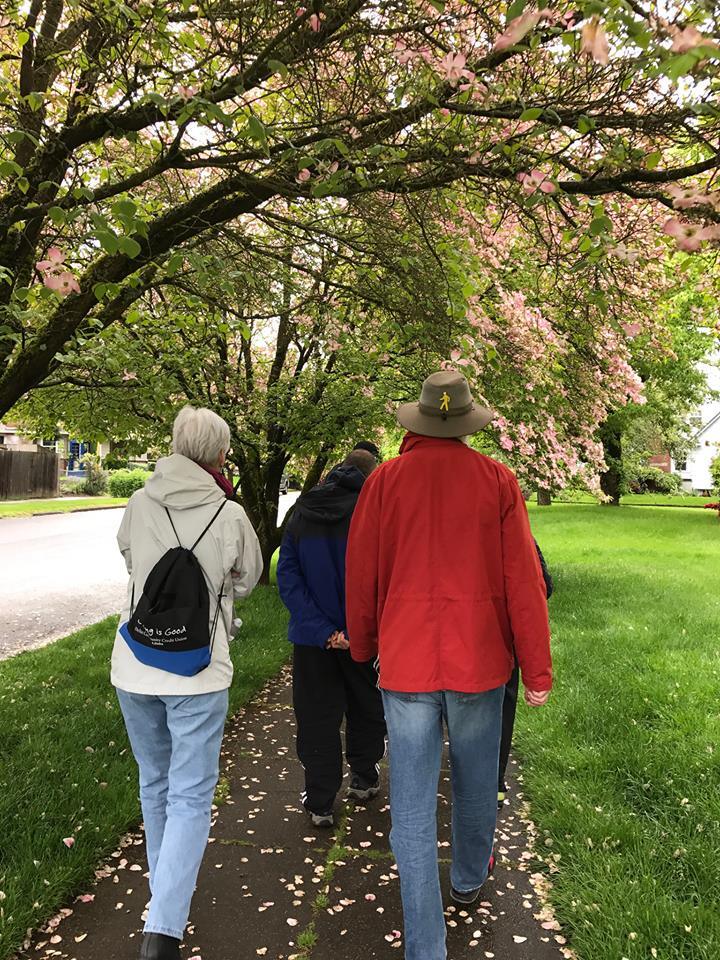 In 2018, the fourth season of NeighborWalks begins in June! We excited about the fabulous walks we have planned for in and around Portland. One exciting thing this year is that we are expanding our walks to include Clackamas and Washington counties!

NeighborWalks volunteers across the metro area have been busy working out the details of the neighborhoods and destinations where we will be walking and reaching out to community groups and local partners to come join us and enrich our walk experience. Be sure to mark your calendars and come back to check on this page for more.

New in 2018! If you attended any of the walks in previous years, you may recall that each NeighborWalks participant was required to fill out a paper liability waiver form before each walk. This year, we are excited to announce a streamlined online process to complete the required liability waiver. You need only complete the online waiver one time for the entire season, and doing so means you won't have to worry about filling out a paper waiver form at the beginning of each walk this season! Click here to complete the online waiver.

Also check out walks in Lane county and Rogue Valley.

NeighborWalks is a collaborative community walking program brought to you by AARP Oregon, City of Portland Bureau of Transportation and Oregon Walks. Our vision is to get more people walking every day for health, transportation, environment, and community. Walks take place in neighborhoods around Portland. Each walk is developed and led by AARP volunteer leaders with support from community partners. Join us for these intergenerational walks as we celebrate a community for all ages and abilities!

Passport Experience Participants who attend all of the season's NeighborWalks will receive an Oregon Walks membership and a surprise giveaway from AARP Oregon. Collect your stamps at each walk AND get bonus stamps at any of the 2018 Portland Sunday Parkways and of course Oregon Walkways, where this year we will have a special celebratory walk!

Be Active. Stay Active. Let's put some miles on those walking shoes.


2018 Schedule
Download the 2018 Neighbowalks schedule_FINAL Complete the 2018 Portland NeighborWalks online waiver.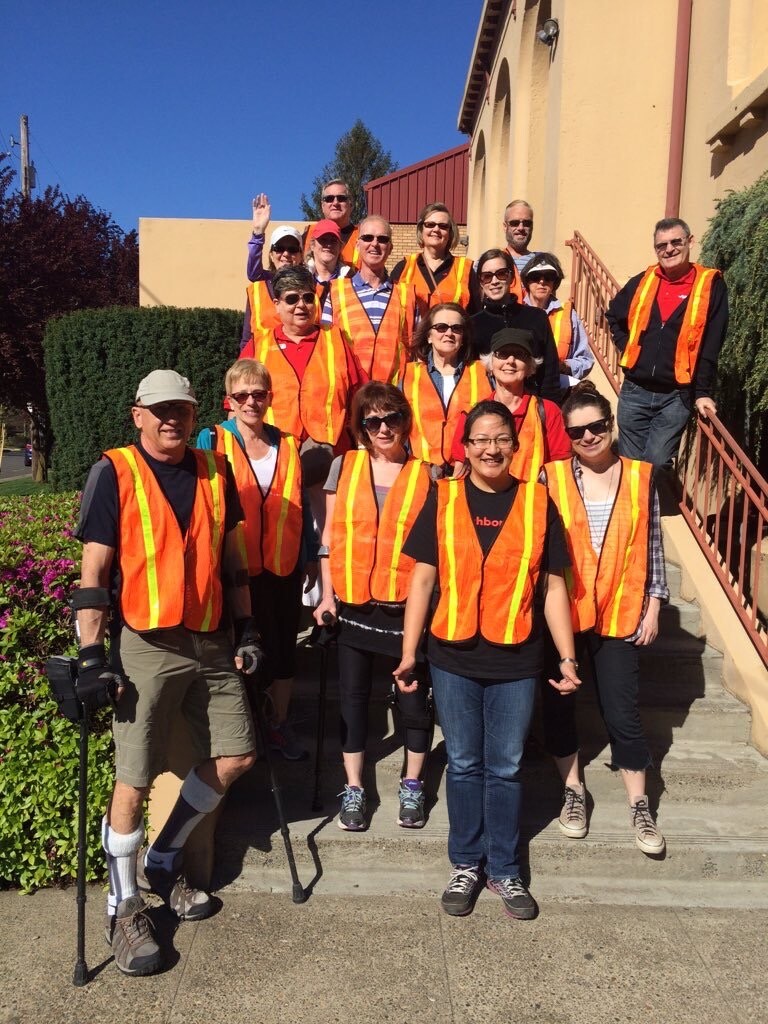 Find Your Stride at Mt Tabor

Saturday, June 16 • 10:00AM

Meet: TaborSpace, 5441 SE Belmont St., Portland

Kick off the season with a "Walk with a Doc" in Mt Tabor. Physical therapist will give us walking tips & lead us in some pre-walk exercises. We will walk through lower Tabor and loop the open reservoir. Healthy snacks provided.

1.8 miles – 2 hours – 3,802 steps



Downtown Hillsboro
Saturday, June 23 • 10:00AM
Meet: Civic Center, 150 E Main St, Hillsboro

Discover downtown Hillsboro, from the historic Main Street with great local shops, beautiful Redwood trees, Bagley Park, courthouse, Pacific University Hillsboro Campus and more. Enjoy the Farmers market at the end of the walk.
2.3 miles – 2 hours – 4,858 steps



Kenton – Paul Bunyan awaits you!

Tuesday, June 26 • 10:00AM

Meet: Brandon Ave & N Kilpatrick St, Portland

Join us for a stroll through zany and beautiful historic Kenton neighborhood. We will walk the historic downtown area, visit the iconic Paul Bunyan statue and learn about the progress of Kenton Women's Village, a tiny home community for women experiencing homelessness.

1.5 miles – 2 hours – 3,168 steps



Mt. Scott-Arleta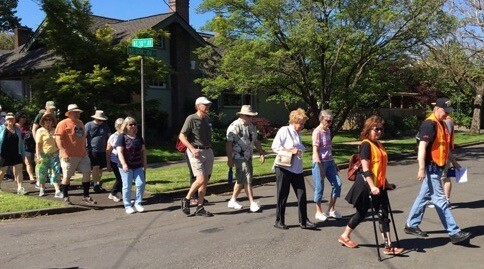 Tuesday, July 10 • 10:00AM

Meet : 5530 SE 72nd Ave, Portland

Come explore the diverse, the historic and the new in Mt. Scott-Arleta neighborhood. Enroute we will see the neighborhood community center and park, varied housing types, pedestrian infrastructure improvements, and learn about the area's settlement history and businesses on Foster.

2.12 miles – 2 hours – 4,477 steps



Rosewood Walkways

Saturday, July 14 • 12:00PM

Meet: SE 162nd Ave & SE Stark St, Portland

Join Oregon Walks, and this year's community partner, The Rosewood Initiative, for Walkways, an annual pedestrian-focused open streets event (11:00am - 4:00pm). At noon, we will participate in the first-ever Walkways PARADE! Join other walkers

2 miles – 2 hours – 4, 224 steps



Old & New at Orenco Station

Tuesday , July 24 • 10:00AM

Meet: New Seasons, 1453 NE 61st Ave., Hillsboro

Come explore Hillsboro's Orenco Station. Check out the historic Orenco townsite to new neighborhoods known for great access to transit and neighborhood parks.

2.3 miles – 2 hours – 4,858 steps



Maywood Park & Parkrose

Saturday, July 28 • 10:00AM

Meet: NE Prescott St & NE 102nd Ave, Portland

Discover Maywood Park, a city within a city! We will stroll the city's quiet streets and neighborhoods with its nostalgic homes tucked beneath a canopy of old growth timber, and explore part of Portland's Parkrose neighborhood.

2.2 miles – 2 hours – 4,646 steps



Swan Island River Walk

Saturday, Aug 4 • 10:00AM

Meet: 3110 N Going St., Portland (NOTE THE ADDRESS CORRECTION!)

Learn from about wildlife on the Willamette and conservation issues from an Audubon Conservation Field Coordinator. Enjoy great scenes of the city, strolling along the river. Meet in front of Daimler's State-of-the-Art North American Headquarters.

1.8 miles – 2 hours – 3,802 steps



Nature Walk in Tualatin Hills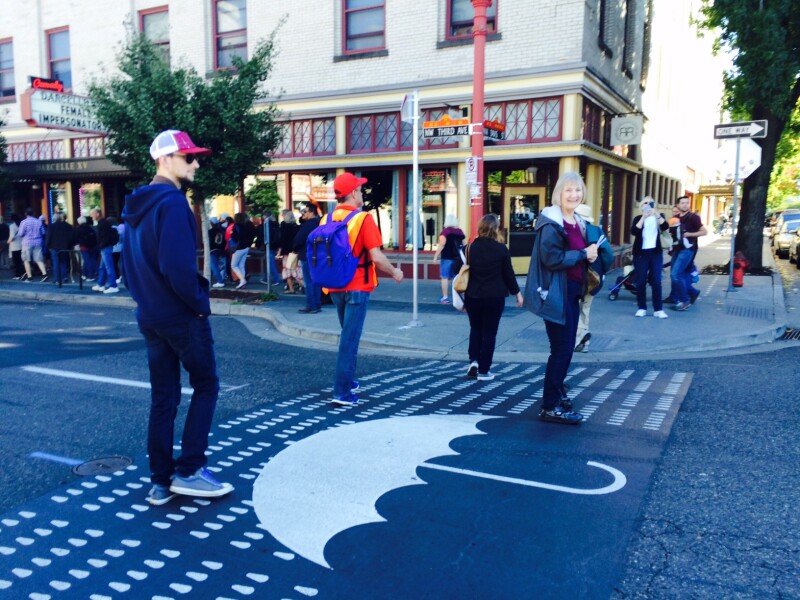 Tuesday, Aug 7 • 10:00AM

Meet: 15655 SW Millikan Way, Beaverton

Enjoy a guided walk through beautiful Tualatin Hills Nature Park with its lily ponds, wetlands, and creeks. The walk route includes paved and unpaved trails loop, with a shorter accessible back and return route option for those using mobility devices.

2 miles – 2 hours – 4,224 steps



A to K Alphabet District & Architectural Treasures

Tuesday, Aug 14 • 10:00AM

Meet: NW 18th Ave & NW Davis St, Portland

Explore NW Alphabet district to learn about the names gracing the streets (A-K). The route passes homes and businesses displaying the early architecture from the 1890s and 1900s. Highlights: Trinity Episcopal Cathedral, Couch Park, and the William Temple Society.

1.5 miles – 2 hours – 3,168 steps



Historic Milwaukie

Saturday, Aug 25 • 10:00AM

Meet: SE 21st Ave & SE Harrison St, Milwaukie

Explore historic downtown Milwaukie. From the Ledding Library to city hall, Milwaukie Bay Park to Main Street including the new light-rail station, come enjoy a guided walk with a local historian.

1.8 miles – 2 hours – 3,802 steps



Laurelhurst Park to Restaurant Row

Tuesday, Sept 4 • 10:00AM

Meet: SE Ankeny St. & SE Floral Pl., Portland

Our walk will start in one of Portland's fabled parks – Laurelhurst Park- and take us through streets with some of Portland's most popular eastside restaurants, the historic Laurelhurst Theater and "Tiny Digs" a tiny house hotel.

2.15 miles – 2 hours – 4,540 steps



Diversity of Downtown Portland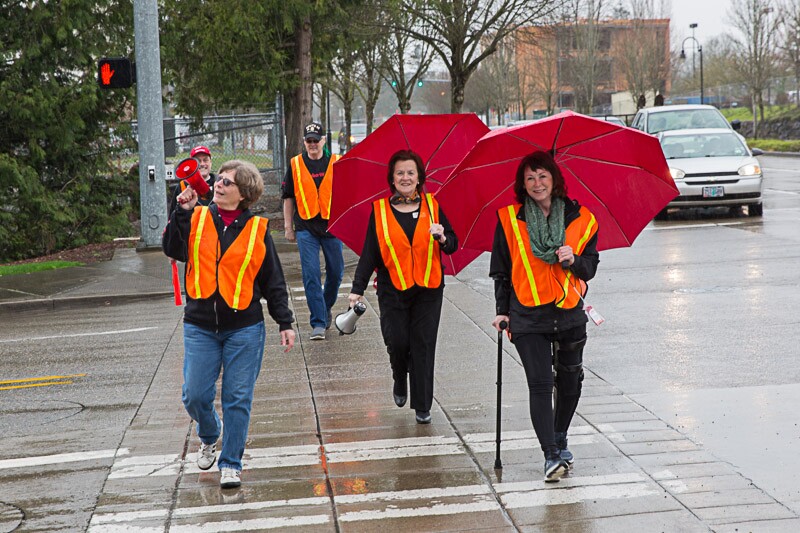 Saturday, Sept 15 • 10:00AM

Meet: NW 15th Ave. & Marshall St., Portland

From the Portland Streetcar network to Sisters of the Road, beautiful new parks to housing developments, come explore the diversity of downtown Portland's Pearl district.

2 miles – 2 hours – 4, 224 steps



Downtown Beaverton

Tuesday, Sept 18 • 10:00AM

Meet: 12600 SW Crescent St , Beaverton

Join us for a walk through downtown Beaverton. The walk will highlight the city's diversity, new developments in central part of the city, including public spaces, housing, transportation options and local businesses.

1.9 miles – 2 hours – 4,012 steps



Powell Memories

Saturday, Sept 22 • 10:00AM

Meet: Ron Russell Middle School, 3955 SE 112th Ave, Portland

Explore one of the nation's few Memory Gardens and stroll several parks off of SE Powell. We will learn about Safe Routes to School and walkability issues along the way. Families welcome!

2.4 miles – 2 hours – 5,069 steps



UP with Fitness!

Saturday, Oct 6 • 10:00AM

Meet: In front of the University of Portland Chiles Center, 5000 N. Willamette Boulevard, Portland

We'll gather at the University of Portland, walk through the neighborhood, and celebrate the season's end. UP student nurses will check our BP and give health tips. Food, friends, fitness, and prizes!

2.5 miles – 2 hours – 5,280 step