Portland City Council with Age Friendly Business Award winners and members of the Age Friendly Economic Development and Work Subcommittee.
PORTLAND, OR – The Age Friendly Portland and Multnomah County Advisory Council hosted the inaugural Age-Friendly Business Awards Ceremony at City Hall with greetings from Portland Mayor Ted Wheeler and Commissioner Nick Fish. The Ceremony was followed by Mayor Wheeler proclaiming October 31st as 'Age Friendly Business Day' in Council Chambers. (See a short video of the event here).
Businesses, nonprofits and government agencies located in Portland were eligible to apply for one or both award types of awards: Age-Smart Employer Awards recognize businesses or organizations that create workplaces that encourage different generations to work productively side-by-side and Age-Friendly Business Awards recognize businesses or organizations that create welcoming environments and provide great service for people of all ages.
Award winners include:

2018 Age-Smart Employer Awards

Adorn Boutique

MLK Property Management

New Seasons Market



2018 Age-Friendly Business Awards

Multnomah County Elections Division

Multnomah County Library

Law Offices of Nay & Friedenberg

Portland Nursery

Ride Connection

Seniors on the Move

Urban Development Partners

Unitus Community Credit Union

"Older generations bring wisdom, talent and capacity that we can harness to strengthen our community," said Mayor Ted Wheeler. "I believe that age-friendly cities are more desirable, successful, and economically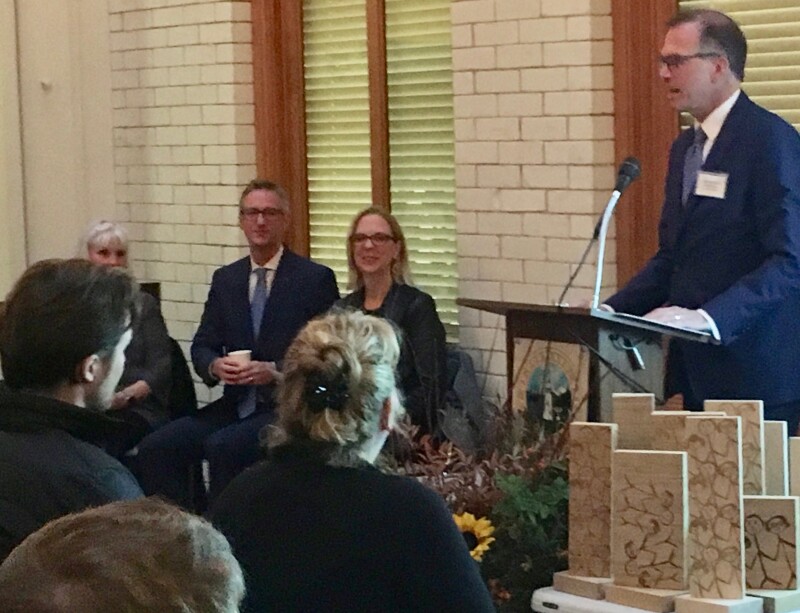 viable than those that are not. By working across generations, we can develop solutions that are beneficial to people of all ages."
"Portland's small businesses are the backbone of our local economy," said Commissioner Nick Fish. "As the City Council Liaison to Portland's Age-Friendly Advisory Council, Elders in Action and Venture Portland, I know first-hand that Age-Friendly businesses benefit everyone. I am excited to participate in the inaugural ceremony celebrating the public-spirited businesses in Portland that recognize that employing, serving and engaging older adults well is good for business and good for our community."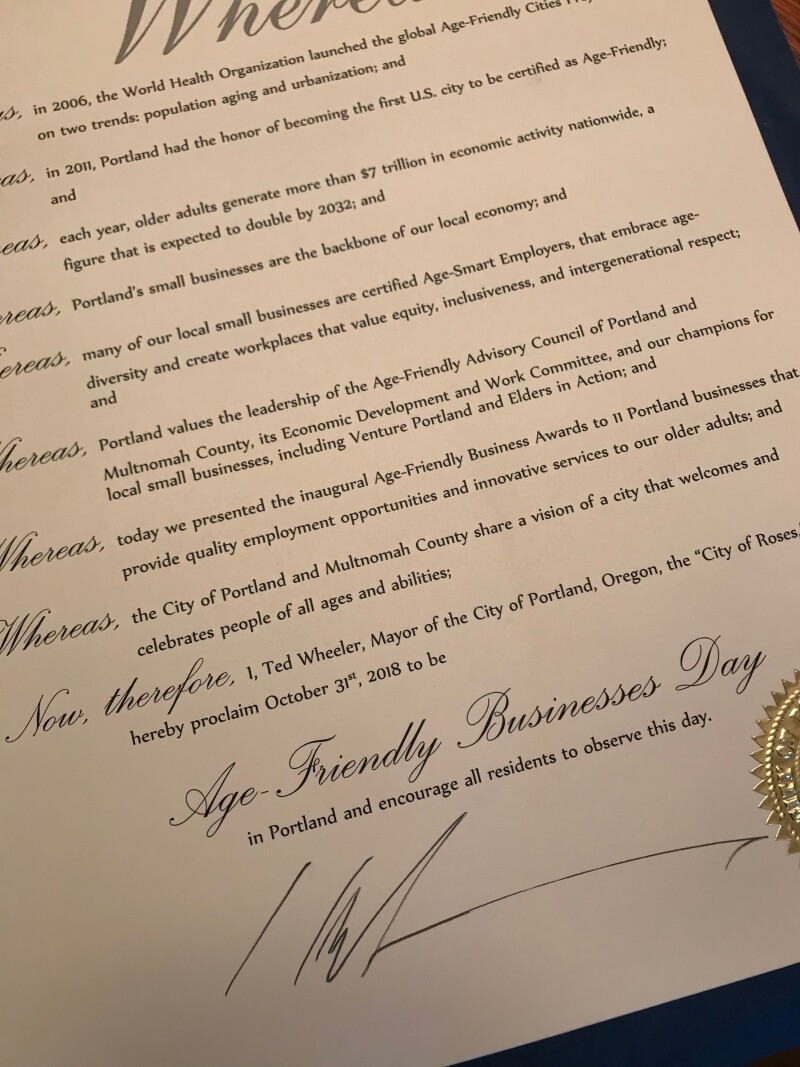 Older adults are the fastest growing demographic in the region with the number of people age 65 or older in the Portland area expected to double to more than 500,000 by 2030. Each year older adults generate more than $7 trillion in economic activity nationwide, according to a report by AARP and Oxford Economics.
"Older adults have tremendous economic and social capital," said Barbara Bernstein, Executive Director of Elders in Action. "We are proud to recognize the innovative small businesses that are making a major difference," said Heather Hoell, Executive Director of Venture Portland. "In Portland, small is really big."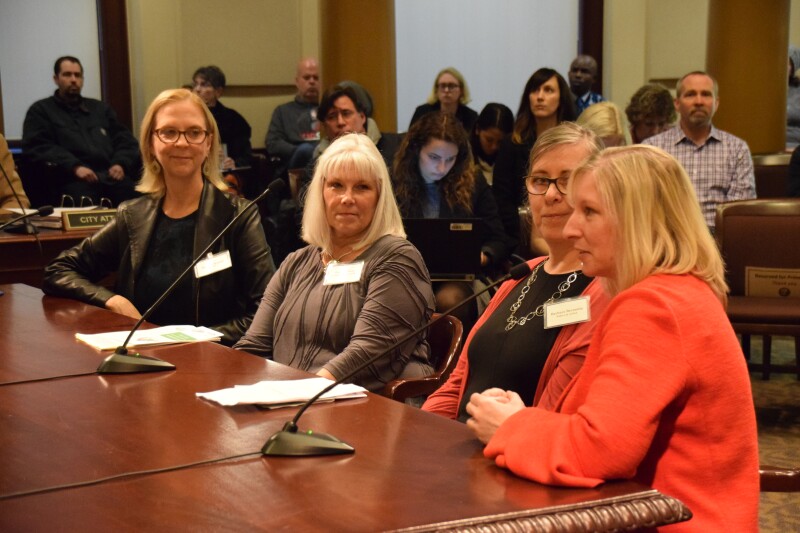 Created by the Age-Friendly Portland Advisory Council, the Age-Friendly Business Awards are produced by Elders in Action and Venture Portland in partnership with the City of Portland. Sponsors of the event include AARP, the City of Portland, Portland State University, Unna, Better Smarter Richer, The Port of Portland and HR Answers.
"Helping older adults stay in the workforce as desired has long been a commitment from AARP," said Joyce DeMonnin, Communications Director. "We've been working locally to help businesses see the value of older workers, and to help older workers develop strategic job seeking skills. This event is a fabulous recognition that employers are valuing older workers and customers."

Age Friendly Portland wants to thank and congratulate all of the applicants who included the following:

Age-Friendly Business Awards 2018 Applicants
Adorn Boutique, Bodyquirks Studio, Encorepreneur Cafe, Home Instead
Law Offices of Nay & Friedenberg, MLK Property Management, Multnomah County Elections, Multnomah County Library
New Seasons Market, OHSU Richmond Clinic
Portland Nursery, Posies Bakery & Cafe, Ride Connection, Seniors on the Move, Social Venture Partners, Store to Door
Urban Development Partners, Unitus Community Credit Union, VICE Resale Boutique
*************
About Age-Friendly Portland
In 2011 Portland joined the World Health Organization's new Global Network of Age-Friendly Cities as one of nine pioneer cities from around the world and the only US city. Network membership reflects Portland's commitment to actively making the city a great place for people of all ages: agefriendlyportland.org/business-awards
*************
Age Friendly Portland and Multnomah County Economic Development and Work Subcommittee Members

Joyce DeMonnin, AARP Oregon and Dr. Margaret Neal, Portland State University - co-chairs

Heather Hoell, Venture Portland; Shanna Pittman-Frank, Elders in Action - Award project leads

Jay Bloom, Bloom Anew & AARP Oregon

Paul Chan, Community volunteer

Masaki Fujimoto, Encore Entrepreneur Cafe

Suzanne, Hansche, We Can Do Better

Tom Kelley, AARP Oregon

Margaret Neal, Portland State University

LeRoy Patton, Governor's Commission on Senior Services

Jackie B Peterson, Portland Community College, Better Smarter Richer

Remi Smith, Goodwill Industries of the Columbia Willamette