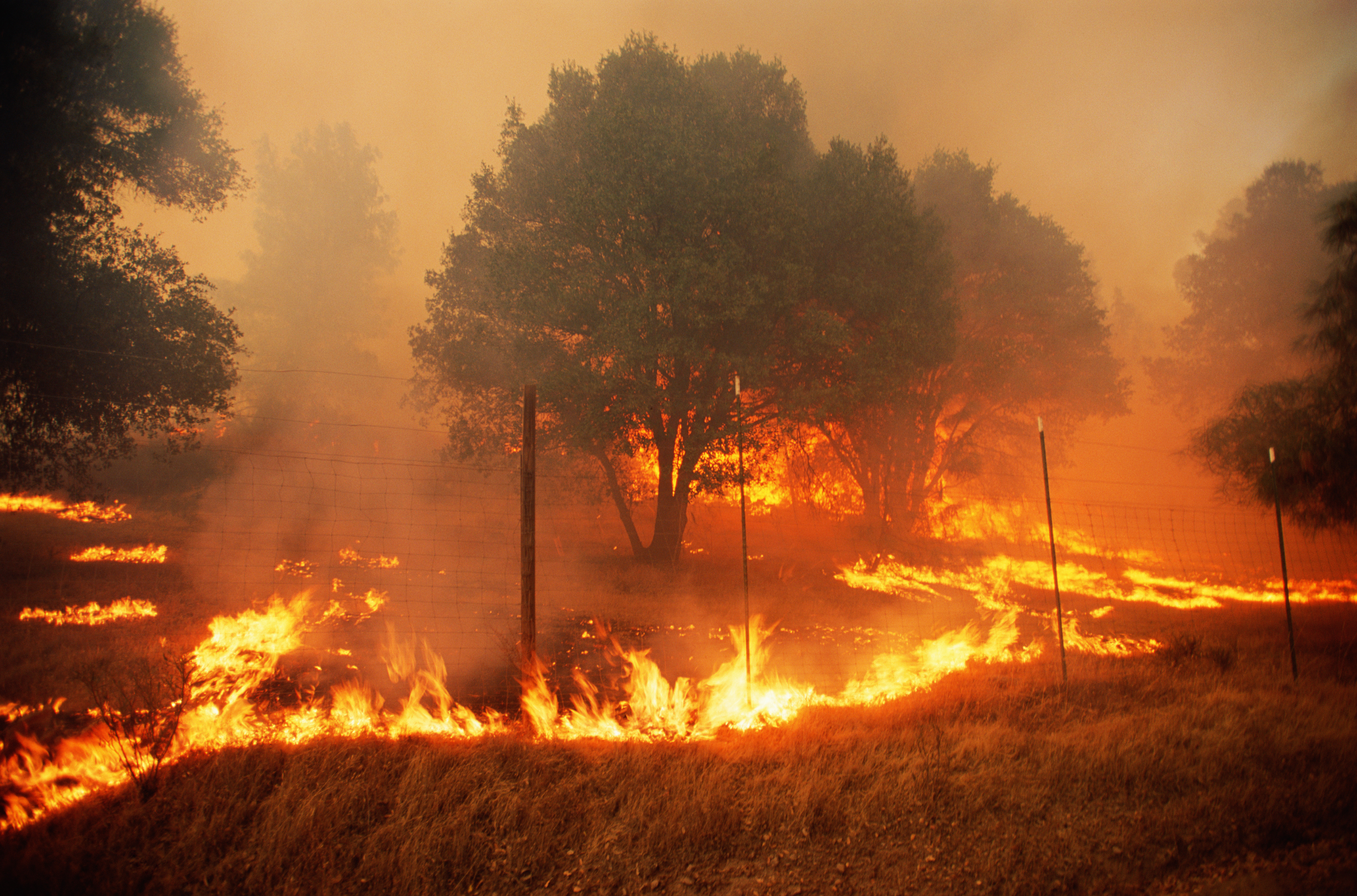 From the pandemic to floods, extreme weather events to increasing occurrence of wildfire, disasters and emergencies are challenging for everyone, but for older adults the impact can be greater. According to the CDC, "Disasters of all kinds affect older adults disproportionately, especially those with chronic diseases, disabilities or conditions that require extra assistance to leave an unsafe area and recover from an event."

RESILIENT FUTURES 2021
AARP Oregon held "Resilient Futures 2021," a virtual disaster preparedness & resilience conference on June 29-30. With the goals of empowering participants with the information, tools and resources to plan and prepare for the next emergency and building greater understanding of emergency preparedness and community resilience, the event brought together thought leaders, practitioners, and community advocates. Learn more about the live event. Download the agenda and speakers and scroll down to view the recordings of sessions :
Resilient Futures 2021 AGENDA.pdf
Resilient Futures 2021 ABOUT OUR SPEAKERS.pdf

SESSION RECORDINGS
All but one session were recorded. Watch on demand at your convenience.

Be Ready: Your Resilient Future
Tuesday, June 29, 2021
11:00 AM – 12:00 PM
From extreme weather events to man-made emergency crises, our communities are vulnerable to a variety of hazards. Join us for our conference kickoff session and hear from a diverse panel of subject matter experts on how you can be ready and ensure that it does not turn into a disaster.
Learn why older persons are particularly at risk in emergencies and the factors that impact our capacity to cope, respond, and recover. Get an overview of our State's resilience plan and recommendation for individual preparedness. Understand what you can expect when a major disaster hits and find out some key steps you can take today to lessen impact and be ready for your resilient tomorrow.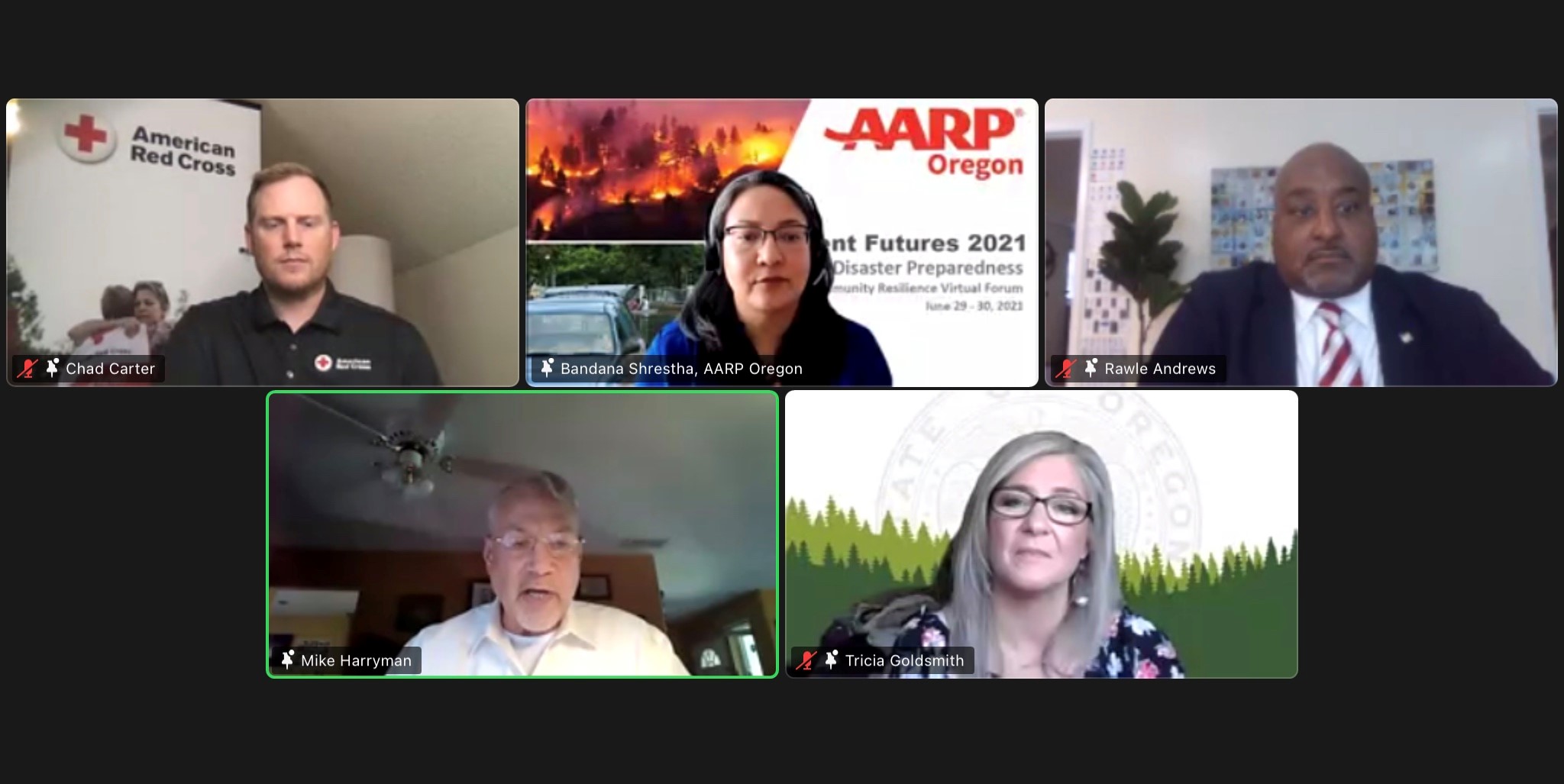 Panelists:
• Rawle Andrews, Jr., Esq., Regional Vice President, AARP
• Mike Harryman, Oregon State Resilience Office, Office of Governor Kate Brown
• Chad Carter, Regional Communications Director, American Red Cross
• Tricia Goldsmith, Consumer Advocacy and Outreach Manager, Department of Financial Regulations
Moderator:
• Bandana Shrestha, Engagement Director, AARP Oregon

Meeting Recording: https://aarp-org.zoom.us/rec/share/s5h1JRxT6NqLsNiOo21MUDhBL2CLeCUcPe7q6oik7vJzebDOEqT5kXrh-Ao84fkq.wvDd7Xnmy9fdLBnM
Access Passcode: 1BeReady!
Download: Be Ready (s1d1) Resilient Futures Slidedeck- FINAL.pdf


What is Your Disaster Game Plan?
Tuesday, June 29, 2021
12:15 PM - 1:30 PM
Whether you are just getting started or have a good start on your disaster plan, join us for this session for a practical approach to making sure that you have your bases covered. This session will help you plan and find answers to the following questions:
• What's in a "go-bag?"
• Do I need a communications plan for friends and family?
• Do you have a plan for pets?
• Shelter in place or evacuate?
• What about prescription drugs and other meds?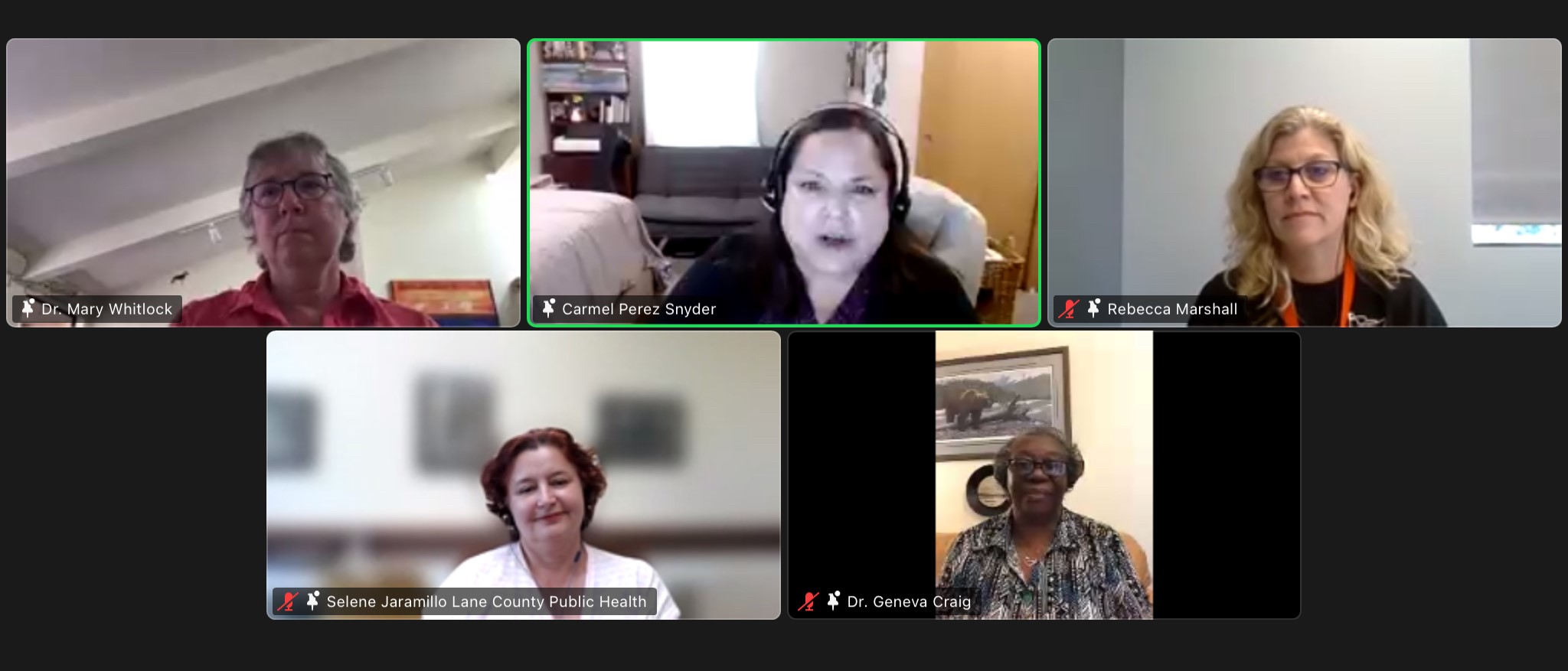 Panelists;
• Rebecca Marshall, Regional Disaster Officer, American Red Cross
• Geneva Craig, PhD, AARP Executive Council member
• Selene Jaramillo, Preparedness Coordinator, Lane County Public Health
• Dr. Mary Whitlock, Oregon Veterinary Response Team
Moderator:
Carmel Perez Snyder, Associate State Director, AARP Oregon

Meeting Recording: https://aarp-org.zoom.us/rec/share/99HlOhvsF6tuUOR3KwAhZfy4vhxLFqpn-OhPux-W54-7ysLvrQA93UMV96yLXfY.S3Bbj-h-wn_HOt3S
Access Passcode: 11ready!
Download: Game Plan (s2d1) Resilient Futures 2021 Slidedeck- FINAL.pdf
Oregon Disaster Worksheets.pdf
20630101_cascades_region_prepare_guide_final_jan8 (1).pdf


Resilient Together: Your Home, Your Neighborhood
Tuesday, June 29, 2021
2:00 PM – 3:00 PM
Being personally prepared for emergency is only part of the solution. Our homes and neighborhoods are critically important in our ability to weather natural hazards and disasters. Join us to learn about how you can connect with neighbors and develop skills to help you when the time comes.
Hear lessons learned from major crisis from the recent past right here in Oregon, including wildfire and water quality issues. Get tips and strategies for securing your home and building the connection in your neighborhood and community to strengthen individual and collective resilience.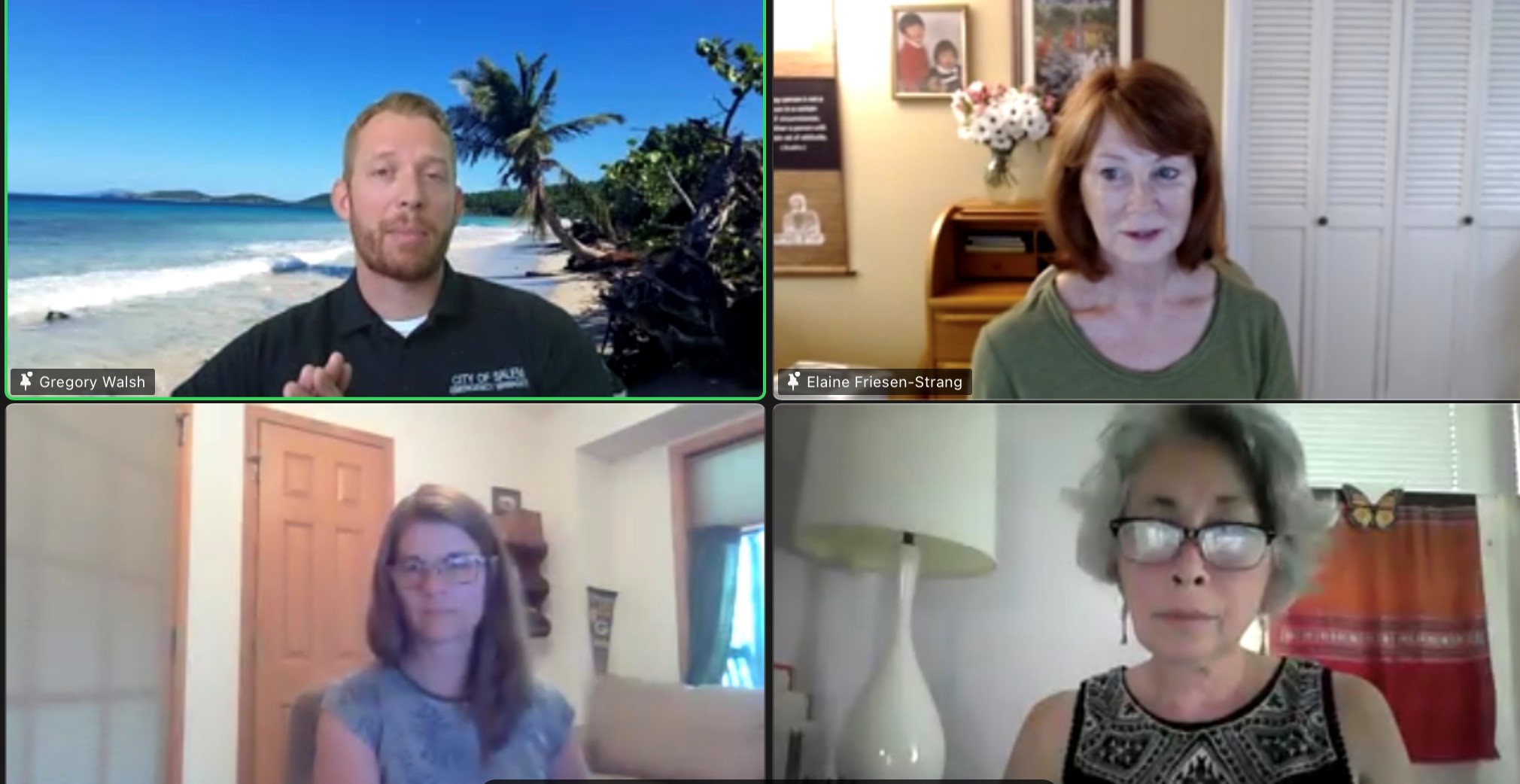 Panelists:
• Carrie Berger, Fire Program Manager, Oregon State University
• Annette Pronk, Team Leader, Cully Neighborhood Emergency Team
• Greg Walsh, Emergency Manager, City of Sale,
Moderator:
• Elaine Friesen-Strang, State President Emeritus, AARP Oregon

Meeting Recording: https://aarp-org.zoom.us/rec/share/sJYnNbUZhGhNcLn_hZ0E9Rc3Xh2dLk0Jm1OQLFFSTxNV7MUbo5-vl2-htsQgnW4.leWT_-ec36uZQEmV
Access Passcode: 1Together!
Download: Together (s3d1( Resilient Futures 2021 Slidedeck FINAL .pdf
2020.02.18.edits.Community-Resilience-workbook_WEB.pdf


Building Your Personal Resilience with Adaptive & Gentle Yoga
Wednesday, June 30, 2021
10:00 AM – 11:00 AM
A regular yoga practice, including mediation and breathing, can contribute to overall wellness and resilience. Resilient Futures 2021 attendees are invited to join AARP Oregon's regular weekly Adaptive and Gentle Yoga session with Barb Deuwaarder. Barb, who had to evacuate from her home during the September Alameda Fire, will share her wisdom and lead you through an hour of gentle yoga, focused on breathing and meditation.
This session was not recorded, however you can join Barb virtually every week on Wednesdays and Saturdays. You can register for the month ang get automated reminders before each session with a link to join.
Register online : https://aarp.cvent.com/aarpyoga2021



Our Resilient Future: Policy and Planning for People
Wednesday, June 30, 2021
11:00 AM – 12:30 PM
What are cities, our state and key agencies doing to help Oregon prepare for the next extreme weather events to man-made emergencies? What are have we learned from the past year and what are the policy and planning opportunities that center people and help make us more resilient?
This session will focus on a variety of ways we are making improvements, bringing resources, and implementing technologies that will better serve us through the next natural hazard and disaster events, both individually and in our communities.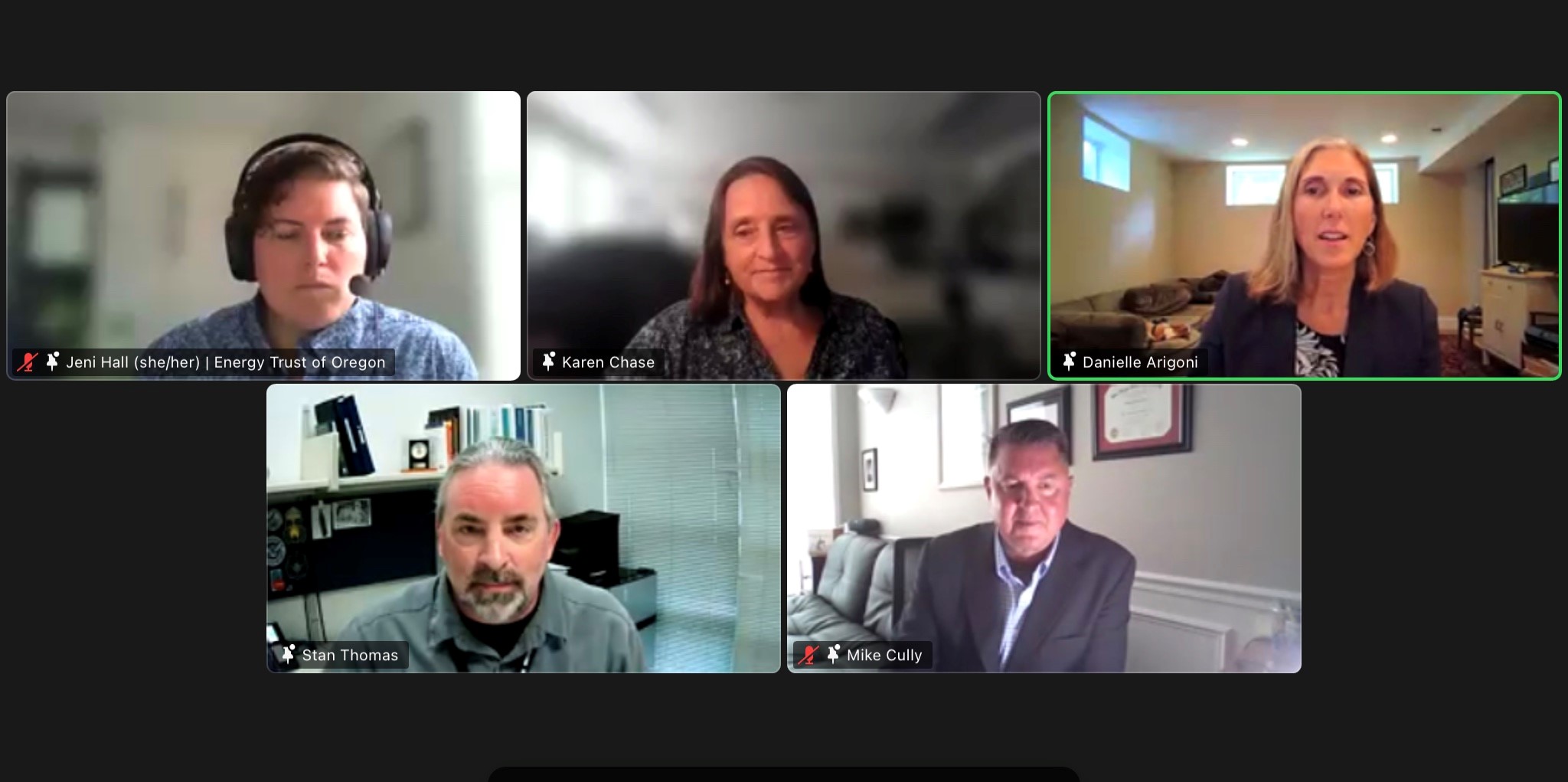 Panelists:
• Danielle Arigoni, Director of Livable Communities, AARP
• Mike Cully, Executive Director, League of Oregon Cities
• Stan Thomas, Deputy Director, Oregon Office of Emergency Management
• Jeni Hall, Program Manager, Energy Trust of Oregon
Moderator:
• Karen Chase, Senior Outreach Manager, Energy Trust of Oregon

Meeting Recording: https://aarp-org.zoom.us/rec/share/yyk9x90qgoRvcM2fQSF1MZREjihENuyc3usvpTWIZYyVDlkN6Ee1UqjoTuanBO4g.5XFXOohQL_BXdem8
Access Passcode: 22future!
Download: Our Resilient Future (S2D2) - Slidedeck FINAL.pdf


WANT TO LEARN MORE?
Check out additional conference content including special videos, pre-recorded sessions on demand and articles and other resources.

Resilient Futures: AARP Member & Volunteer Voices
Watch what AARP members and volunteers have to say about disasters and emergency preparedness.

Older Adults & People With Disabilities: A Conversation with FEMA Region 10
AARP Oregon caught up with FEMA Region 10 Community Preparedness officer Ilyssa Plumer and Disability Integration Officer Danielle Bailey to learn about FEMA's role in emergencies and how the agency works to help communities and individuals with preparedness and resilience. Visit www.ready.gov and Region 10 Individual & Community Preparedness Dashboard: https://fema.connectsolutions.com/r10communityprep/
A Conversation with FEMA Region 10

Tips for Everyday Preparedness
City of Salem Emergency Manager Gregory Walsh has prepared a special presentation for forum attendees. The presentation include great videos with hand-on demonstrations highlighting key tips from emergency food to a preparing a car kit.

Disaster Registry: An Important Tool for Communities
We interviewed Rogue Valley Council of Government's Senior Planner Connie Saldana just before she retired! Check out this video to learn about the disaster registry in Jackson and Josephine counties and how it works to help vulnerable neighbors during times of emergencies.
Disaster Registry: An Important Tool for Communities

AARP Southern Oregon Savvy: Emergency Preparedness
In May, AARP Southern Oregon Community Action Team hosted a special session focused on Emergency Preparedness featuring knowledgeable subject matter experts. The session is available to watch on demand.
Meeting Recording: LINK
Use access passcode: SOSavvy52721!



What You Need to Know About Climate Change
The June issue of the AARP Bulletin ran a very timely special report on climate change. Based on interviews with dozens of experts to get the full picture on how climate change already is affecting insurance rates, allergy levels, home values, travel opportunities and even our ability to go outdoors for a walk, the report comes complete with advice on how to avoid these issues – or mitigate them as much as possible. Read the report here.



Navigating the New Normal
Check out this white paper prepared for the United Nations by AARP Regional Vice President Rawle Andrews, Jr. Esq. The paper lays out key considerations for older adults, family caregivers, and US-based nonprofit second responders when a natural disaster strikes. Read the report here.



HELP SHARE THIS IMPORNT INFORMATION
Please share this page with other in your network. You can share this link: http://bit.ly/ResilientFutures2021 or download and share this flyer: Resilient_Futures_On_Demand.pdf