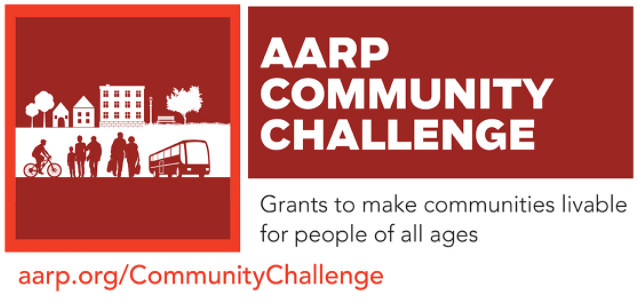 AARP Awards Grants to Six Oregon Organizations as Part of its Nationwide Program to Make Communities More Livable

AARP Oregon announced six organizations throughout the state will receive 2022 Community Challenge grants – part of the largest group of grantees to date with $3.4 million awarded among 260 organizations nationwide. Grantees will implement quick-action projects that help communities become more livable in the long-term by improving public places; transportation; housing; diversity, equity and inclusion; digital access; and civic engagement, with an emphasis on the needs of adults age 50 and over.

"AARP Oregon is committed to working with communities to improve residents' quality of life through tangible changes," said State Director Bandana Shrestha. "We are proud to collaborate with this year's grantees as they make immediate improvements in their communities to jumpstart long-term change, especially for Oregonians 50 and over."

Here in Oregon, projects funded include:


City of Mosier will receive $20,000 to develop a commercial kitchen in the community center to provide free weekly meals, a food pantry and space for nutritional-product development.

City of Moro will receive $12,000 to provide two sets of pre-approved plans for accessory dwelling units at no cost to citizens of Moro and its neighbor Condon to expand options for affordable housing.

City of Woodburn will receive $10,000 to provide a public community gathering space directly in the heart of one of the largest 55+ communities in Oregon.

Sustainable Living Center (Salem) will receive $9,300 to transform an unused outdoor area into an accessible space for educational programs on sustainability, multigenerational gardening and social engagement.

Healthy Klamath (Klamath Falls) will receive $6,900 to revive run-down alleyways and increase public art displays to improve the safety and appearance of the overall downtown area.

Lloyd EcoDistrict (Portland) will receive $5,410 to incentivize older residents in the Lloyd neighborhood to complete regular emergency preparedness activities and build residential resilience throughout Lloyd and beyond.
AARP Community Challenge grant projects will be funded in all 50 states, Washington, D.C., Puerto Rico, and the U.S. Virgin Islands. True to the program's quick-action nature, projects must be completed by November 30, 2022.

This year, AARP is bolstering its investment of affordable and adaptable housing solutions in response to the national housing crisis. With additional funding support from Toyota Motor North America, the program is also increasing its support of projects that improve mobility innovation and transportation options.

The grant program is part of AARP's nationwide Livable Communities initiative, which supports the efforts of cities, towns, neighborhoods and rural areas to become great places to live for people of all ages. Since 2017, AARP Oregon has awarded 16 grants and over $206,000 through the program to nonprofit organizations and government entities across the state.

View the full list of grantees and their project descriptions at aarp.org/communitychallenge and learn more about AARP's livable communities work at aarp.org/livable.