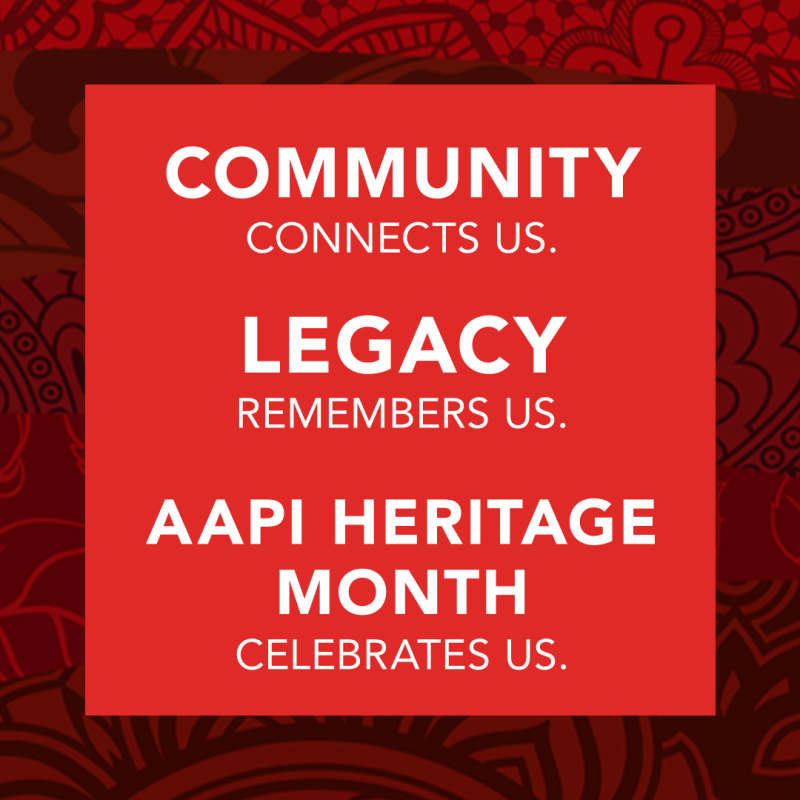 May is Asian American Pacific Islander Heritage Month! AARP recognizes the needs of AAPI communities and works to provide us all the resources to grow and live life together—now and beyond.

The United States history is shaped by the stories of immigrants from Asia and the Pacific and the native people of the Pacific Islands. Some of the earliest Asian immigrants came to the US from China, Japan, India, and Korea. Later many others have followed including those from Vietnam, Cambodia, Philippines and South and Central Asia. This month, we invite you to join us in recognizing and celebrating the diverse and rich culture, history, and heritage of AAPI communities in the US.

Let's begin with some tasty, simple dessert recipes that we have collected for you. Check back next week for set of savory recipes. Enjoy!



Bowties
Submitted by Gloria Lee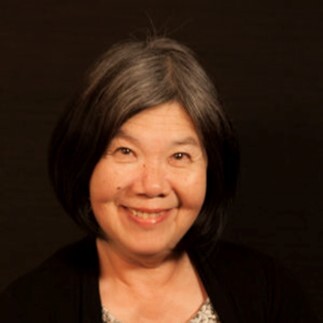 As a little girl, helping my mom make bow ties made for a happy yummy time. Chinese American cuisine had little sweets and most meals ended with fruit so these bowties were a treat! I loved cutting the slits and looping them. Mom would fry them and then I would get to dip them in sticky gooey syrup. Then I would get to eat them! A simple dessert for special occasions! We made our dough (much longer recipe) but this recipe below uses wonton skins and it works too!

Makes 48 bowties
24 wonton skins (cut squares in half)
Canola oil deep frying

Cut a 2.5" slit in the middle of each half and loop one end through to make the bow.
(Keep a moist towel over skins so they don't dry out)
Fry till golden brown. Bowties should rise to the top quickly if oil is right temperature.
Let rest but while still warm, dip each bowtie in syrup and coat it well. Rest on wax paper.

Syrup
2 cups sugar
½ cup water
2 teaspoons lemon juice (so that syrup doesn't crystalize)
Cook until syrup thickens enough for dipping.

Gloria Lee is the Executive Director of The Giving Tree NW, serving low income residents in affordable housing using the tools of art, education and recreation to reduce isolation and build community. Board member of , Chinese American Citizens Alliance Portland .



Almond Jello
Submitted by Betty Jean Lee

1 pkg unflavored gelatin (Knox) 1/3 cup sugar
¼ 1/2 cup water 1 teaspoon almond extract
11/2 cup milk scalded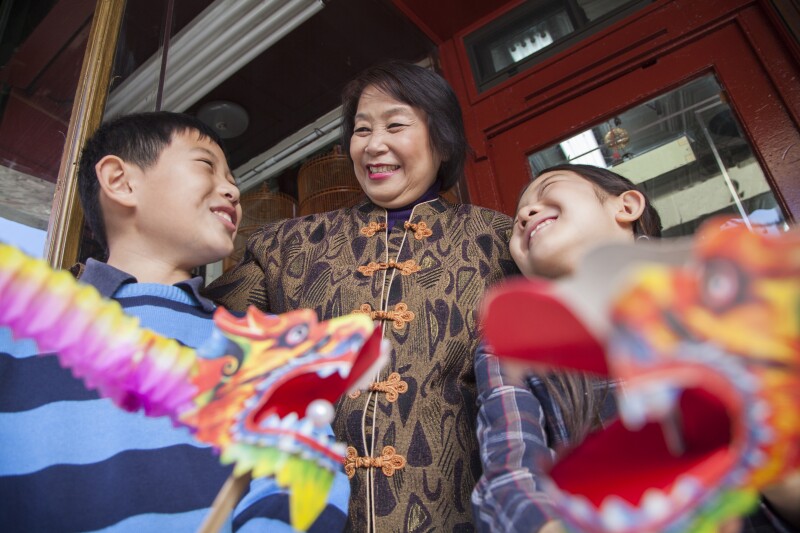 Mix gelatin with water. Add sugar to milk after it has been scalded (I do mine in
microwave). Combine all the ingredients and stir until gelatin is dissolved. Add
the extract and mix. Pour into a rectangular pan or mold. Refrigerate until set. Cut into cubes and serve with Mandarin oranges, pineapple, or fruit cocktail



Almond Cookies
Submitted by Betty Jean Lee

1 cup sugar 2 cups flour
1 cup shortening/lard 1 teaspoon almond extract
1 teaspoon soda 1 egg (add last)
1/4 teaspoon salt

Preheat over to 350 degrees. In a large bowl mix together the sugar and shortening (I use Crisco). In a separate bowl, mix together soda, salt , and flour. Combine with sugar mixture adding almond extract and egg. Add egg last. Roll the dough into little balls and place them on cookie sheet. (Do not flatten) Put almond on top or sprinkle sesame seeds and bake for 18-19 minutes.

Yield 24 cookies

Betty Jean Lee is retired from family owned Import Export Business. Currently serving on the Lan Su Chinese Garden Board, local Lodge Chinese American Citizens Alliance board and the National Board as Regional Executive, docent for the Portland Chinese Museum.



Kalamay
Submitted by Ligaya Humbert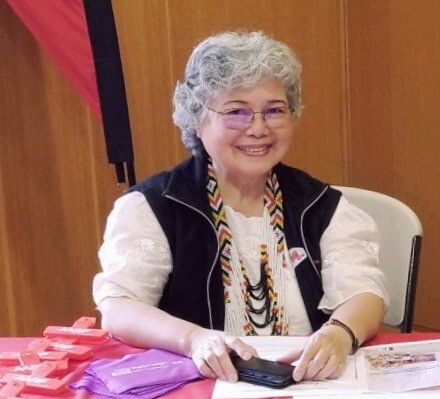 Kalmay is the Filipino name for any sweet sticky dessert cooked in coconut milk. Different regions have their own particular recipe for this sweet delicacy, some are made from glutinous rice and others from rice flours. The banana leaves, though optional, give this dessert a distinct taste and fragrance. Also, vegetable or coconut oil is necessary to prevent from sticking to the baking dish. (Or, you can simply use butter)

• 2 1/2 cups Glutinous Rice

• 4 cups Coconut Milk(or 1 can coconut milk plus enough water to make 4 cups)
• 3/4 cup Sugar
• 1/2 teaspoon anise seed(optional)
TOPPING (Optional coconut custard – you can use a regular custard recipe)
• 1 can Coconut Cream or 1 1/2 cups Kakang Gata
• 250 grams Brown Palm Sugar or Dark Brown Sugar
• Banana Leaves, heated(optional)
• Vegetable or Canola Oil

Dissolve the sugar in the coconut milk and put in a pot. Add the anise seeds.
Wash the glutinous rice and pour into the coconut milk and sugar mixture.
Bring to a boil, then turn the heat down to simmer for about 15-20 minutes or until the liquid is fully absorbed by the rice.

Kalamay is ready! You can simply spread the kalamay on a buttered lasagna dish and serve. Or, if you are inclined, you can follow the rest of the steps.

On a separate pan over medium heat, put the Coconut cream and Palm sugar and cook stirring continuously until the liquid has reduced in half.
Assemble the Kalamay in a baking dish. Place the banana leaves at the bottom, and brush with oil. Spread the cooked sweet rice onto the leaves and flatten evenly. (Tip: Lightly heat the banana leaf over the stove-top burner or in the microwave to make it pliable and easy to handle.)
Spread the topping onto the sweet rice and bake in a 350 degrees F, pre-heated oven for 20 - 25 minutes.
Cool for 30 minutes before serving.

Ligaya Humbert is a retired accountant. She lived in Milwaukie with her family. She has been an AARP Tax-Aide volunteer for over 9 years and also serves on the AARP Oregon Diversity Advisory Committee. Ligaya is also active in the Council of Filipino American Associations of Oregon and Southwest Washington. Find this and more Filipino recipes online.



Kheer
Submitted by Bandana Shrestha

Kheer is a rice pudding desert that is made across the south Asian continents, including Nepal where I grew up. Instead of rice you can use vermicelli and instead of just sugar and milk, you can elevate this simple pudding with spices, dried fruit and nuts like cardamom, cinnamon, cloves (very little), nutmeg, saffron, black pepper, cashews, almonds, pistachios, dates, coconut, and raisins. My favorites to add are saffron and pistachios.

One cup of rice (basmati or another fragrant variety)
Two cups of whole milk (or coconut milk)
One tablespoon butter (or ghee if you have it)
Half a cup of sugar

Boil milk with sugar.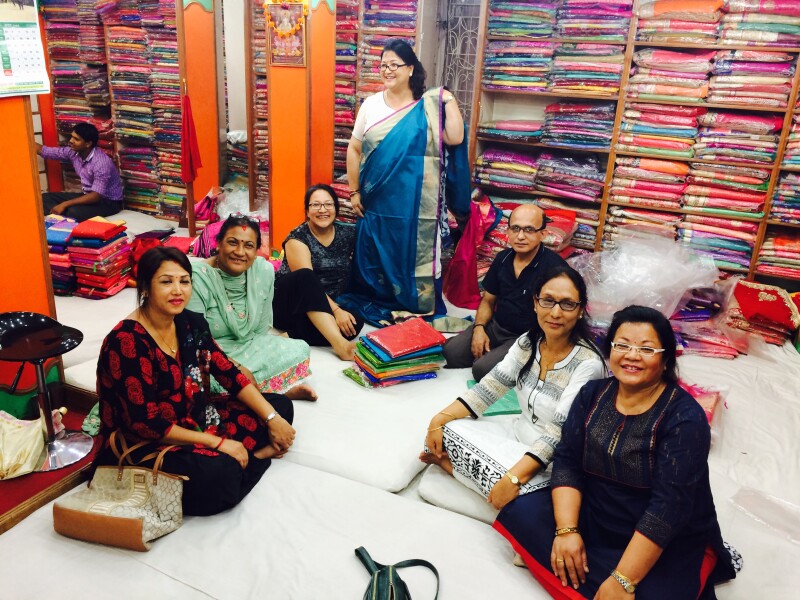 Mix rice with butter (don't over wash the rice!)
Pour rice in the liquid and stir continually
Boil and cook the mixture till rice is soft and glutinous

Add spices, dried fruit, and nuts you want after the rice has thickened. You can add more milk or cream to make the pudding texture creamier. Depending on the season you can serve kheer hot or cold!

Bandana Shrestha is AARP Oregon's Director of Community Engagement. She grew up in Nepal enjoying kheer during major festivals, weddings and other celebrations.