There is great truth in the saying that music soothes the soul, especially during difficult times. That is why AARP Oregon is excited to bring you two exciting music festivals for you to enjoy virtually right from your own home. AARP Oregon is a proud sponsor of the Mt. Hood Jazz Festival Live Stream Concert Series and the Ashland World Music Festival.

From soulful sound of Jazz singing to Americana roots music to Ghanaian folk, enjoy world class musicians from Oregon and around the globe.

Mt. Hood Jazz Festival
The Mt. Hood Jazz Festival is a three-day immersion in the jazz culture that takes place on the Mt. Hood Community College campus every spring. This year, the pandemic upended plans for in-person events scheduled for April. That is why we here at AARP Oregon are even more excited to be collaborating with and supporting the livestream concert series this summer and early fall. The concerts offer an opportunity for us all to enjoy free professional performances by world-renown headliners! Check out the schedule below and tune into the Festival Facebook page to enjoy the concerts: www.facebook.com/MtHoodJazzFestival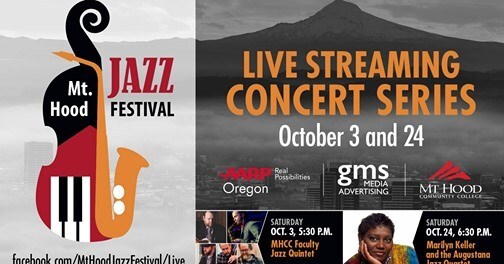 Ashland World Music Festival
The Ashland World Music Festival creates cultural connection through the experience of world music, inviting people of all backgrounds to build communityAshland World Music Festival. This year, the 2020 festival is going virtual and AARP Oregon is excited to join the festival as a premier sponsor. he even has been rescheduled now for Nov 7th!
The Festival will feature a virtual concert featuring a variety of performances. Artists will perform a 30-minute set, with time to answer questions submitted in real time via social media & email.