Ombudsman is a word that you've heard all your life and may have a slight idea of the definition. According to Wikipedia an ombudsman \ is an official who is charged with representing the interests of the public by investigating and addressing complaints of maladministration or a violation of rights. [1]

My experience with the word "Ombudsman" began years ago when my parents were living in the same long-term care facility. My mother was a resident in its memory care; my father received care in its assisted living. In each area there was a poster with a picture of an older lady holding a phone with a toll free phone number and information about the office of Long-Term Care Ombudsman. At the top of the poster it read: "Do you need help?"

The facility my parents resided in was for sale. This also meant that repairs to the facility were put on hold. In addition, the facility started admitting residents who were not diagnosed dementia patients; rather, they were individuals with brain injuries and psychological disorders. These people displayed angry outbursts and could act violent. I went to my mother's memory care every night and stayed late. I felt as if I needed to protect her.

My father had congestive heart failure. The facility had assured him all his needs would be met. At first, when his medical issues were stable, the assisted living lifestyle was acceptable. He could walk with the assistance of a wheeled walker requiring minimal assistance. Soon he grew weak and had need of a wheel chair, which required someone to push it. Breakfast was at eight. Because there were so few caregivers, he wasn't assisted to the dining room until an hour later. His food was often cold, and when he had finished his breakfast, it would take another hour to get him back to his room. A few days before he passed away, my father fell in his bathroom. He waited an hour on a cold tile floor before someone answered his call light.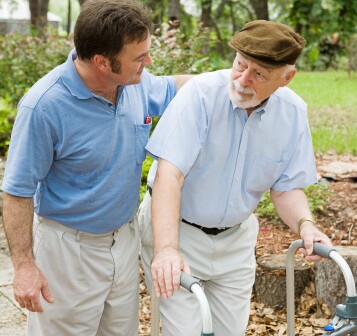 My parent's experience with long-term care is not unique. Over-worked caregivers, medication mistakes, and increased rent for services that may or may not be provided can be regular occurrences in some facilities. For me, this created concern when I wasn't able to be with them. I kept my complaints to a minimum and subsidized my parent's care with my own time. I was concerned if I complained, there may be repercussions. Even though I saw the Ombudsman poster every night I never called. It's a disconnect I can't explain. Both of my parents passed away within two and a half years of entering the facility.

Afterward, I found that I had a hole in my life. It was hard to sit at home at night and not see my parents; I missed them. I realized I missed the relationships, caregivers, and the residents at the facility.

One morning my wife listened to an NPR morning show about long-term care ombudsmen and encouraged me to view a webinar on the subject. I learned Long-Term Care Ombudsmen are mostly volunteers who advocate for residents living in long-term care facilities. I was intrigued and decided to take the training to become an ombudsman. It was only six full-day classes spread over a month, with a bit of homework.

Confidentiality is a cornerstone of the Ombudsman's process. Residents of facilities are often afraid to speak up about unfair treatment because they fear retribution. Ombudsmen will take great efforts to maintain the resident's anonymity, scheduling meetings where and when the resident requests. The resident discusses their problems and when finished, the ombudsman offers solutions. The ombudsman will only do what the resident requests. There is no charge.

There are several problems that a resident can encounter in any long-term care facility. Regular complaints are food, rent, eviction, and medication issues. A long-term care ombudsman can assist the resident by investigating complaints. The investigation may involve interviewing other residents, caregivers and managers of facilities. Meetings with facility managers can help define problems or clear the air. The resident may wish to attend these meetings or choose to not attend. The resident always has the choice to direct the investigation.

Family members, the resident's representatives, facility caregivers, or executive directors of the facility may choose to contact an ombudsman on behalf of the resident. Of course, with exceptions (memory care residents, for instance), the resident of the long-term care facility would have the final say in accepting help from the long-term ombudsman.

It's too late for me to call a long-term care ombudsman to help my parents. I did the best I could and I can live with that. If I can help someone in a long-term care facility and make their life better, it makes my life better. Long-term care ombudsmen fight for residents to give them a voice and protect their rights. Consider volunteering today.

If you would like to learn more about volunteering as a Certified Ombudsman in Oregon, call 800-522-2602, direct (503) 378-6303, volunteer.recruiter@oregon.gov or visit the website at www.oregon.gov/ltco .



[1]https://en.wikipedia.org/wiki/Ombudsman