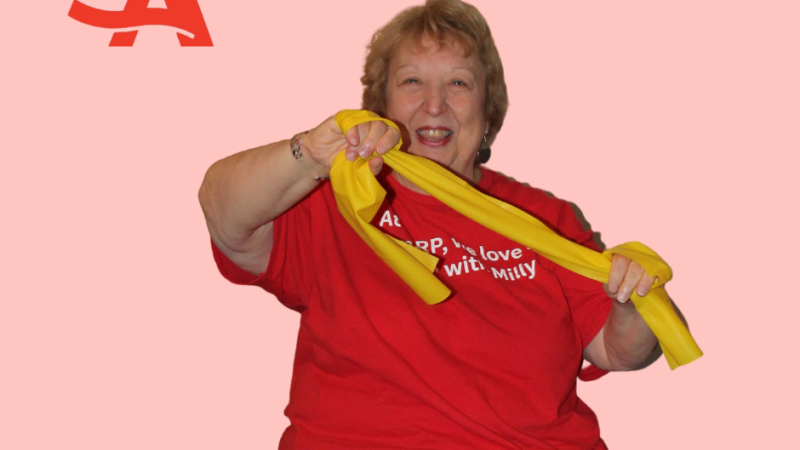 Milly Laible, 70, sits in Bethlehem, smiling into a computer screen and getting her audience moving. Some of them are thousands of miles away. One woman has even exercised along with Milly from her apartment in Shanghai.

As she starts 10 reps of lifting a cane over her head, Milly calls out, "If you don't have a cane, an umbrella or yardstick will work just as nicely." When the retired hairdresser and AARP volunteer started Moving with Milly in November 2020, she would greet all eight Zoom students by name. But since her Monday-morning class spread to over 350 households, there are fresh faces every week. Comments come in from Florida, California, Alaska.

"Unfortunately, we can't say hi to 350 people, but I think Milly would like to," says her husband and cameraman, Ron, 72.

As faces fill pages of tiny squares on the screen, Milly greets the regulars. It's Valentine's Day, and a student asks to see the man behind the camera. Ron walks up to Milly to hug and kiss her. The Zoom room erupts with hoots and applause.

Milly even has her own merch: water bottles, towels and fans, sometimes sent to loyal students during giveaways. She models a red T-shirt that reads "At AARP, We Love to Move with Milly."

A Pandemic Surprise

Milly didn't expect to become an online fitness sensation. She just wanted to stay connected to her fellow AARP volunteers during the pandemic. She and Kellie VonStein, AARP Pennsylvania outreach and advocacy director, brainstormed and came up with a virtual exercise class. Most of the movements can be done from a chair using a stretchy band, a cane and simple weights.

She demonstrates an exercise, folding her arms in front of her chest while keeping her back straight. "This is good for our butt and thighs," she says as she pushes herself up in front of the chair and sits back down.

Susan Asp, 71, of Allentown, is a Moving with Milly regular. Her daughter also joined in for the Valentine's Day session—from Shanghai. Other classes at gyms "make you feel ridiculous and not part of the 'in generation,'" Asp says. "Milly makes you feel comfortable."

Initially, the free 45-minute class was open only to AARP volunteers. Then it was expanded to all AARP members and, in the summer of 2021, to everyone. Recorded versions are available at aarp.cventevents.com/MovingwithMillyOnDemand. "Milly's so sweet, and people just relate to her," VonStein says.

Milly began regularly exercising three years ago, after developing pre-diabetes. She lost 50 pounds and lowered her blood sugar. The class' success was a surprise. "It just kind of took off," she says.

She approaches students the way she once interacted with her customers. And she's gratified by comments she gets in the Zoom chat. "One lady said, 'Finally, an exercise class I can do,'" she says.

In addition to the exercise sessions, the Laibles volunteer for AARP veterans and advocacy groups. They were awarded the 2021 AARP Pennsylvania Andrus Award for Community Service.

For her part, Milly's not done. Her next virtual offering: Meals with Milly. The exercise classes are Mondays at 11 a.m. Eastern time. Register at aarp.cvent.com/MovingwithMillyExerciseClass2022.

Cristina Rouvalis is a writer living in Pittsburgh.

Keep Your Brain Healthy With Staying Sharp
For more on Healthy Living