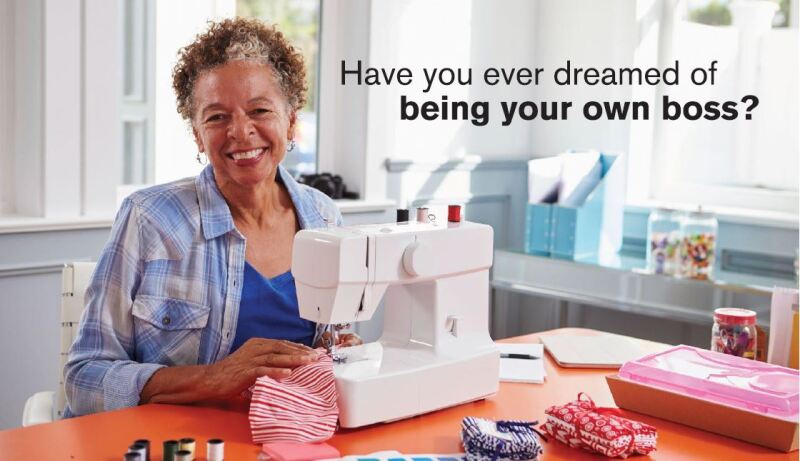 Duquesne University's SBDC is among 17 community-based organizations selected to receive funds to help older adults build the skills to work for themselves

The AARP Foundation has awarded a generous grant to Duquesne University's Small Business Development Center to conduct Work for Yourself@50+ ℠ workshops in Pittsburgh. This national grant initiative is designed to help vulnerable older adults assess opportunities for self-employment, build skills and connect with resources that will enable them to generate income by working for themselves.

The Duquesne University Small Business Development Center (SBDC) offers confidential consulting services and training workshops for startup and existing small businesses in southwestern Pennsylvania. Their main office is located at Duquesne University in Pittsburgh, Pa., but they also offer consulting services and educational programs to entrepreneurs in Beaver, Butler and Lawrence counties.

The free workshop will be held on Nov. 30 from 5 to 6:30 pm at the Homewood Branch of the Carnegie Library of Pittsburgh, 7101 Hamilton Avenue, Pittsburgh, PA 15208. Light refreshments to be served.

"For many low-income older adults, self-employment and business ownership is an opportunity to change their future," said AARP Foundation President Lisa Marsh Ryerson. "AARP Foundation is proud to work with organizations committed to helping older adults successfully run their own business. Our Work for Yourself@50+ program is designed to enable older adults to pursue self-employment by connecting them with trustworthy resources in their own communities."

"Our SBDC is very excited to offer this program in the Pittsburgh area in cooperation with AARP Foundation and The Hartford," said Dr. Mary T. McKinney, director of the Duquesne University SBDC. "We have recognized for a long time that the 50+ population has been very successful in starting and operating businesses. Their vision, enthusiasm and entrepreneurial spirit coupled with their many years of experience, are driving forces leading to successful new ventures."

Through a nationwide open request for proposals, AARP Foundation, with support from The Hartford, identified and then selected promising organizations in high-need communities to receive grant awards and implement the Work for Yourself@50+ workshop model. The workshops help low-income adults 50 and older understand the pros and cons of self-employment and support them through the early steps that can lead to success.

"The Hartford is excited to work together with AARP Foundation on the Work for Yourself@50+ program, empowering mature adults to build on their potential and to prevail as independent entrepreneurs," said Diane Cantello, head of Corporate Sustainability for The Hartford. "Self-employment creates small businesses that contribute to the stability and vitality of their local communities."

Working with AARP Foundation, each grantee will put together a plan in its community to:

Publicize Work for Yourself@50+ resources and workshops to potential entrepreneurs
Host and facilitate a 90-minute introductory workshop, designed by AARP Foundation, to walk participants through the Work for Yourself@50+ materials
Connect program participants with local, accessible resources to help them take action on their income-generation plans.
In addition to receiving grant funds, grantees will also participate in a community of practice and regular assessment to help build a body of knowledge about effective older-adult services and programs.

Creating and owning a business has long been heralded as a path to financial success and economic mobility; low-income older adults, however, face unique hurdles when re-entering the workforce in a nontraditional capacity. AARP Foundation's and The Hartford's investment in these grantees seeks to improve the lives of vulnerable populations by supporting and advancing effective solutions.

To learn more about the Work for Yourself@50+ initiative, please visit aarpfoundation.org/workforyourself or call 1-888-339-5617 to receive a free toolkit.

Contact: Jill Greenwood 412.396.1154/412.736.1877

Rose Ravasio, 412.396.6051/cell 412.818.0234

###

Duquesne University

Founded in 1878, Duquesne is consistently ranked among the nation's top Catholic universities for its award-winning faculty and tradition of academic excellence. Duquesne, a campus of nearly 10,000 graduate and undergraduate students, has been nationally recognized for its academic programs, community service and commitment to sustainability. www.duq.edu

AARP Foundation

AARP Foundation works to ensure that low-income older adults have nutritious food, affordable housing, a steady income, and strong and sustaining social bonds. We collaborate with individuals and organizations who share our commitment to innovation and our passion for problem-solving. Supported by vigorous legal advocacy, we create and advance effective solutions that help struggling older adults transform their lives. AARP Foundation is the affiliated charity of AARP.

The Hartford

The Hartford is a leader in property and casualty insurance, group benefits and mutual funds. With more than 200 years of expertise, The Hartford is widely recognized for its service excellence, sustainability practices, trust and integrity. More information on the company and its financial performance is available at thehartford.com. Follow The Hartford on Twitter at twitter.com/TheHartford_PR. The Hartford Financial Services Group Inc., (NYSE: HIG) operates through its subsidiaries under the brand name, The Hartford, and is headquartered in Hartford, Conn. For additional details, please read The Hartford's legal notice at thehartford.com/legal-notice.