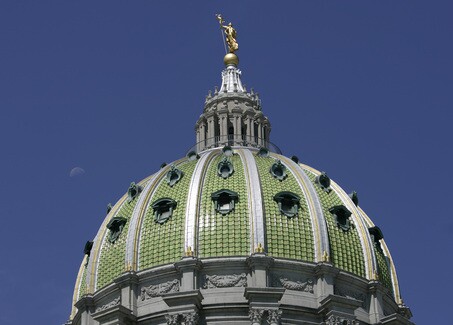 Here's a quick recap of the May 15 primary election:
There were few true surprises in the primary election results. One notable development – for the first time since 2014 Pennsylvania will have a female Representative in the US House of Representatives (both candidates in the 5 th District are women). Pennsylvania has only had four female Representatives in the US House who did not succeed their husband in office.

Governor

Republican State Senator Scott Wagner won a contested three-way primary and will face incumbent Tom Wolf in the November election. Both candidates are natives of York County.

US Senate

Republican US House member Lou Barletta won the primary and will face incumbent Robert Casey Jr. in the fall election.

US House of Representatives

Notable results include:

District 1 –Lawyer and philanthropist Scott Wallace (the grandson of former US Vice President Henry Wallace) won the Democratic nomination to face incumbent Brian Fitzpatrick in this Bucks County-based district rated as a toss-up in the fall.

District 4 – State Representative Madeleine Dean easily won the Democratic primary for this open, Montgomery County district and will be heavily favored to win the November election.

District 5 – Attorney May Gay Scanlon won a contested 10 way Democratic primary and will be favored to win the newly-configured Delaware County-based district in November.

District 7 – Lawyer & former Allentown solicitor Susan Wild will face Lehigh County Commissioner and former Olympic cyclist Marty Nothstein in another November toss-up election after each won very closely contested primaries.

District 8 – Investment manager John Chrin won a contested 3 way Republican primary, despite living outside the newly-configured NE Pennsylvania district, and will face incumbent Matt Cartwright in a district that voted heavily for Donald Trump in 2016.

District 9 – Former State Revenue Secretary Dan Meuser on the Republican side and former State Agriculture Secretary Dennis Wolff on the Democratic side each won contested primaries and will face off in this open seat.

District 13 – Physician John Joyce won an 8 way Republican primary in this open seat and will be heavily favored to win in November in this sprawling central Pennsylvania district

District 14 – State Senator Guy Reschenthaler defeated State Representative Rick Saccone in the Republican primary for this Western Pennsylvania district and will face Democratic candidate Bibiana Boerio, a former executive at Ford Motor Company.

Pennsylvania State Senate

Incumbent Republican State Senator Randy Vulakovich lost his primary to a conservative challenger, Jeremy Shaffer, in the suburban Pittsburgh 38 th District which voted for Hillary Clinton in 2016.

Pennsylvania State House

Three incumbent Democratic representatives – Paul Costa and Dom Costa in Pittsburgh and Emilio Vazquez in Philadelphia – lost primary bids. The Pittsburgh races saw two long-time politicians lose to younger more progressive challengers. The Philadelphia race saw a first-term legislator elected in a special election in 2017 lose his 1 st re-election attempt. Three special elections for vacant seats also took place in conjunction with the primary. Two of the special elections resulted in a party switch – a western PA seat flipped from Democratic to Republican while the opposite happened in a suburban Philadelphia seat.



AARP PA State Legislative Priorities

Nurse Practitioner Full Practice Authority Legislation

Status – AARP supported legislation (Senate Bill 25) passed by the State Senate in March 2017 - that bill and a House companion bill (House Bill 100) are pending in the State House Professional Licensure Committee.

Update – The Nurse Practitioners Association held a Day of Action at the State Capitol on April 17. AARP State President Joanne Grossi spoke in support of the House and Senate bills and was also interviewed on the Harrisburg ABC-TV affiliate about the importance of the legislation.

AARP Action – AARP is hosting a toll-free number to call State Representatives in support of the Nurse Practitioner full practice authority legislation (1-844-250-5540).

Telemedicine

Status – AARP supports legislation improving insurance coverage of telemedicine services that has been introduced in the State House (HB 1648) and Senate (SB 780).

Update – SB 780 was amended by the full Senate and is now on the Senate calendar for second consideration. Action on the bill is likely during the week of May 21. The amendment corrected and clarified some language in the bill. AARP continues to support the amended version of the bill.

AARP Action – AARP is urging its members to contact their State Senator to urge prompt action to pass SB 780.

Retirement Security

Status – State Treasurer Joe Torsella continues to utilize the information compiled from his Task Force hearings to meet with legislators in an attempt to craft retirement security legislation. Sarah Mysiewicz-Gill from SASI served on the task force and continues to be available to the Treasurer's office for consultation through an informal work group now discussing the issue. The Task Force will hold a meeting on June 4 to review the status of the work.

Update – Behind the scenes discussions continue.

AARP Action – AARP will have an important announcement about our work on this issue in early June.

Utilities

Status – No action on any State proposal to assist the nuclear industry in Pennsylvania has occurred as of yet. Supporters of the nuclear industry are engaged in a last ditch effort to prevent the closure of nuclear plants in Beaver and Dauphin Counties which could occur in 2019.

PECO and Duquesne Light have submitted rate increase requests to the Public Utility Commission. Both requests include significant increases in the fixed customer charge for customers of these utilities. Hearing dates on the rate increase requests have not yet been announced.

AARP is preparing comments to submit to the Public Utility Commission on proposals to update the Electric Generation Customer Choice regulations. AARP generally supports the updates as they provide increased protections for consumers.

Update – Exelon has announced they will be making a renewed push for subsidies for the nuclear industry in light of a successful effort in New Jersey. There still appears to be little path for success of this effort, but Exelon will make a strong effort to push this issue.

AARP Action – AARP Pennsylvania will plan to testify on the PECO and Duquesne Light rate increase requests. We are currently awaiting notice of the public hearings on the PECO request – the Duquesne hearing will take place on June 14.

Other State Advocacy Activity of Interest

AARP PA has endorsed legislation introduced by Representative Karen Boback that would impose stiff penalties on telemarketers who attempt to mask their caller ID or use a computer program to change the number so it appears to be coming from a local exchange. The legislation, House Bill 979, has been approved unanimously by the State House and is now pending before the State Senate Judiciary Committee. AARP will be sending a letter to Senators who serve on the Judiciary Committee in support of the bill.

Meetings with key legislators to discuss the State budget continue. AARP PA is urging lawmakers to utilize lottery revenues to increase funding for Adult Protective Services and other programs designed to help older Pennsylvania remain at home and in their communities instead of shifting funding to the General Fund to help pay for nursing home care. Intense budget negotiations will begin in the General Assembly in June.

AARP joined a number of organizations concerned with transportation safety to support legislation sponsored by Rep. John Taylor, Chair of the House Transportation Committee, to begin a pilot program to test speed cameras in Pennsylvania. The test would focus on a section of road in Philadelphia which has seen numerous pedestrian fatalities in recent years.

Congressional Roundup

Two members of the Pennsylvania Congressional delegation, Rep. Charlie Dent (R-15) and Rep. Patrick Meehan (R-7), announced their resignation from the U.S. House of Representatives in recent weeks. Governor Tom Wolf has determined that special elections for these vacant seats will be held in conjunction with the General Election in November. The special election will be for a Representative to fill these seats until the new Congress convenes in January of 2019. Because of the changes in Congressional districts mandated by the Pennsylvania Supreme Court, the special elections will be contested in different geographic areas than the elections for the 2019-20 session of Congress which will take place at the same time.