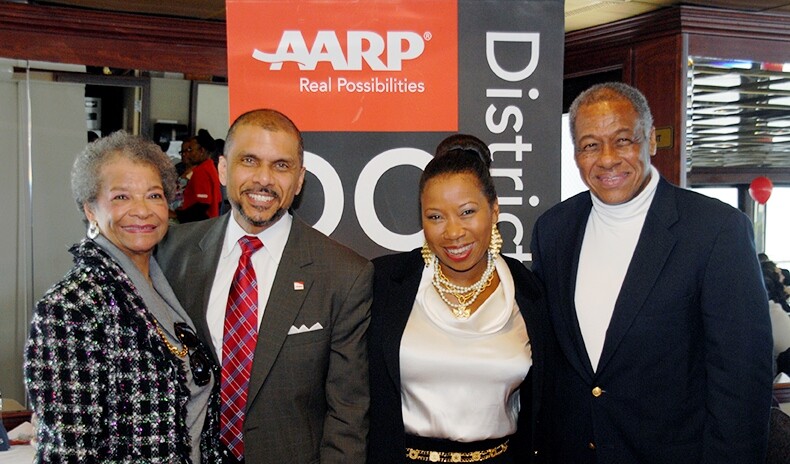 Vera Abbott and Charles Talley received the AARP District of Columbia Andrus Award for Community Service -- the Association's most prestigious and visible state volunteer award for community service. The award was formally presented to Mrs. Abbott and Mr. Talley at the AARP District of Columbia Andrus Award and Volunteer Recognition ceremonies on October 17, 2013. This is the first time the AARP District of Columbia State Office has announced co-recipients for this award. AARP District of Columbia selected these recipients for their remarkable service which has greatly benefited the District of Columbia, supported AARP's vision and mission, and inspired other volunteers.
Mrs. Abbott is well- known within the DC Ward 8 community. In 1991, she founded the Washington Highlands AARP Chapter #4870, renamed the Anacostia/Bellevue/Congress Heights Chapter. Twenty-two years later she remains an active chapter member, currently serving as the Chapter Vice President and Scholarship Committee Chair.
Mr. Talley joined the AARP family in 2008 as an AARP DC State Office volunteer during the AARP 50th Anniversary Life@50 Member Event. A Ward 7 resident, he was one of the twelve founding members of the AARP WorkSearch Program, a virtual job coach initiative and assisted in establishing four WorkSearch Program sites throughout the country. In the past, Mr. Talley received the AARP Foundation WorkSearch Program Volunteer Leader Award.
"This award is a public symbol showing that AARP could not meet the needs of DC's 50+ population without the involvement of volunteers," says Mercy Morganfield, AARP District of Columbia State President. "Both Mrs. Abbott and Mr. Talley are outstanding volunteers and their work with AARP with is so highly regarded, that it was impossible to choose just one honoree. AARP has long valued the spirit of volunteerism and the important contributions volunteers make to their communities, neighbors, and the programs they serve."