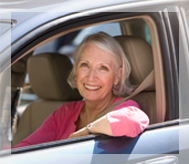 AARP Driver Safety is celebrating Older Americans Month by offering a $5 online course to AARP members and non-members alike from May 1 through May 31, 2013. The course normally costs $15.95 for AARP members and $19.95 for nonmembers.

By taking the course you'll:

• Learn proven driving strategies to keep you and others safe on the road.
• Participate with no tests or quizzes to pass.
• Receive a multi-year discount on your car insurance, if eligible. (Upon completion you may be eligible to receive a discount on your auto insurance. Other restrictions may apply. Consult your agent for details.)

To redeem the discounted online course offer, visit the Driver Safety web site. Click the "Sign Up" button and enter the promo code OAM2013 when prompted. The discounted rate is valid from May 1 at 12:00 AM Eastern Time through May 31, 2013 at 11:59 PM Pacific Time. Although participants must register for the course by May 31, they will have 60 days to complete the course from the day of registration.

Please note: AARP Driver Safety's Older Americans Month offer is valid for the online course only. If you would like to take a classroom course at the regular price, visit AARP Driver Safety's classroom course locator at or call 1-888-AARP-NOW (1-888-227-7669) to find a course in your area. For more information, email drive@aarp.org.