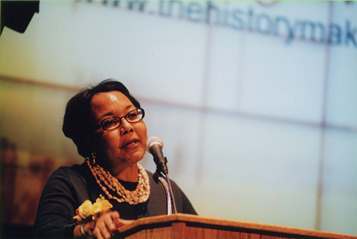 We have come over a way that with tears has been watered, We have come, treading our path through the blood of the slaughtered, Out from the gloomy past, Till now we stand at last Where the white gleam of our bright star is cast.
Those words, from the second verse of the Black National Anthem, perhaps best describe a new permanent exhibit at the Library of Congress.
It is called The HistoryMakers archive - 2,600 videotaped interviews with African-American descendants of slaves. Each interview tells the life story of a modern day African-American who – through their struggles and successes – have become examples of living Black history. The aim is to not only document, but to educate and inspire.
"I was a young kid who didn't know she had a history. And you have a feeling of loss or not knowing," Julieanna Richardson, founder and executive director of The HistoryMakers, told AARP. "And I really believe that until this nation recognizes all of its people, it's like a tree missing a branch or root. And so that's why I think it's so important and why I'm driven to do this work."
Ms. Richardson, a Harvard Law School graduate, founded The HistoryMakers in 1999 as a Chicago-based non-profit educational institution. It is the first collection of its kind housed in the Library of Congress since the Works Progress Administration's slave narratives of the 1930s.
The Library of Congress publically announced the donation of the video archives on June 24, 2014. Each video tape is approximately three to six hours long and essentially tells the story of Africans in America into the 21 st Century. The interviews are filed in 15 categories: Arts, business, civic, education, entertainment, law, media, medicine, military, music, politics, religion, science, sports and style.
"The HistoryMakers archive provides invaluable first-person accounts of both well-known and unsung African-Americans, detailing their hopes, dreams and accomplishments—often in the face of adversity," said Librarian of Congress James H. Billington, in a statement. "This culturally important collection is a rich and diverse resource for scholars, teachers, students and documentarians seeking a more complete record of our nation's history and its people."
The bios of the history makers remain on line at TheHistoryMakers.com. Among the living Black history are President Barack Obama when he was an Illinois state senator; General Colin Powell; child advocate Marion Wright Edelman; entertainer/activist Harry Belafonte; historian Lerone Bennett; civil rights icon Rev. Jesse Jackson; presidential advisor Valerie Jarrett; publisher Earl Graves, Attorney General Eric Holder, musician B.B. King; poet Nikki Giovanni; journalist Gwen Ifill and actor Diahann Carroll.
"Now, under one roof are the stories of the enslaved, joined now by their descendants," Ms. Richardson says. "We are the largest repository for audio visual material anywhere in the world."
Still, more funding is needed to continue the work, she adds. "We're only 60 percent of our goal."
Recalling her impetus for founding The HistoryMakers - the void she experienced as a child - Ms. Richardson has established an additional service even outside of the Library of Congress and the website. Each fall, hundreds of history makers participate in "Back to School with the HistoryMakers", visiting schools to inspire students to succeed. Ms. Richardson concludes, "At the end of the day, that's our whole purpose."
Photo: Julieanna Richardson, founder and executive director, The HistoryMakers
Credit: TheHistoryMakers.com