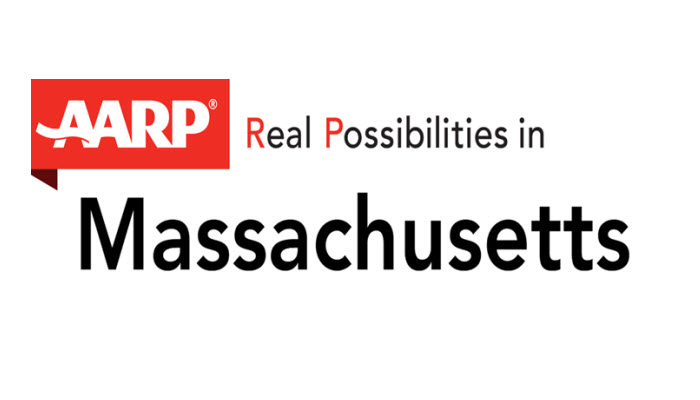 At AARP Massachusetts, we're out in communities throughout the state, sharing information on a wide variety of topics.

The following upcoming events are open to the public, and while some require registration others do not.

Take a look and register for those that spark your interest! For any questions, please email us at ma@aarp.org.


---
Fraud Watch Network
Our AARP Fraud Watch Network presentations provide details about scams, fraud, and identity theft. We cover trends in fraud and scams; strategies used by con artists to defraud victims; behaviors that put people at risk; how to access fraud identification and prevention resources; how to avoid becoming a victim; and what to do if you are a victim.

WHAT: Learn How to Protect Yourself from Scams, Fraud, and Identity Theft

WHEN: Tuesday, Oct. 25, 2-3 p.m.

WHERE: Boston Public Library-Mattapan Branch, 1350 Blue Hill Avenue, Mattapan, MA 02126

RSVP: Seating is limited. Register online here or call 877-926-8300.

We also offer free shredding events at locations across the state, where you can bring unwanted, confidential documents to be shredded — one of the easiest ways to protect against identity theft. At our shredding events, we collect non-perishable food for the hungry, so please consider bringing a non-perishable food item to help those in need.
For more information call 1-866-448-3621 or visit us online.

Learn more about the AARP Fraud Watch Network and sign up for free Watchdog Alerts!


---
~ FRAUD WATCH NETWORK SPECIAL EVENT!~
https://www.youtube.com/watch?v=OAHYqovYzTI[/youtube]
~ FRAUD WATCH NETWORK SPECIAL EVENT!~
Join the AARP Fraud Watch Network for a special presentation on protecting yourself from identity theft by Frank W. Abagnale, whose criminal exploits were the subject of the best-selling book and film (starring Leonardo DiCaprio), "Catch Me if You Can." For more than 40 years now, Abagnale has advised the FBI on how to outsmart con artists, and is one of the world's most respected authorities on forgery, embezzlement, and secure documents. As an AARP Ambassador, he's joined forces with the AARP Fraud Watch Network to help people learn how to spot and avoid scams and thereby protect themselves and their families.

WHAT: AARP Fraud Watch Network: An Evening with Frank Abagnale in Melrose

WHEN: Tuesday, Nov. 15, 2016, 7-8:30 p.m. (Doors open at 6 p.m. Visit our resource fair before the presentation

WHERE: Memorial Hall, 590 Main Street, Melrose, MA 02176

RSVP: This free event is open to the public, but registration is required. Register online here or call 877-926-8300.


---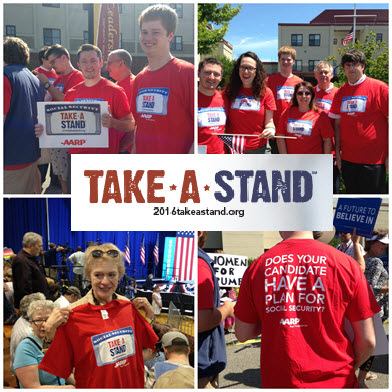 Join our "Take a Stand" Campaign for Social Security
The Presidential election is right around the corner – and the candidates are hunting for your vote. But as they roll out the the usual rhetoric about important issues like the future of Social Security, it seems like many have forgotten what's really at stake here: Your money, your future and the futures of your children and grandchildren. The bottom line is this: If we don't do anything to help fix Social Security, future retirees could lose up to $10,000 a year in benefits.

Help us get the candidates to Take a Stand on Social Security by volunteering with our campaign of the same name. Attend an upcoming Take A Stand Volunteer Training luncheon event in your Congressional District (CD1 events have already taken place, but volunteers are still welcome; other events take place in CD2, CD4, CD5, CD6, and CD7):


---
Boston - CD 7
WHEN: Tuesday, Oct. 25, 2016

TIME: 11:30 to 1 p.m. (lunch is included!)

WHERE: AARP Massachusetts state office, 1 Beacon Street, Suite 2301, Boston, MA 02108

RSVP: Call or email Austin Hodge, AARPMA Sr. Advocacy Specialist, at 617-305-0510 or ahodge@aarp.org.


---
Worcester - CD 2
WHEN: Wednesday, Oct. 26, 2016

TIME: 11:30 to 1 p.m. (lunch is included!)

WHERE: Worcester Public Library - Banx Room, 3 Salem Square, Worcester, MA 01608

RSVP: Call or email Austin Hodge, AARPMA Sr. Advocacy Specialist, at 617-305-0510 or ahodge@aarp.org.


---
Quincy - CD 8
WHEN: Thursday, Oct. 27, 2016

TIME: 11 a.m. to 1 p.m. (lunch is included!)

WHERE: Fox and Hound Wood Grille and Tavern, 123 Sea Street, Quincy, MA 02169

RSVP: Call or email Austin Hodge, AARPMA Sr. Advocacy Specialist, at 617-305-0510 or ahodge@aarp.org.


---
Framingham - CD 5
WHEN: Tuesday, Nov. 1, 2016

TIME: 11 a.m. to 1 p.m. (lunch is included!)

WHERE: Papa Razzi Trattoria Framingham, 155 Worcester Road, Framingham, MA 01701

RSVP: Call or email Austin Hodge, AARPMA Sr. Advocacy Specialist, at 617-305-0510 or ahodge@aarp.org.

These events are free – including a delicious lunch! – but space is limited. Please RSVP to one of the events by emailing or calling AARP Senior Advocacy Specialist Austin Hodge, at ahodge@aarp.org or at 617-305-0510.


---
Community 'Careversations'




Join AARP facilitators and staff for AARP Careversations, engaging, interactive conversations about family caregiving. Connect with other family caregivers at your table as you enjoy complimentary food and drinks. You'll learn how to build a caregiver support network, discover tips on caring for yourself, and learn details about finding local resources. Seats at each event are limited to the first 40 RSVPs, so reserve your spot today! Click here for FAQs about AARP Careversations in Massachusetts.

WHEN: Saturday, November 12, 2016

WHERE: Embassy Suites Boston / Waltham, Briar Room, 550 Winter St., Waltham, MA 02451


---
AARP TEK
TEK stands for Technology Education and Knowledge. Engage with us through online learning, hands-on workshops — where mobile devices are supplied — or our new workshops, where you bring your own mobile device.

TEK workshops are for those who want to get the most out of their mobile devices. All participants will get hands-on experience with devices as well as a free touchscreen stylus pen. AARP TEK events are fun and free, but seating is limited so registration for workshops is required.

Intro to iPad: Beginner Workshop: Are you new to mobile technology, and ready to discover the power of apps? Join us for a hands-on workshop covering iPad skills from Touchscreen Basics, Texting, Taking & Sharing Photos, Downloading Apps, and more.

Beyond the Basics – iPad: Intermediate Workshop: So you have the essentials down, but you're ready to take things to the next level. Joins us and learn tips and tricks like how to share your location with friends, control your iPad with your voice, edit photos and more! Tablet experience recommended.

Books, News, and Music – iPad: Intermediate Workshop: Take your Daily News, Digital Book collection, and Favorite Songs with you, wherever you go. Explore having fun with digital media on smartphones in this hands-on workshop.

Staying Safe Online - iPad: Beginner Workshop: If you want to ensure that you're doing what you can to be SAFE online, then this course is for you. This hands-on tablet workshop will cover ways to identify and avoid some of the most common online scams.

Privacy and Sharing on Facebook - iPad: Intermediate Workshop: Learn to control what you see and who sees what you share on Facebook in this hands-on social media workshop. Tablet experience recommended, and you MUST bring your Facebook Username and Password.

Job Search in the Digital Age - iPad: Intermediate Workshop: Looking for a new job but not sure where to start? This hands-on workshop will provide tips and online resources that can help you to find a job and to develop the skills needed in today's workplace.

WHEN: Thursday, November 3, 2016

WHERE: Holiday Inn Boston - Dedham, Westwood Room, 55 Ariadne Road, Dedham, MA 02026


---

WHEN: Saturday, November 5, 2016

WHERE: Waltham Public Library, Auditorium, 735 Main St., Waltham, MA 02451

Can't make it to a scheduled TEK Workshop? Try our free, self-guided learning modules available on-demand, 24/7, through AARP TEK Academy.

Click here for AARP TEK Workshops in the Boston area


---
---
HomeFit Workshops
What if all homes could be suitable for anyone, regardless of a person's age or physical ability? AARP research consistently finds that the vast majority of people age 50 and older want to stay in their homes and communities for as long as possible.

The AARP HomeFit program was created to help people age-in-place in the homes they love. The AARP HomeFit Guide offers solutions that range from simple do-it-yourself fixes to improvements that are more involved and require skilled expertise, but are well worth the expense. Is your home "HomeFit"?

Learn more about the AARP HomeFit program.


---
Life Reimagined Checkups
Life Reimagined Checkups focus on helping people to seek and seize new opportunities and "real possibilities" in the next phase of life instead of traditional retirement only.

Through guidance and support from trained Life Reimagined Guides as well as peers, Life Reimagined empowers people to ask what really matters, tackle transitions, explore what's possible, find solutions with clarity and confidence, and then provides the guidance to turn those possibilities into realities.

It's a "Checkup" for your life!

Would you like a Life Reimagined Checkup in your community? Or perhaps you're interested in becoming a Life Reimagined volunteer? Either way, please email Valerie Spain, AARP Massachusetts Outreach specialist, at vspain@aarp.org.


---
Encore Entrepreneurs
The AARP Encore Entrepreneur Program helps people 50+ get real-world and expert information about starting a new business, or growing an existing business.

Working in collaboration with the Small Business Association, Encore Entrepreneur events provide you with information including starting and managing a small business; writing a business plan; seeking and obtaining financing; getting expert mentoring; and offer access to a wide variety of in-person and online resources. Attend a free AARP Encore Entrepreneur Program and see if small business ownership is for you!


---



Want to know about even more community events? Bookmark our website and check back here often as we'll be adding many more events, both in Boston and around the state, throughout the year. Also check out other upcoming events here, including workshops from AARP TEK on mobile devices and more. And don't forget to follow us on Facebook and Twitter to see up-to-date event postings, which you can like and share!