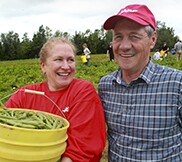 Across the nation, the aging population has proven to be an important and vital source of economic growth, according to " The Longevity Economy: Generating Economic Growth and New Opportunities for Business," a study conducted in 2013 by Oxford Economics and commissioned by AARP. This study counters long-held beliefs about the negative financial impacts of aging on the US economy by showing that the 50+ population actually fuels growth.

What does this mean for policymakers and businesses? Americans 50+ represent a powerful new force changing the face of America, and with 106 million strong this group is responsible for $1.7 trillion in economic activity — a figure that is expected to reach well over $13.5 trillion in real terms by 2032. According to Utah State Director Alan Ormsby, "Marketers and businesses need to be aware of the huge buying power of those 50+. Don't ignore this fast-growing economic engine."

People over 50 contribute significantly to Utah's economy—in fact, in an outsize proportion to their population. According to the Longevity Economy, which is the sum of all economic activity generated by households headed by someone 50+, this group is only 24 percent of Utah's population yet the total economic contribution of the Longevity Economy accounted for 34 percent of Utah's gross national product. This supported 43 percent of Utah's jobs, 37 percent of employee compensation, and 42 percent of state taxes.

Consumer spending by over-50 households amounted to $35 billion in 2013, or 46 percent of the total consumer spending in the state. Health care accounted for the largest share of this spending at 59 percent with financial services at 50 percent.

Overall, people over 50 comprise one-quarter of Utah's workforce, with 12 percent of those 50-64 self-employed entrepreneurs. This underscores the need to ensure that older workers have resources to build their businesses to keep Utah's economy strong, and that laws are in place to protect pensions and prevent age discrimination.