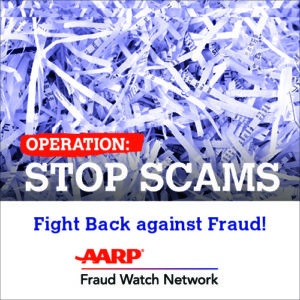 Once again, AARP Utah will host a shredding event as part of AARP's nationwide Operation: Stop Scams events in April and May, aimed at protecting people from identity theft and fraud. This year's shredding event will be held at Timpanogos High School's parking lot on Saturday, May 11 from 9:00am--11:00am. This event is free and open to the public, but if you're an AARP member we ask that you bring your membership card. Shred-it is generously offering its services again this year, and will be shredding all documents on site.



Here are the details:

DATE: Saturday, May 11

TIME: 9:00am--11:00am

PLACE: Timpanogos High School's parking lot
1450 North 200 East, Orem, UT 84057

Up to ten boxes of documents per car will be permitted, but please, no electronics or hard drives. This event is for individuals, not businesses. Documents that are important to shred include old tax documents you no longer need to save, bank statements, credit card offers, and other documents containing personal information, even if it's just your name and address, which can be used to open fraudulent accounts.

We thank Shred-it for being a great partner in the fight against identity theft and fraud!