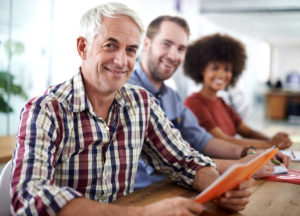 Did you know that AARP's Driver Safety Program has changed its course curriculum?

The new and improved course was designed with the participant in mind, and it is different in many ways from previous editions including a completely new, easy-to-follow format that incorporates adult-learning principles, features reader-friendly print types, full-color pages, an easy-to-follow format and videos to supplement course content.

There are also new opportunities for participants to learn state-specific information throughout the course in a way that is easier to understand.

All components of the AARP Smart Driver Course have been translated and tested for Spanish-speaking participants.

As a result of evidence-based research findings, the course has been adjusted to include a focus on areas where older drivers could benefit from additional training, including:

Roundabouts
Pavement markings
Stop-sign compliance
Red-light running
Safety issues such as speeding, and seatbelt and turn-signal use
In addition to a new curriculum, AARP Driver Safety recently launched the Driving Resource Center — an interactive online resource for course participants that features tools and activities, including driving simulations, state-specific rules of the road and new vehicle technologies.

Sign up to take the new AARP Smart Driver Course
The AARP Smart Driver Course is now being taught by thousands of volunteers across the country. Use the Course Locator to find a class being taught near you, or check out the April schedule below.

Become involved as an AARP Driver Safety volunteer
AARP Driver Safety is looking for volunteers to teach and promote the new AARP Smart Driver Course nationwide. Learn more about what it's like to volunteer for AARP Driver Safety, or sign up now.



2017 AARP Utah Smart Driver Course Schedule for April





























































































































































































































Eric Wollesen, Driver Safety State Coordinator
801-910-4277
Paulette Welch, Utah CarFit Coordinator
801-544-0815
Dist.
Date
Day
Time
City
Location
Zip
Registration Phone Number
1
4/5/2017
Wed
9:00-1:00
Tremonton
Bear River SC, 510 W 1000 N
84337
435- 257-9455
1
4/13/2017
Thur
12:00-4:00
Logan
Cache County Senior Center
84321
435-753-2866
2
4/13/2017
Thur
8:30-12:30
Wash Ter
Wash Terr SC, 4001 S 300 W
84405
801 621 0161
2
4/27/2017
Thur
8:30-12:30
Ogden
Riverdale SC, 4433 S 900 W,
84405
801-621-6086
3
4/14/2017
Fri
9:00- 1:00
Syrcacuse
Syracuse Com Cent. 1912 W. 1900 S
84075
801 6149660
3
4/21/2017
Fri
10:00-3:00
Kaysville
Autumn Glow SC. 81 E Center St
84037
801-544-1235
4
4/4/2017
Tue
8:00-12:30
Holladay
MtOlySr Ct 35 E Mur/Holla Rd
84117
385 468 3130
4
4/5/2017
Wed
10:00-3:30
Sandy
Sandy Sr Center 9310 S 1300 E
84094
385-468-3410
4
4/7/2017
Fri
10:00 3:00
SLC
10th East SC - 237 S 1000 E.
84102
385 468 3140
4
4/10/2017
Mon
10:00 3:00
SLC
Liberty SC - 251 E 700 S
84111
385 468 3170
4
4/14/2017
Fri
10:00-3:30
Millcreek
Millcreek Com Cent, 2266 E Evergreen
84109
385 468 3305
4
4/25/2017
Tue
9:30 - 2:30
Murray
Murray Heritage Sr. C, 10 E. 6150 S.
84108
801 264 2635
6
4/29/2017
Sat
10:00-3:00
Park City
Basin Rec. 5715 Trailside Dr.
84098
435-649-1564
8
4/6/2017
Thur
1:00-5:00
Price
Carbon Ct. SC,450 S. Fairgr W
84501
435-636 3202
8
4/12/2017
Wed
12:30-4:30
Grand/Moab
Grand Ct SC, 182 N. 500 W
84532
435-259-6623
10
4/3/2017
Mon
1:00-5:00
Cedar City
Cedar City Senior Center
84720
435-592-3048
10
4/8/2017
Sat
9:00-1:00
Sunriver St. George
Sunriver Community Center
84790
435-256-6190
10
4/12/2017
Wed
1:00-5:00
Washington City
Washington City Community Center
84780
435 772-5620
10
4/14/2017
Fri
9:00-1:00
St. George
St. George Senior Center
84770
435 772-5620