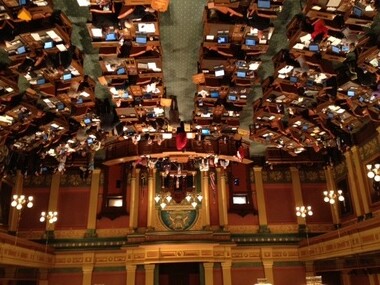 AARP Utah's typical involvement at the Utah State Capitol is advocating for its members, but there's another reason to be at the Capitol--as a volunteer docent. The Utah State Capitol Visitors Center is looking for volunteers who can lead tours of the Capitol building, focusing on its history, functionality, and art.

In return for volunteering, docents will be invited to attend socials and recognition events as well as becoming a part of the Capitol community. Visitors to the Capitol building come from all over the world, so it's also an opportunity to share Utah history with foreign tourists.

"The Utah State Capitol is a living legacy for all Utahns," said Allyson Gamble, Executive Director of the Capitol Preservation Board. "We are grateful for the docents for the time and energy they spend sharing 'the People's House' with visitors from far and near."

Volunteers are asked to commit to four hours every other week. Guided tours of the Capitol are given from Monday--Friday, from 9:00 am to 5:00 pm. Volunteer training begins on October 1, and includes workshops on early Utah history, the Capitol's construction, architectural and artistic aspects of the building, the restoration project, and the government processes that take plan throughout the year.

To learn about becoming a Capitol docent, contact Sara Howard at 801-538-1800 or at capitoltours@utah.gov.