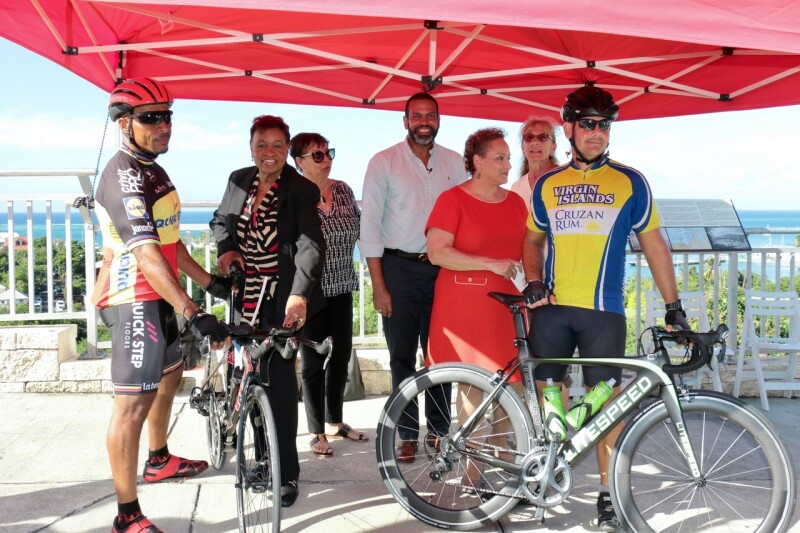 On Wednesday December 4th, VI Trail Alliance and Partners Vice President Alma Winkfield, AARP National Volunteer Board President Catherine Alicia Georges and CEO Jo Ann Jenkins, along with the AARP in The Virgin Islands Volunteer State President Corrine Plaskett and State Director Troy A. de Chabert-Schuster, officially cut the ribbon and opened the first section of a new Bike Lane in the Virgin Islands.

The bike lane is located in part at the Christiansted Bypass and is part of a project started by VI Trail Alliance and Partners. It was funded in part by the 2019 AARP Community Challenge which awarded a grant to the non-profit organization. This is the first grant under the National Program that has been awarded in the Virgin Islands. The AARP Community Challenge grant program is part of the nationwide AARP Livable Communities initiative, which helps communities become great places to live for residents of all ages. It distributes funds among its winners who are tasked with developing "quick-action" projects.

Each of the projects, which had to be completed by November 4, 2019, were designed to achieve one or more of the following outcomes:

Create vibrant public places that improve open spaces, parks and access to other amenities.
Demonstrate the tangible value of "Smart Cities" by engaging residents and policymakers in accessing, understanding and using data to increase quality of life for all.
Deliver a range of transportation and mobility options that increase connectivity, walkability, bikeability, wayfinding, access to transportation options and roadway improvements.
Support the availability of a range of housing that increases accessible and affordable housing options.
VI Trail Alliance and Partners also partnered with VI Public Works, Parks and Recreation and many volunteers to complete the project. VI Public Works added the stripping, markings and reflectors. The non-profit also worked with My Brother's Workshop, a non-profit with shops in both St. Croix and St. Thomas, that offeres mentoring, counseling, education, on-the-job training, and job placement, to at-risk youth, to have benches and picnic tables built and installed at the "Look Out" at the Bypass.

The grant also provided for a circular bench that was installed at the D.C. Canegata Recreation Center grounds under the big tamarind tree. This seating was placed in a circle and will be used for storytelling. A larger chair is placed standing alone for the storyteller. The benches were also built by My Brother's Workshop.

This project has allowed for the first complete street in the Virgin Islands. As government agencies and stakeholders meet to develop plans to build other streets and roads within the Virgin Islands, they will have this street as a model to ensure all the elements when constructing new roads and streets are included.

To find out more on what AARP is doing to make your community more livable visit aarp.org/livable .

About AARP Virgin Islands