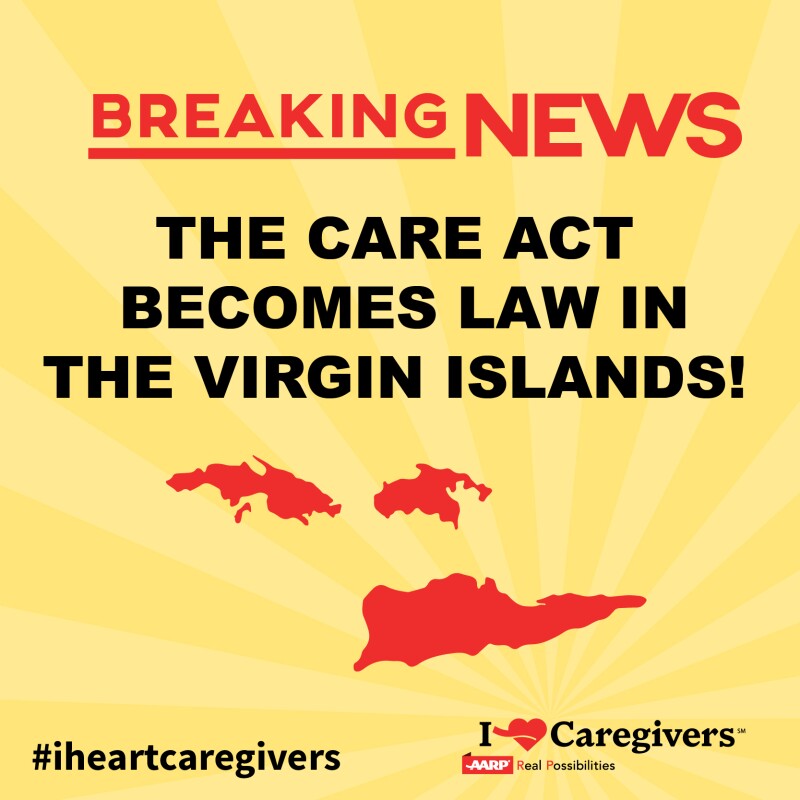 En Español In a surprise move, Virgin Islands Governor Kenneth E. Mapp vetoed the Caregiving Bill (Bill Number 31-0237) late in March citing numerous concerns as justification for his veto. The AARP VI office received notification of the veto on Saturday, March 26 in the middle of the Easter Holiday weekend.

In response to the veto, Denyce Singleton, the AARP VI State Director, forwarded a letter to the Senate President the following Monday. The letter addressed each of the Governor's concerns and was copied to every member of the VI Legislature. Director Singleton had to act quickly because the Legislature would be meeting in full Session on Wednesday giving the bill's original sponsor just one day to prepare the appropriate paperwork to special order the bill to the floor for an override of the Governor's veto.

During the two days prior to Session AARP met with each Senator and urged them to vote to override the Governor's veto. On the day of Session the Caregiving bill received unanimous support for an override. The Caregiving Bill became law in the Virgin Islands on March 30, 2016.

The bill began almost a year before with a flurry of interactions with first-time Senator Kurt Vialet. Locally it was known as the CARE Act and unanimously passed each of the Committee hearings on its way through the VI Legislature.

From the beginning Senators spoke strongly in favor of the legislation which aimed to incorporate caregivers into their loved one's care plan upon admission to VI hospitals and informs them on how to continue caring for the patient at home.

"Legislative support on the CARE Act was almost immediate," stated Singleton,. We initially expected some pushback from stakeholders who may have felt that the time spent educating the caregiver on their loved one's discharge plan and specific medical procedures unique to the patient, might have been viewed as time intensive and costly. However during the initial hearings our two hospitals, government clinics and other stakeholders saw the importance of the legislation and strongly supported all of the bill's concepts".

"Furthermore," stated Singleton, "While we fully expected legislative support during the initial hearings, we were a bit surprised when Senators immediately added an amendment to provide additional help to Caregivers. The amendment, added during the first round of discussions legislatively provides Caregivers with time off for Caregiving tasks similar to the two hours of time off legislatively given to parents seeking to visit their child's school each month."

Passage of the CARE Act will help provide a continuum of quality of care when the patient returns home and therefore reduce unnecessary and costly hospital readmissions. This is especially important in the Territory where coveted nursing home beds are extremely limited.
About AARP Virgin Islands