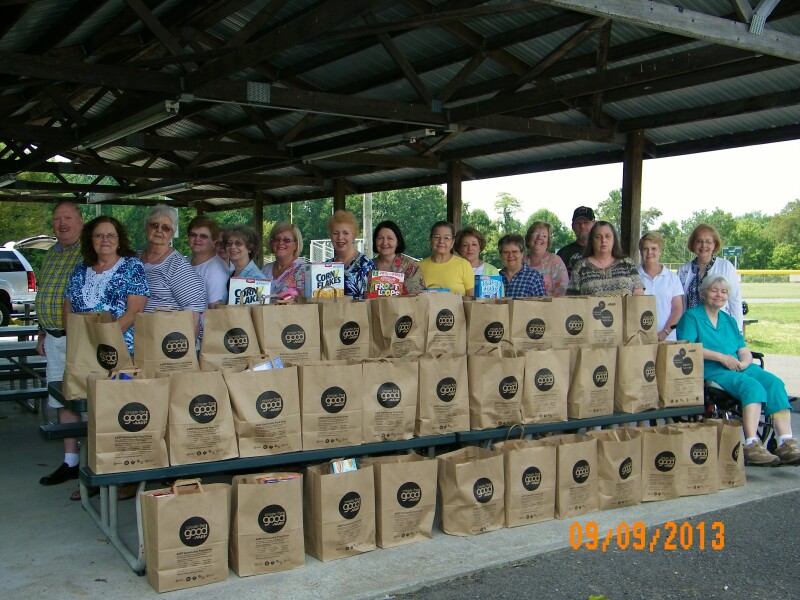 Nearly nine million Americans 50+ are at risk for hunger every day – a 79 percent increase in just 10 years. The Drive to End Hunger is AARP Foundation's multipronged approach on this problem. Established in 2011, the program is focused on combating hunger among people 50 and older through raising awareness, building philanthropic support and developing long-term, sustainable solutions.

In Virginia, this food drive is a shining example of strong collaboration between an AARP state office, local chapters, and retired educators to benefit local communities. During the week of September 8 th, members of local AARP chapters and members of the Virginia Retired Teachers Association worked together on the AARP Virginia Statewide Community Food Drive. AARP Virginia coordinated more than 150 collection sites to accept donations for community food banks and pantries. Our state office also provided the volunteers with Grocery Challenge Toolkits and Neighborhood Canvass Toolkits that included sample flyers, press releases, social media posts, and brown grocery bags.

Educators across the Commonwealth then organized food drives in their communities to aid local food charities. They filled bags with non-perishable food that local food banks need the most and collected cash donations.

The results of the effort are still coming in. But already we know that chapters and Virginia retired educators collected more than 15,000 pounds of food and $4,000 in donations. Here are a few highlights of the work of the RTAs and local chapters:

The Dinwiddie Retired Teachers Association collected 1,070 pounds of canned food – up from 318 pounds collected last year. The retirees teamed with a local high school football team to deliver the donations to the local food bank.
The Greensville Retired Teachers' Association collected 62 bags of food over two days in front of a local grocery store. The RTA utilized the media advisory and other tools provided by the AARP state office, which resulted in radio and local newspaper coverage.
The Loudoun Retired Teachers Association held three successful community food drives. Retired educators greeted shoppers at local grocery stores, provided shoppers with a list of needed items, and ask for their assistance in providing emergency food supplies to those without food to feed their families. They collected more than 2,000 pounds of food.
The Patrick County Retired Teaches Association held food drives at two food stores. They distributed handouts to customers listing food items and collected 1793 pounds of food and $1,064 in donations.
The Shenandoah County Retired Teachers Association collected 330 food items and $483 during their annual Back to School Breakfast.
The Big Stone Gap Chapter collected 401 pounds of food and $535.
The Hanover Chapter collected 1,683 pounds over 3 days doing the Grocery Store Challenge strategy and donated the food to ACES of Hanover.
The Locust Grove / Lake of the Woods Chapter collected $925 and an impressive $1550 and donated to the Lions/Lioness Wilderness Food Pantry which serves northern Orange County.


Kudos to a job well done! The AARP Virginia State Office thanks all of the chapters and Retired Teachers and Educators (RTAs) who helped make our Statewide Food Drive successful again this year!