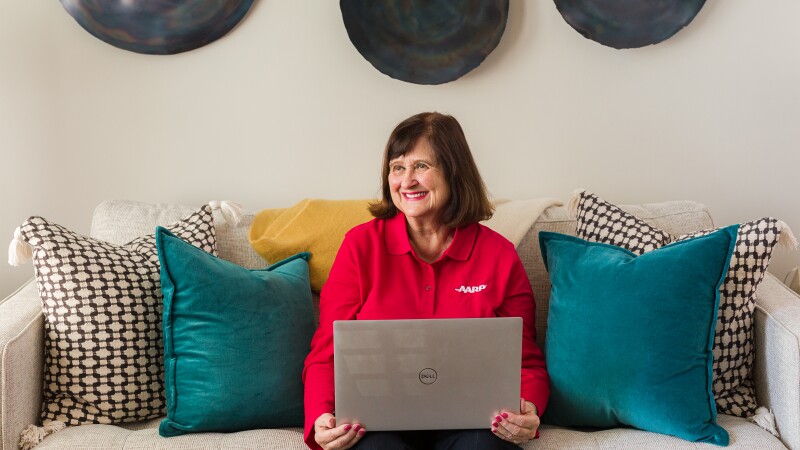 Pamela Houghtaling has a hard truth about your crystal punch bowl: Your family probably doesn't want it.

Younger generations often have different tastes and ways of entertaining. That leaves many older Americans with houses full of stuff they must dig out of to downsize or just declutter.

Houghtaling, 72, has been through the process herself: cleaning out her late parents' home in New York and then moving recently from Falls Church to Cary, North Carolina. She is one of several AARP Virginia volunteers who give one-hour presentations on decluttering and downsizing.

AARP also offers free HomeFit sessions that help older adults retrofit their homes to make them safer and more accessible.

"The decluttering presentation helps people gain an understanding of why we collect so much stuff," says Houghtaling.

Her advice:


Give possessions away. For a family heirloom, give it while you're alive so you can tell the recipients the story of the piece.
Pace yourself. "Start yesterday," even if you're not ready. Getting rid of things takes time, especially when it comes to sorting papers and photos.
Protect personal data. Shred papers that have sensitive information. Strip computer hard drives before recycling or disposing of them.
Donate. Houghtaling gave her own punch bowl to a charity thrift shop. It benefited from the donation, and someone new could enjoy the bowl.
Last year her decluttering and downsizing session on Zoom drew 400 people, who shared their own home-organizing suggestions in the chat.

"It's a liberating feeling when you have less," Houghtaling says. "There's a feeling you have space for new experiences."

Sessions are planned for April and are available to watch live or on demand anytime. Find them at virtualva.org.

Fit for Your Life

AARP's HomeFit program is designed to help older adults adapt their surroundings so they can age in place.

"If you spent years in a community, it has memories and it feels secure," says Patti Klein, executive director of Northern Virginia nonprofit Rebuilding Together-AFF, which helps low-income families modify their homes to make them safer.

Klein says home modifications have been shown to prevent falls and injuries. Some of the inexpensive options are shower chairs, brighter lighting, nonslip stairs and railings on both sides of a staircase. Bigger projects include entries without steps, and bathroom grab rails.

AARP volunteer Jane King, 81, of Alexandria, a HomeFit presenter, advises older adults to factor in such changes when they renovate, even if they don't need them yet, since it's less expensive than doing them later.

The modifications don't have to be ugly or make it obvious that someone has a disability, King says. "None of us want to unnecessarily inform others of any limitations we have, especially to prevent criminals from thinking they have an easy target."

HomeFit sessions will be at 3 p.m. on Thursday, April 14, and Wednesday, April 27, as well as in May. Find more information here. For a free copy of AARP's HomeFit Guide, go to aarp.org/homefit.

Tamara Lytle is a writer living in Vienna, Va.

For more on Livable Communities