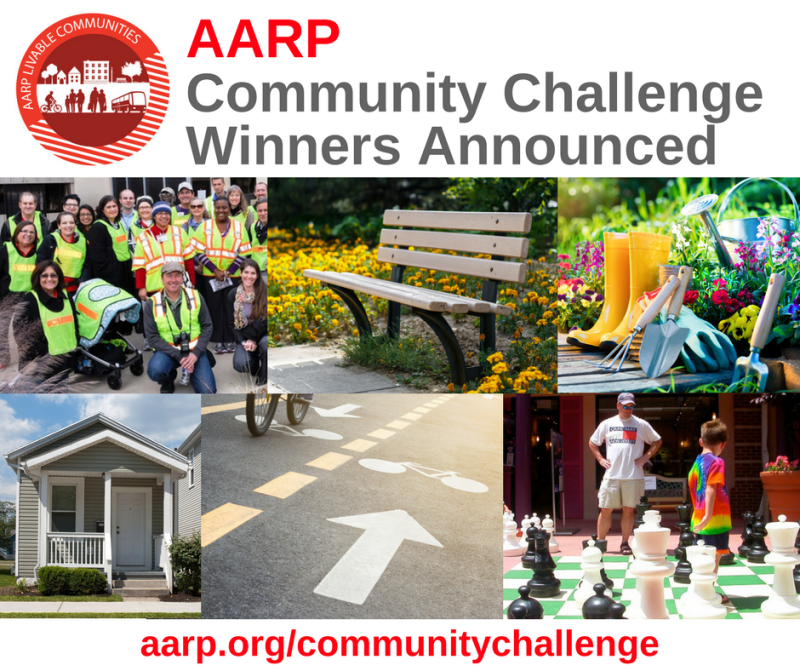 Communities across Virginia are working each and every day to become more livable for residents of all ages.

In support of that work, AARP is excited to be able to provide funding to organizations through the AARP Community Challenge to help them jumpstart progress on ongoing work. These "quick action" grants are being distributed to 129 organizations, with at least one in every state, Washington D.C, and Puerto Rico, including right here in Virginia. The Community Challenge grants provide communities with the chance to fund innovative projects that can inspire change in areas such as transportation, open spaces, housing, and other innovative projects to improve the community and make Virginia's counties, cities, towns, and rural areas better places to live for all Virginians.

The Community Challenge is part of AARP's work on livable communities, which supports the efforts of neighborhoods, towns, cities and counties across the country to become great places for all residents. We believe that communities should provide safe, walkable streets; affordable and accessible housing and transportation options; access to needed services; and opportunities for residents to participate in community life.

After a successful 2017, with 90 grantees, this initiative is now in its 2nd year, and it has increased its investment to over $1.3 million in the form of 129 grants.

Here in Virginia, we are excited about the work that the Community Challenge Grants are supporting in 2018.

• Richmond: Greater Richmond Age Wave Coalition
The grant will provide for the installation of 50 self-watering garden boxes at the Green Park and Highland Park apartments as well as for intergenerational gardening programs.

• Roanoke: Northwest Neighborhood Environmental Organization
The grant will help enhance an existing community garden by installing four raised-bed planters, two permanent benches, a picnic table and a seasonal portable toilet facility.

• Woodbridge: Keep Prince William Beautiful
The grant will allow for the construction of an aesthetically-pleasing vegetable gardening area on the grounds of a senior center. The produce will be used to support the local Meals on Wheels program.

To learn more about the work being funded by the AARP Community Challenge grant program both here in Virginia as well as across the nation, visit us at aarp.org/CommunityChallenge. And to learn more about how AARP is working to make communities across Virginia and across the U.S. more livable for all residents, visit aarp.org/livable.