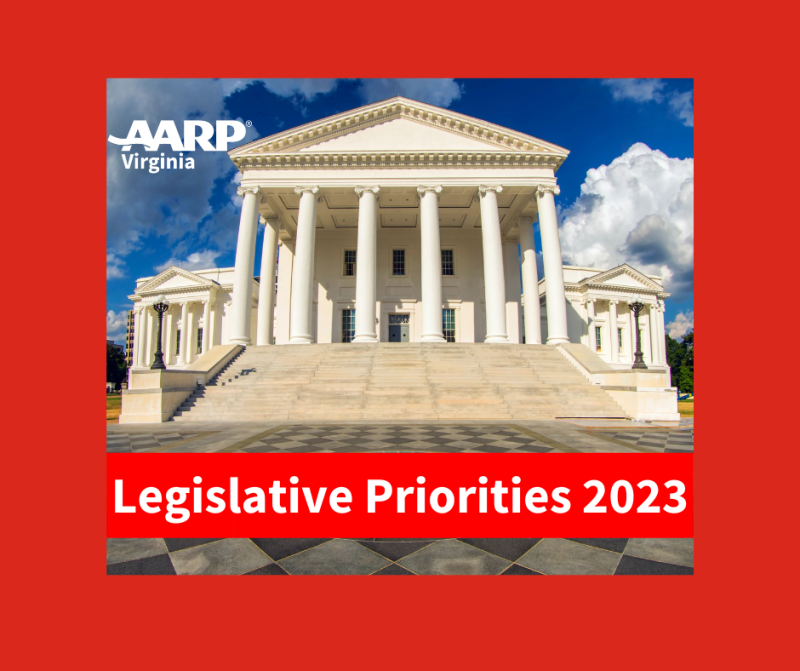 RICHMOND _When Virginia's General Assembly is in town, AARP Virginia will push lawmakers to protect at-risk nursing home residents and their families by taking on long-overdue quality and staffing problems in facilities.

"Virginia's long-standing failure to address staffing shortages in nursing homes must come to an end," said Jared Calfee, Associate State Director for Advocacy at AARP Virginia. "Too many of Virginia's 30,000 nursing home residents have suffered due to inaction, and it's time for that to stop."

AARP Virginia supports House Bill 1564 sponsored by Delegate Vivian Watts. Calfee said Watts and advocates have been bringing the problems in nursing facilities to lawmakers' attention for more than 20 years, but legislation has failed year after year.

"Ignoring the problem won't make it go away," Calfee said. "It's up to the General Assembly to take the lead in ensuring that our nursing home residents are provided with safe, quality care."

AARP Virginia supports House Bill 1564 because it will require adequate minimum staffing standards in nursing homes. Virginia currently is one of only 12 states that does not require minimum staffing levels for nursing homes, and inadequate staffing is one of the primary indicators of poor-quality care.

AARP Virginia is part of a coalition of organizations, Virginia Voices for Nursing Home Residents, who support nursing home reform and will encourage the public to call upon lawmakers to enact the legislation.

The group is also encouraging family members of nursing home residents as well as nursing home staff to tell the organization about problems in nursing homes so that they can bring them to the attention of lawmakers. Nursing home workers, residents, and family members can share their stories at https://action.aarp.org/VirginiaNHstories. Members of the public can contact their legislator on the issue at https://action.aarp.org/vanursinghomes.

AARP Virginia supports House Bill 1596 and Senate Bill 957 addressing the ever-increasing costs of prescription drugs. AARP supports legislation creating a Prescription Drug Affordability Board with the authority to set upper payment limits on certain high-cost prescription medications.

Calfee said the most common challenge he hears from Virginians across the state is the skyrocketing cost of their prescription drugs, which has outpaced inflation. People can share their story about the cost of their medications at aarp.org/rxva.

"We are working hard to put fairness and accountability into the system," Calfee said. "Medicines only work if patients can afford them."

Virginians can urge their legislators to pass the legislation at https://action.aarp.org/varx.

With 1 million members in Virginia, AARP is the largest organization working on behalf of people age 50+ and their families in the Commonwealth. In recent years, AARP Virginia has successfully fought for Medicaid expansion, protections for older people against financial exploitation and empowering family caregivers.

To learn more about AARP Virginia, like us on Facebook at www.facebook.com/aarpvirginia and follow @AARPVa on Twitter at www.twitter.com/aarpva.

AARP is the nation's largest nonprofit, nonpartisan organization dedicated to empowering Americans 50 and older to choose how they live as they age. With nearly 38 million members and offices in every state, the District of Columbia, Puerto Rico, and the U.S. Virgin Islands, AARP works to strengthen communities and advocate for what matters most to families with a focus on health security, financial stability and personal fulfillment. AARP also works for individuals in the marketplace by sparking new solutions and allowing carefully chosen, high-quality products and services to carry the AARP name. As a trusted source for news and information, AARP produces the nation's largest circulation publications, AARP The Magazine and AARP Bulletin. To learn more, visit www.aarp.org or follow @AARP and @AARPadvocates on social media.