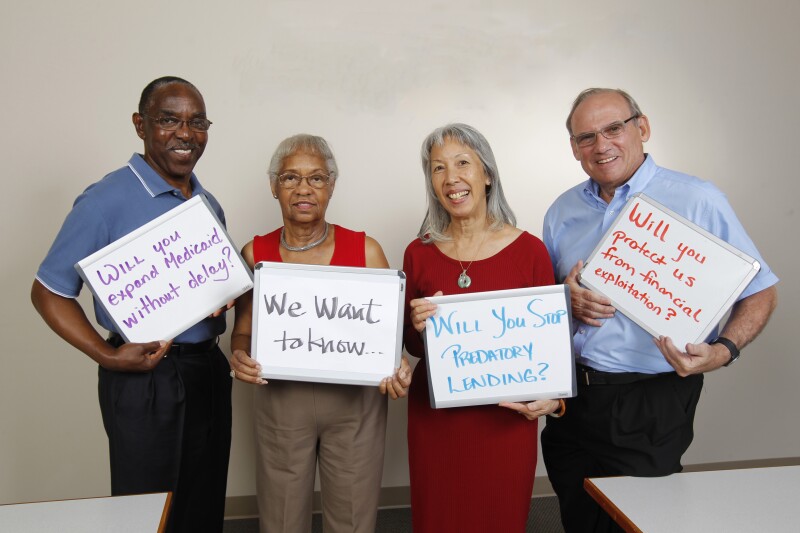 RICHMOND _Virginia voters will have a chance to publicly ask candidates for office questions and the office-seekers will have the opportunity to answer those questions in a continuous open forum between now and Election Day.



AARP Virginia today unveiled its 2013 voter engagement campaign, called We Want to Know. The effort, which will be conducted entirely through social media, will give voters across the state an online venue for asking the candidates questions about the issues that matter to them. All candidates running for public office in Virginia are being asked to answer the questions publicly via Facebook and Twitter.



"If the candidates won't face the voters in a traditional statewide broadcast debate, we're taking the voters to them through social media," said AARP Virginia State Director Bill Kallio.



AARP Virginia has traditionally sponsored a statewide debate for the Governor's race with the League of Women Voters of Virginia. The debate won't be held this year because the candidates couldn't agree on the debate guidelines in time to produce the live television broadcast. The groups will continue to host the People's Debate in the future for Virginia's U.S. Senate and gubernatorial races.



"We will make sure that Virginia voters get a chance to ask the candidates questions and encourage the candidates to answer those questions publicly," Kallio said.



We Want to Know is a grassroots social media effort conducted by AARP volunteers and voters across the state. AARP volunteers will attend election-related events such as candidate town hall meetings, forums and debates as well as fairs and festivals. Using "Flat People" props that are life-sized cutouts of AARP volunteers, the advocates will give voters the opportunity to write down their questions for the candidates on a white board, take the voters' photos posing with the Flat People and post the pictures and questions on Twitter and Facebook. The candidates will be asked to answer the question by replying to it publicly on social media. Using the hashtag #WW2K, the questions will be easily located on Facebook and Twitter.



"This effort will give voters a chance to see their questions answered," Kallio said. "Otherwise, the only people who get to ask the candidates for Governor questions will be lawyers and business groups."



All candidates for public office in Virginia – Governor, Lieutenant Governor, Attorney General and contested House of Delegates races – will be targeted by the #WW2K effort.



Voters can participate in the effort on their own, without attending a public event where AARP volunteers and the Flat People will be working.



"If a voter asks a question on Facebook or Twitter and uses the hashtag #WW2K while tagging AARP Virginia, we will make sure the candidates get those questions," Kallio said. Instructions on how to participate are at www.aarp.org/va.



AARP Virginia's Twitter handle is @AARPVa and the Facebook page is located at www.facebook.com/aarpvirginia.