AARP Volunteers On the Move for Voters' Engagement

On a warm October morning, AARP volunteers started setting up the volunteer table for the Henry Street Festival, Roanoke, VA, with pamphlets, flyers and brochures ranging from caregivers info to Medicare and voters registration. Jackie Robinson led the team in organizing the event, getting volunteers and making sure the AARP table was set up prior to the festival. She was not alone, Rev. James Jordan and Doris Durham assisted, and by the time Joyce Williams and Siclinda Canty-Elliott arrive, everything was in its place.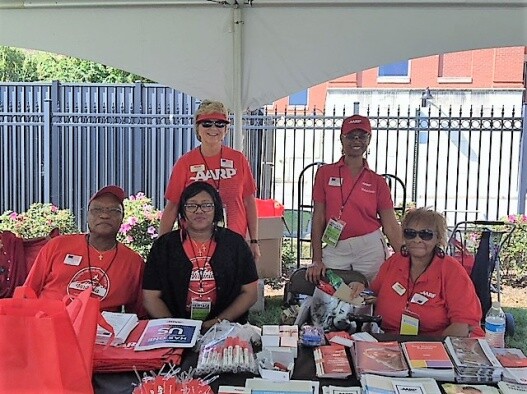 Soon after everyone was in place, the festival goers started slowly to arrive. While Mrs. Robinson manned the table, Siclinda Canty- Elliott and Joyce Williams began to engage voters. While Joyce Williams, Rev. Jordan and Mrs. Durham canvassed the crowd to sign voting pledges, Mrs. Canty-Elliott took photos of festivals attendees making their commitment to vote.

When asked what she liked about AARP, Debbie Mackey commented, "My mother's insurance is through AARP and she loves it and won't change. My mother only has positive things to say about AARP services." Geraldine, who didn't want to give her last name, indicated that she has been a member since 2000 and says, "AARP is a great organization to belong to. They support seniors."



Although the temperature kept rising and the volunteers tried keeping cool, they pressed on in spite of the heat wave that ruled the day.




Then on Saturday, October 13, the AARP volunteers attended the Vinton Festival in Vinton, VA. The weather was windy and cool; therefore, the AARP Roanoke volunteers and festival vendors showed up in sweaters and light jackets. Because it was so windy, it was a challenge keeping the literature from flying off the table. Russell Schiavone, the team leader for the project was there encouraging and motivating volunteers. Lorraine Bratton and Connie Bush teamed up to work the crowd to solicit pledges. And, Siclinda Canty-Elliott and John Elliott teamed up to take pictures of participates who have make the pledge to vote in November's election. In the afternoon, Joyce Williams added to the team. As a result, the team collected 106 pledges and approximately 10 photos to post of Facebook. The wind and cold wouldn't stop these dedicated volunteers who understood the importance of getting out the vote and engaging out voters.