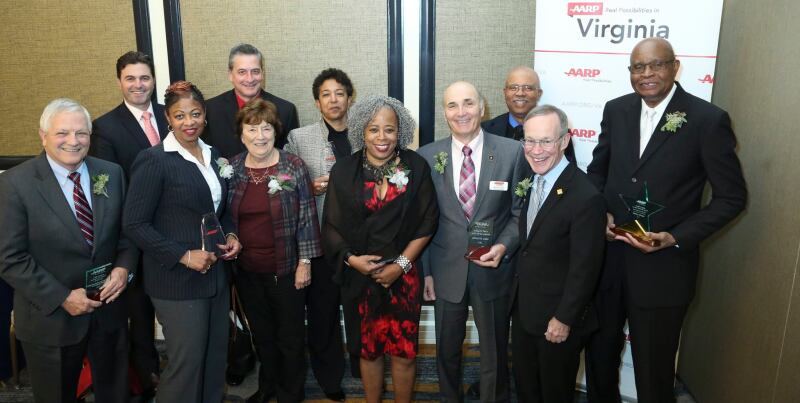 AARP Volunteers were awarded for their exemplary efforts at the 2017 All Volunteer Assembly (AVA). Devoted to honoring AARP Virginia's most dedicated volunteers, this year's AVA highlighted individuals committed to community service and helping everyone age with dignity and purpose.
The highly distinguished Andrus Award for Community Service was awarded to Russell Schiavone of Roanoke. Since joining the Roanoke Community Ambassador Leadership Team in 2014, Schiavone has offered his expertise to various groups throughout the Roanoke area on issues like caregiving and Medicare, and was named to the AARP Virginia Executive Council last year.
This year's President's Award for Community Service winners were a team of volunteers recognized for their outreach to military veterans. Janice Johnson of Dillwyn, Donna Newman Robinson of Fredericksburg, and Gigi Blakes of Bowie, MD, are the lead volunteers implementing the AARP Virginia Veterans Pilot Initiative.
The Gordon Morton Award for Volunteer Service is given to an AARP volunteer who has made outstanding contributions to the work of AARP consistent with the work modeled by Gordon Morton. This year's recipient was Bobby Horne of Yorktown. Horne has helped develop ways to use the AARP Livability Index and is working towards creating more Age-Friendly Communities.
This year's Rookie of the Year Award recipient was Mike D'Ostilio. In 2016, he saw brain health as an opportunity to educate and improve the quality of life for people in his community. So far, he has presented brain health to the Fredericksburg Chapter, the Richmond Retired Teachers Association, the AARP Virginia ACA, and the Brooklawn-Bush Hill Civic Organization.
The Community Partner of the Year Award aims to recognize an organization that has made outstanding contributions to the work of AARP and enhanced the quality of life for members of the community. This year's winner was the Lifelong Leaning Institute of Virginia Tech (LLI). Since 2015, the LLI has been committed to promoting lifelong learners, helping adults learn something new, successful aging, and enrichment opportunities for adults.